Rugby Defeats Ole Miss, 109-0, in Home Opener
09/22/2018
JONESBORO – Tommy Montgomery scored five tries and Calvin Gentry added three to help lead Arkansas State University's rugby team to a 109-0 victory over Ole Miss in A-State's home opener Saturday afternoon at Curt Huckaby Field.
The 10th-ranked Red Wolves, now 3-0 overall, have outscored their first three opponents, 223-6, which includes a 51-6 road win over Alabama and 63-0 over Mississippi State last weekend.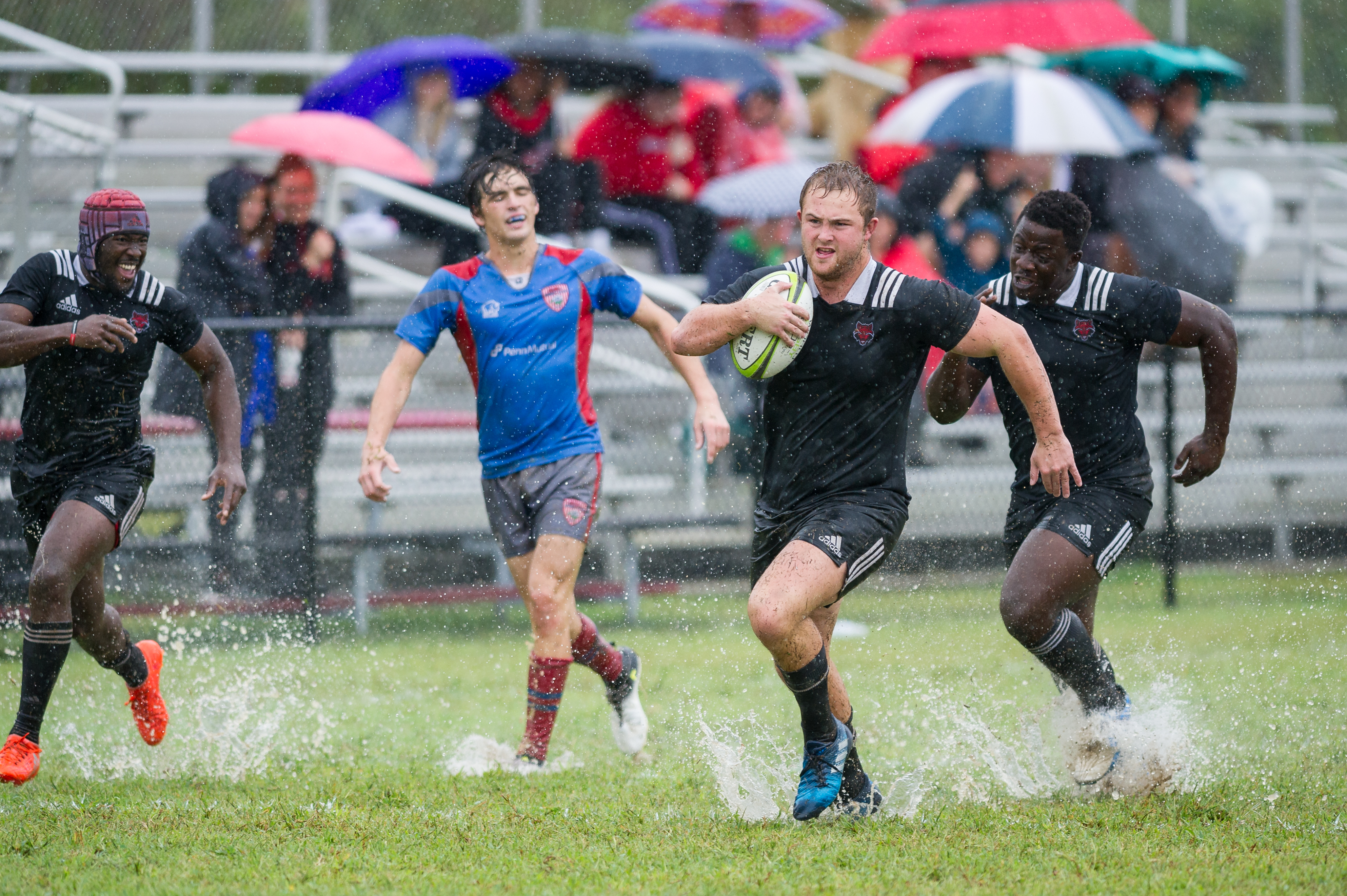 Rain and sloppy field conditions didn't stop Arkansas State from defeating Ole Miss, 109-0


A steady rain fell throughout the match, but that didn't affect A-State as freshman Louis Neal of Cambridge, England, scored about five minutes into the game.
"Our guys adapted well to the weather conditions," said second-year head coach Blake White. "We talked about it at halftime and made sure everyone was on the same page and not let outside factors like the rain and the field conditions interfere."
A-State was consistent in its scoring opportunities with Isaiah Poku, a sophomore flanker from Daytona Beach, Fla., putting up the next points to make the score, 12-0. Calvin Gentry of Memphis scored the try at the 26:32 mark, followed by senior Dylan Boast's conversion to boost Arkansas State to 19-0.
Montgomery, a freshman from Fort Lauderdale, Fla., scored the first of his two tries in the first period with 18 minutes remaining. A score in the corner by senior Tabo Maree made the score 31-0. Montgomery had his second score and Poku put up another to put the halftime score at 45-0.
The second half became a runaway with Gentry setting the pace. Senior fullback Valentin Balande of Bordeaux, France, slid into the soaked end zone for a try, and Andrew Pretorius had a score to increase A-State's lead to 64-0. Boast, of Los Angeles, scored and made the conversion, and the Red Wolves were up, 71-0.
Junior Jake Ray added a try with 16 minutes remaining and Boast's conversion was good. Montgomery scored try number three, and Boast's conversion made the score, 83-0, in favor of the home team. Dale Hartmann, another freshman scored with eight minutes left. Boast's added the conversion and the score was, 90-0.
A third try for Gentry and Boast's conversion made the A-State tally, 97-0, before Montgomery tacked on his last two scores for the match.
"It was a good team win," added White. "Sometimes, it's easy in a game like this to become selfish, but these guys stuck to how we wanted to play."
Arkansas State goes back on the road Saturday, Sept. 29, to Austin, Texas, where the Red Wolves will face the University of Texas at 7 p.m.