Rugby Defeats Navy To Advance To Penn Mutual Championship
04/22/2017
JONESBORO – A jubilant Arkansas State University rugby team will now get ready to play for a national championship after defeating the U.S. Naval Academy, 25-7, in the semifinal matchup Saturday afternoon at rain-soaked Curt Huckaby Field.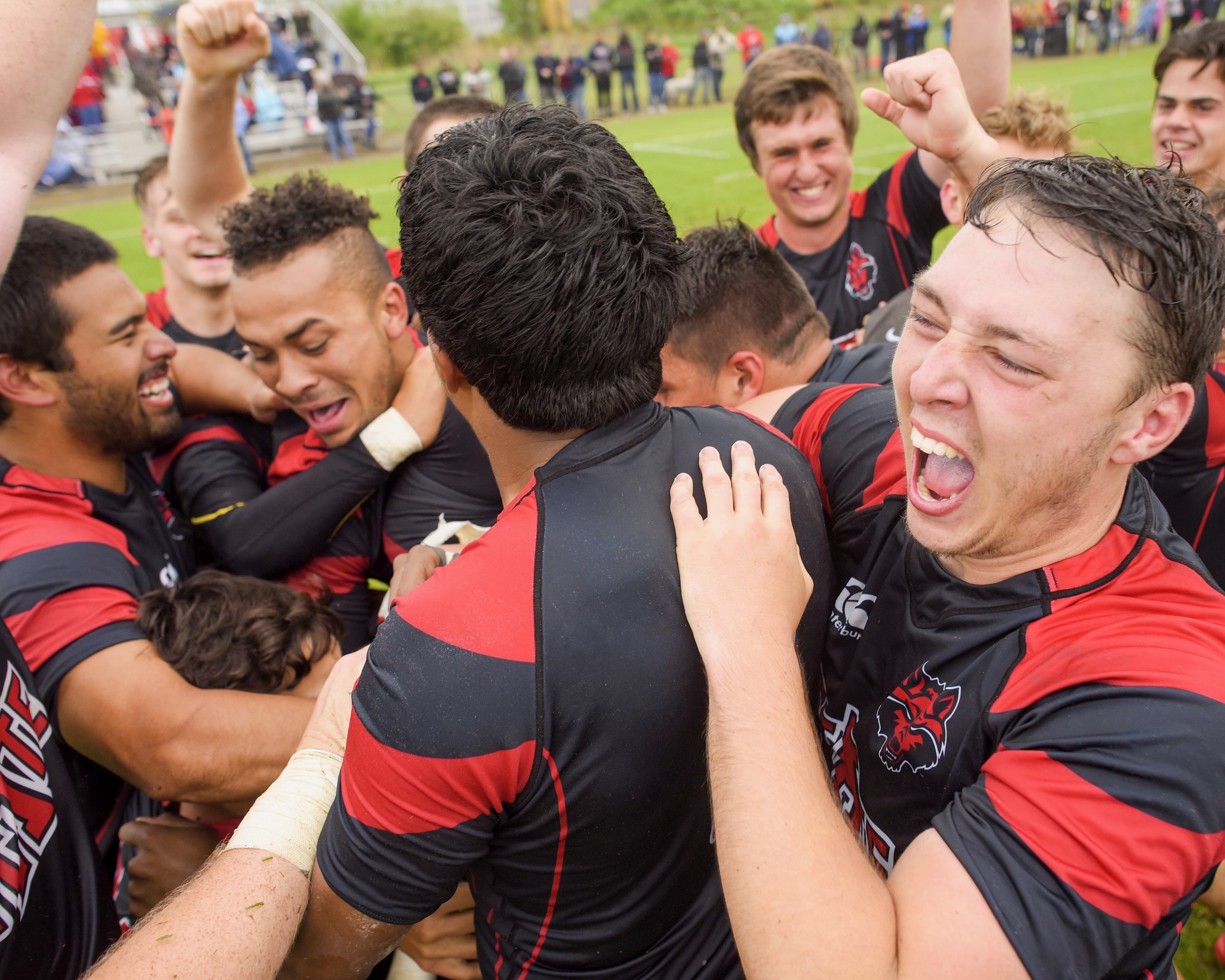 A-State rugby team celebrates semifinal win over Navy
The Red Wolves, now 9-1-1 overall, will travel to Stevens Stadium in Santa Clara, Calif., Saturday, May 6, to play the California Golden Bears, a 35-14 winner over Penn State, in the finals of the Varsity Cup National Collegiate Rugby Championship.
Both teams had to contend with cool temperatures and windy conditions as well as negotiate a field saturated with water from a hard rain Friday night. But, none of that got in the way of the Red Wolves' mission.
"Yeah, it was sloppy field conditions, and it was a huge factor," said second-year head coach Shaun Potgieter. "We had a lot of restarts and made a lot of errors. There were problems with handling the ball and we couldn't throw the ball well at times."
However, Potgieter said that, like last week against Utah State, it was A-State's solid defensive play that won against Navy.
"We've been working hard on defense. We came hard on the line today and really forced pressure against Navy." He added that the conditions also played a role in tackling.
A-State got on the board first with a try by Sione Fangaiuiha, and the conversion by Valentin Balande put the Red Wolves up early with the 7-0 lead. Tabo Maree was able to recover a Navy ball off the blocked kick and scored the try to put the Arkansas State lead to 15-7 after Balande connected on the conversion. Navy's only score came at the 14:53 mark in the first half.
Five minutes into the second half, Fangaiuiha took a Zach Young pass for the successful try to increase A-State's chances of winning at, 22-7. And, as time expired, an A-State player pitched the ball back to Young who immediately hit the drop kick that fell between the uprights for the final points of the game.
"Sione and Zach both played very well," continued Potgieter. "They controlled the game in the back line. They got a lot of touches on the ball and kept things tight. Zach did a great job of kicking the ball today. That drop kick was probably 30 meters.
"We're going to enjoy this win for one or two days and take some time to recover. Then, it's back to the drawing board and prepare to play May 6 in Santa Clara."