Rugby Announces 2018 Fall Schedule
08/01/2018
JONESBORO – Arkansas State University's rugby team will feature a veteran group of returnees and a talented recruiting class to face one of its toughest slates when the program opens the 2018 fall schedule, Friday, Sept. 7 at Alabama.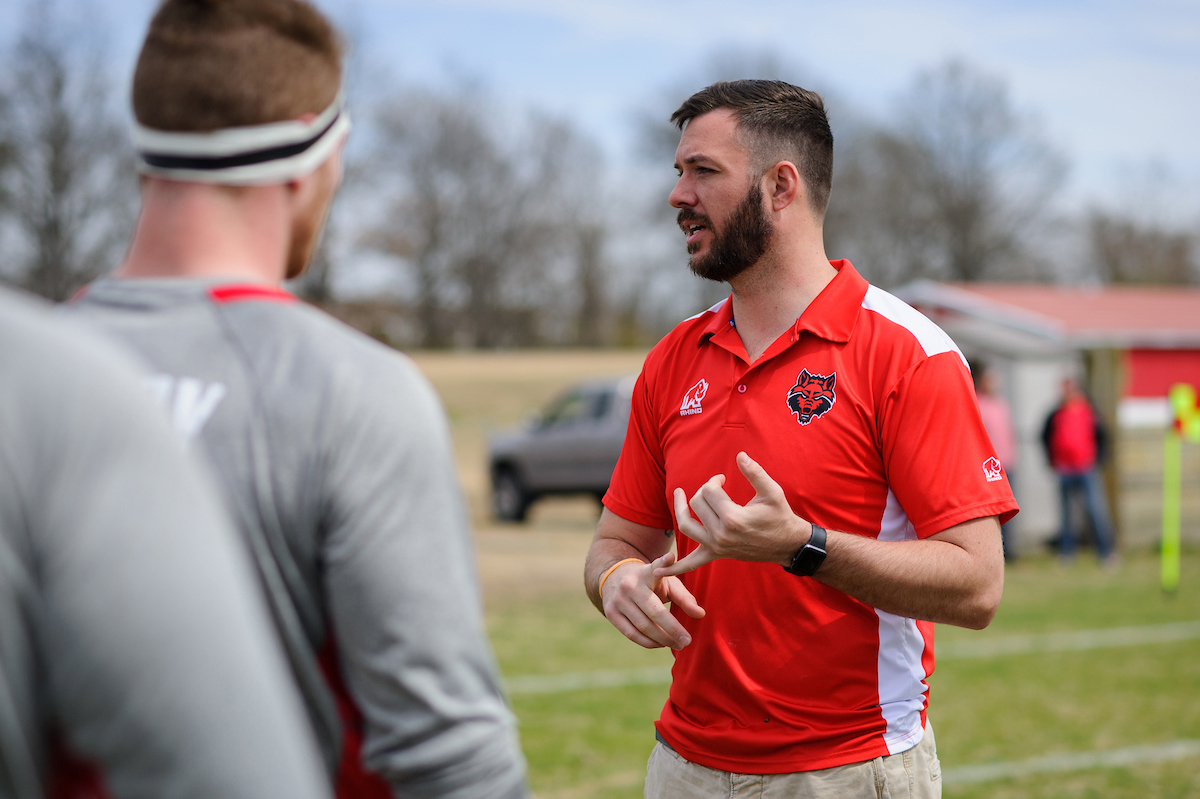 Head Coach Blake White enters his second season.
The schedule includes three home games with Ole Miss (Sept. 22), Iowa Central Community College (Oct. 13), and perennial foe Life University (Nov. 17). In addition to the opener with the Crimson Tide, the Red Wolves will travel to Mississippi State (Sept. 15), Texas (Sept. 29), Lindenwood-Belleville (Oct. 27) and Notre Dame (Nov. 3). A-State and the Fighting Irish will play in Chicago.
"I am very excited about our team this year," said Blake White who is entering his second season as head coach. "We are returning just about everyone and getting 32 hard-working freshmen joining us this fall. This is our largest recruiting class in team history.
"I feel like we met our match with a couple of teams last year and never played to our full potential. This year will be all about intent and focus. If we do everything from in the gym, to in the classroom and on the pitch with intent and absolute focus, we will be a strong team. There will be a focus on underclassmen playing this fall and getting game time to build the depth in our program."
Returnees include Zach Young, Calvin Gentry, Isaiah Poku, Valentin Balande, Asa Carter and a host of others who excelled in the 2017-18 fall and spring competition. White and his staff also recruited both within and outside the United States a group of talented incoming freshmen from Florida, Utah and Oklahoma as well as South Africa, England, France, Barbados and Australia.
The program has also added a scrum coach and a coach for strength and conditioning.
"I'm very excited to say that assistant coach Matt Guest will be returning on the staff along with Kevin Ryan and David Heileman joining as scrum coach and strength and conditioning coaches, respectively," added White. "Each of our three assistants are among the hardest working and driven men I've been around, and the more good men I can surround our team with, the better off they will be going forward in rugby and life."
Here is the 2018 fall Arkansas State rugby schedule:
Sept. 7 — Alabama (Tuscaloosa, Ala.), 7 p.m.
Sept. 15 — Mississippi State (Starkville, Miss.), TBA
Sept. 22 — Mississippi (Curt Huckaby Field), 1 p.m.
Sept. 29 — Texas (Austin, Texas), TBA
Oct. 13 — Iowa Central Community College (Curt Huckaby Field), 1 p.m.
Oct. 27 — Lindenwood-Belleville (Belleville, Ill.), 5 p.m.
Nov. 3 — Notre Dame (Chicago, Ill.), TBA
Nov. 17 — Life University (Curt Huckaby Field), 1 p.m.
Dec. 1 — Texas Tech (Houston, Texas), TBA