Robert Morris is Selected 2018 'R.E. Lee Wilson Award' Recipient
04/26/2018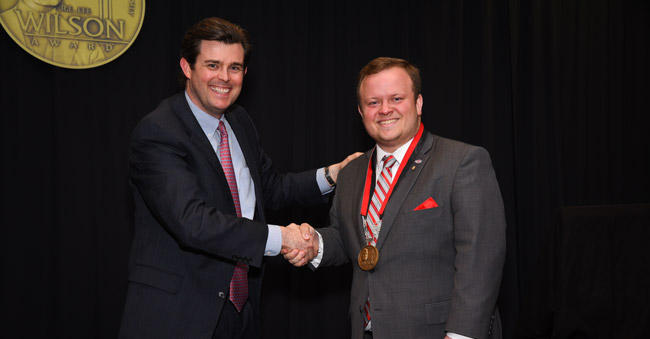 Perry Wilson, great-great-grandson of R.E. Lee Wilson, congratulates Robert Morris of Jacksonville, recipient of the 2018 R.E. Lee Wilson Award.
JONESBORO – Robert Morris is the name R.E. Lee Wilson's great-great-grandson announced Thursday evening when he revealed the 2018 recipient of Arkansas State University's highest honor for a graduating student.
Morris, a senior strategic communication major from Jacksonville, minored in marketing and leadership studies.
For several years now, Perry Wilson of Little Rock has carried out the custom that calls for a descendent of the award's namesake to make the presentation.
"My family and I are honored our name is affiliated with one of Arkansas State University's longest traditions, that of recognizing its outstanding graduates," Perry Wilson told the banquet audience. "I know my great-great-grandfather would be proud to see the type of students Arkansas State continues to educate after its first century."
The Wilson Award and Distinguished Service Award winners were introduced and recognized during the 85th student honors awards ceremony, the culminating event of the 40th annual Convocation of Scholars, at Cooper Alumni Center on the A-State campus.
The Wilson Award is named in honor of R.E. Lee Wilson, a Mississippi County planter and businessman who served on the institution's Board of Trustees from 1917 until his death in 1933. The annual Wilson Award presentation began the following year, more than eight decades ago.
Each year's recipient is selected on the basis of character, determination, leadership, service, participation and academic achievement.
"To be recognized for serving others is very humbling. One of the biggest things that anybody can do in their life is to serve somebody else," Morris said in a video profile. "Even having a small part in making that possible can change somebody's life in ways you can't even imagine."
Morris also is one of five recipients of the Distinguished Service Award, which recognizes exceptional qualities of leadership, involvement and scholarship during one's A-State experience. The recipient of the Wilson Award is the individual judged by the Student Honors Award Selection Committee, which includes campus representatives and previous Wilson Award winners, as the most outstanding among the group of DSA recipients.
In addition to Morris, the recipients of the 2018 Distinguished Service Awards are Brett Hale of Doniphan, Mo., Nathan Johnson of Jonesboro, Haley Stotts of Little Rock, and Reagan Williams of Jonesboro. The five DSA winners were recognized in video profiles prior to the Wilson Award announcement.
Morris was nominated by Dr. Shane Hunt, the R.M. "Bob" Wood Endowed Professor Sales Leadership and professor of marketing.
"It is amazing to see Robert, when he doesn't know you're looking at him, and the way that other people respond to him, the way he's a natural leader, the way he helps get others to a place to where they can have the greatest collective good on an organization or a fundraiser," Hunt said in the video.
After receiving his Bachelor of Science degree in strategic communication at A-State's spring commencement, Morris plans to pursue a master's degree in public service at the University of Arkansas Clinton School of Public Service.
Morris has been highly involved and fulfilled leadership responsibilities in his fraternity, Lambda Chi Alpha, numerous charitable causes, the Honors College and other university activities. His campus participation also includes Student Activities Board spirit and homecoming director, Honors College senator in the Student Government Association, and Pack Leader for new student registration. He is an Honors College study abroad traveler, and is only one "B" short of a perfect gradepoint average.
Morris, through his Honors senior thesis, focused on analyzing perspectives from members of last fall's freshman class in an effort to assist A-State with marketing, recruiting and retention. His honor society memberships include Phi Kappa Phi, Kappa Tau Alpha and Sigma Alpha Pi.
While becoming part of a historic tradition at A-State, Morris also became part of a historic family achievement, as he became the second individual in his immediate family to win the Wilson Award. His brother, Earl, won the honor in 2015; parents Earl III and Rebecca Morris of Jacksonville are filled with pride again. Previous family connections among Wilson recipients include two recipients who married, and an aunt and niece, but the Morrises are believed to be the first sibling recipients.
The names of Wilson Award winners are permanently listed in a prominent display outside Centennial Hall in the Carl R. Reng Student Union. Previous winners of the award joined to form the Wilson Fellows, a chapter within the A-State Alumni Association, and they welcomed Morris into their group following the announcement ceremony with the presentation of a $1,500 scholarship for post-graduate study.
# # #