Retiring Staff Recognized, Along with Those with Years-of-Service Milestones
05/23/2023
JONESBORO – The 28 retiring staff members and 37 individuals who have attained service milestones were honored during the 30th annual Distinguished Performance Awards and Service Recognition Ceremony at Arkansas State University. The Staff Senate conducts the program.
Retirees:
The 28 individuals who have retired or will retire during the 2022-23 academic year have 593 combined years of service at A‑State.
Janice Woodruff, Payroll Services, has the longest period of employment, 39 years.
Other retirees and years of service are Philip Jackson, 38; Bettye McKinney, 35; Laura Cremeens, 33; Ivan Lawson, 30; Helen McCoy, 27; Annette Clements, 26; Leamond Nichols, 26; Dena Bolar, 25; Esther Boyd, 24; Karen Rinehart, 24; Mary Lou Ray, 22; Bill Hall, 21; Karen Trout, 20; Sonja Bottorff, 19; Dianna Long, 19; Deanna Barton, 18; Phyllis McWhorter, 17; Traci Simpson, 17; Clarisa Ratliff, 15; Joseph Thornton, 15; Lisa Kihlstadius, 14; Teresa Dunton, 13; Pamela Graham, 13; Carol Cummings, 12; Jerry Webb, 11; Yvonne Foster, 10; and Sandra Wyatt, 10.
Service Milestones:
The 37 staff members recognized for attaining service milestones were as follows:
30 Years: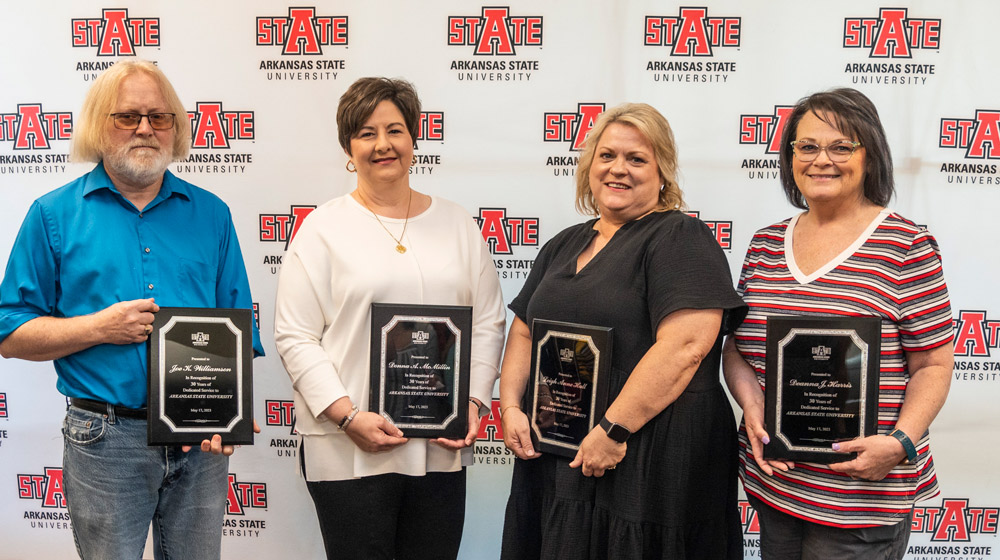 From left, Williamson, McMillin, Hall and Harris
Those individuals with 30 years of service are Leigh Anne Hall, Information and Technology Services; Deanna Harris, Nursing and Health Professions; Donna McMillin, Finance and Administration; and Joe Williamson, Information and Technology Services.
20 Years:
Staff members completing 20 years of service are Kaye Childs, Tia Farmer, Michael Gonzales, Kathy Hicks, Dr. Cherisse Jones-Branch, Milton Poole, Bethany Silverthorn and Dr. Lonnie Williams.
10 Years:
Staff recognized for 10 years of service are Luna Acosta, Lauren Adams, Kenneth Anderson, Kimberly Benson, Elizabeth Billingsley, Jessica Blackburn, Bradley Bobo, Charlotte Booker, Eric Coleman, Adrian Everett, Karan Gilliland, Brittany Harris, Charles Trey Hicks, Amy Holt, Erika James, Kendal Lute, Daniel Matthews, Gisella Moody, Angela Morrison, Prathima Pattada, Shaquita Renelique, Dr. William Smith, Rhonda Tucker, Linda Walters and Dr. Wayne Wilkinson.
The recognition program was initiated in 1994 to note outstanding job performance and long-time service by the university's non-faculty employees, both classified and non-classified.