Retirement and Service Awards Presented at Staff Ceremony
05/11/2016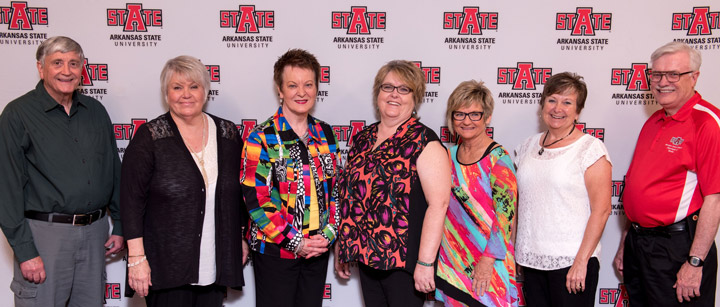 Retirees include (from left) Roy Perry, Faye Crawford, Lois Travis, Robin Hicks, Renee O'Connor, Sherry Johnson and Curtis Miller.

JONESBORO – A total of 21 retirees and 80 individuals who have attained service milestones of 10, 20 or 30 years were honored Tuesday during the 23rd annual Distinguished Performance Awards and Service Recognition Ceremony at Arkansas State University. Chancellor Tim Hudson presented the awards.
The 21 individuals who have or will retire during the 2015-16 year have a combined 484 total years of service.
Lois Jean Travis, Small Business Development Center, has the longest period of service, 39 years. The other retirees and area from which they are retiring are:
Marilyn Brewer, Student Affairs, 31 years; Amy Brown, Printing Services, 26 years; Chris Collins, Academic Affairs & Research, 15 years; Faye Crawford, University Police Department, 21 years; Polly Cronos, Human Resources, 14 years; Robin Hicks, Academic Affairs & Research, 25 years; Phyllis Johnson, College of Agriculture & Technology, 25 years;
Sherry Johnson, Office of the Chancellor, 31 years; Kathryn C. Jones, Institutional Research, 34 years; Jackie McLeod, Residence Life, 11 years; Curtis L. Miller, College of Media & Communication, 27 years; Kathy Newberry, Academic Affairs & Research, 12 years; Renee O'Connor, College of Fine Arts, 38 years; Robin Pawson, Political Science, 7 years;
Roy L. Perry, Information & Technology Services, 16 years; Elaine Mayo Poynter, Alumni Relations, 21 years; Sam Shannon, Information & Technology Services, 35 years; Al Stoverink, Facilities Management, 10 years; Dorothy Thweatt, Information & Technology Services, 36 years; and Juanita Barr Turner, Childhood Services, 10 years.
SERVICE MILESTONES
Eighty individuals who have achieved employment milestones this year were recognized.
30 Years
Three staff members -- Lorerinda Budd, College Of Business; Jeff Gulley, Facilities Management; and Sharon McDaniel, Office of Admissions & Records -- have achieved 30 years of service at A-State.
20 Years
Eight individuals have attained 20 years of service: Jane Coburn, Disability Services; Rosemary Freer, Testing Center; Elizabeth Jennings, Library; Helen J. McCoy, Facilities Management; Teresa Patterson, Information & Technology Services; Sheryl Puckett, Campus Card Office; Cheryl Richey, Facilities Management; and Natalie Turney, English, Philosophy & World Languages.
10 Years
An additional 42 employees have 10 years of service: Nikki Adams, Gerald Adkisson, Karl Ahrent, Angela Blankenship, Christy Brinkley, Glen Broadway, Michelle Brown, Grady Clark, Angela Crawford, Rodney Davis, David Engelken, Cynthia Engles, Nanya French, Anita George, Carlisa Gilmer, Michael Glover, Pamela Heath, Melissa Jackson, Amber Jones, David Lovelace, Phyllis McWhorter, Amber Martin, April Morris, James Novalick, Martha Phillips, Billy Pierce, Stephanie Prince, Patsy Puckett, Dwain Roberts, Jimmy Rousseau, John Sifford, Traci Simpson, Bobbie Anne Smith, David Swift, Melissa Taylor, Juanita Turner, Anthony Turturro, Lynn Waldroup, Randy Wheaton, Mary Williams, Vicki Worrell and Cheryl Wright.
The annual Distinguished Performance Awards and Service Recognition was initiated in 1994 to note outstanding job performance and long-time service by the university's non-faculty employees, both classified and non-classified.
# # #



30-Year Employees: Jeff Gulley and Lorerinda Budd,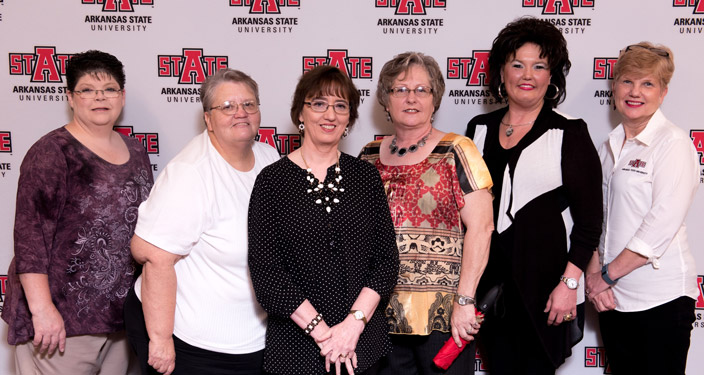 20-Year Employees: Sheryl Puckett, Helen McCoy, Jane Coburn,
Elizabeth Jennings, Natalie Turney and Rosemary Freer




10-Year Employees