Research Spotlight: Homegrown Terror
08/27/2015
The Internet has changed virtually everything requiring human communication, from how we do business to how we meet our spouses. It has also changed how extremist and hate groups connect to followers and promote violent actions. Consequently, these groups have flourished to over 750 active hate groups in the U.S. and the number is still growing. From 2008 to 2012 alone, anti-government Patriot groups increased by over 800 percent.
Tom Ratliff, assistant professor of criminology, is helping the federal government to identify and counteract radicalization. His research creates "virtual" profiles of extremist groups by cataloguing and analyzing how they use the Internet. A critical outcome of his work is equipping communities and law enforcement agencies to understand recruitment processes and propaganda underlying Internet activity by extremist groups. "We want to know the scope of domestic extremists' use of the internet and how they recruit, particularly among youth," says Ratliff. "We want to know the language, the tactics, and the worldviews of these groups which have grown exponentially in the past six to eight years."
This year, the National Institute of Justice (NIJ) awarded Ratliff and his collaborators nearly $800,000 to study extremist Internet activity over the next three years. The research team includes graduate and undergraduate students, A-State faculty Matthew Costello and Rebecca Barret-Fox, and internationally renowned experts David Snow (University of California at Irvine), James Hawdon (Virginia Tech) and Jennifer Earl (University of Arizona). "The network building was critical to moving this project forward," says Ratliff. He also credits A-State seed grant funds that allowed him to design the current study while continuing his research on protest policing—a separate but overlapping endeavor. "Without that internal support there is no way I could have had the time to continue my other research activities and accomplish the work necessary to design the NIJ grant."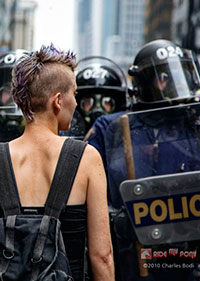 "Scientifically, we must tell the story as it is and lay emotions and politics aside. The truth and reality of the matter will lead people in the right direction. I don't have to editorialize. I can let the content speak for itself."
Ratliff's team analyzes "homegrown terror" groups and trends in hate group incidents to provide preventive measures and training for law enforcement agencies. State offices of Homeland Security and the FBI have already reached out to him. Ratliff explains, "Protests occur in cycles with peaks of violence. Being prepared for those peaks benefits everyone. When I look at the pulse of protests over 50 years there is a peak in 1968-69. If you map that onto the current cycle of protests, we could be moving toward another peak now." Looking at the growth in extremist movements complements his research on protest policing which documents protest events from 1960 to 2012. Thus, Ratliff's work spans the spectrum of dissent, from prayer vigils and peaceful demonstrations to riots and terrorist attacks.
"If we don't understand extremist groups there is no way to prevent youth from buying into these worldviews," says Ratliff. "It is also a matter of understanding the landscape of our nation." Where his research on protest events uses archival data from newspapers, Ratliff says the Internet provides a source of data that allows us to be aware of social and cultural changes happening in our nation in real-time. "Given the growth of extremist groups since the election of President Barack Obama, particularly those affiliated with White Supremacy, the Internet and social media are crucial in understanding current political and social changes."
Ratliff's team will provide a picture of how extremist groups see themselves and the impact of their online movements. They will illustrate the pulse of groups acting violently over time through protests, riots, individual attacks, and domestic terrorist events, and can then discern which groups are the most dangerous.
Simultaneously, they will be conducting a survey to learn from participants how their exposure to extremist websites affected them. This stage of the research is particularly relevant to youth. "In the 1960s, policymakers and police viewed protestors as a wild, rowdy mob and their individuality was lost in the collective action. We also view extremist groups this way and blow them off. But we can miss something critical, because they actually do have a purpose and a clear strategy with action steps."
Ratliff hopes his research will not only produce practical and scholarly knowledge, but will also help shape the lives of A-State students. "I want to teach our students that although this is not the "Jim Crow" era, the battle for equality and tolerance is not over. Non-violence is still a viable solution for our problems. If our young people will take up the mantle, we can as a nation overcome the worldviews, actions and impact of extremist hate groups through non-violence."