Reng Student Union Receives Top 30 National Ranking
01/19/2015
JONESBORO — The hub of activity for campus life on the Arkansas State University campus—the Carl R. Reng Student Union—has been selected as one of the "30 Most Amazing Student Unions for 2015" by Best College Values online education service.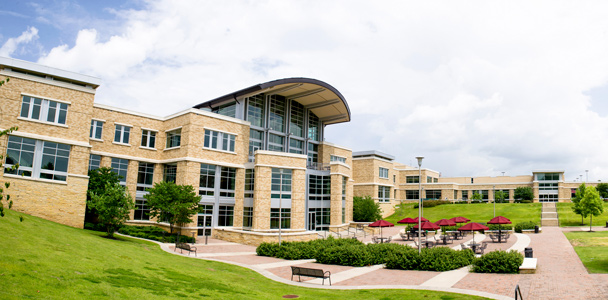 Reng Student Union
"We're excited that Arkansas State's student union is listed in the Top 30 nationally," said Dr. Rick Stripling, vice chancellor for Student Affairs. "There are some great student unions out there. Even after several years, we're proud that our student union still exceeds our expectations as a one-stop place for student services."
Breaking into the rankings at No. 30, the Reng Student Union is described by Best College Values as "the center of action at Arkansas State University." Best College Values helps find resources necessary to help make decisions regarding which college or university to attend. The site works with authorities in the education field to provide current data, news and trends for long term success.
Editors went on to say, "The Reng Student Union provides the student body as well as members of the faculty, staff, alumni and guests a place to get a true feel for the school. The Reng Student Union sets the tone and tracks the pulse of Arkansas State's vibrant learning and social environment. Here you will find offices for departments including admissions, career management, counseling, and financial aid, as well as dining and entertainment options. Reng Student Union is always the place to go to be a part of Red Wolf action."
The original Carl R. Reng Center was built in 1963 and provided a focal point for activities and game rooms, the Woodlands cafeteria and the Wigwam snack bar, as well as a barber shop, bowling alley and book store.
Stripling noted A-State's administration noticed the Reng Center didn't have any study areas or a place for a mostly commuter student population to go to between classes.
Groundbreaking for a new $35.1 million student union was in 2000. The three-story building is 222,000-square feet with a 90,000-square foot student services addition. The union now houses a dining hall, event facilities, auditorium, a national branded bookstore, meeting rooms, computer labs and numerous study areas. The new center opened in 2004.
The new center also includes the Admissions Office, Career Management Center, Counseling Center, Disability Services, Financial Aid and Scholarships, Leadership Center, Registrar's office, Residence Life, Student Conduct office, Testing Center for students and members of the regional community, U.S. Postal Service office, Cashier, a ballroom with seating for 1,000 and the office of Student Accounts. Previously, these offices were scattered in buildings across the A-State campus. Outside, the center features a spacious courtyard with plenty of seating.
In 2010, the Multicultural Center was added to the union. This department offers innovative and transformative educational, cultural and leadership experiences that maximize students' potential. It also provides opportunities for learning and engagement for campus and community constituents.
"We recognized the need to create a facility where students services could take care of things in one place," continued Stripling. "Arkansas State is one of the few universities in the country with a post office in the student union. It used to be a stand-alone building. Now, students have one place to get everything done.
"On any given week day, 21,000 people pass through the student union and over 6,000 meals are served. In the past year, 5,000 events were booked in the facility including banquets, weddings, and meetings. The union is a great recruiting and selling point for Arkansas State University."