'Red Wolves for Red Wolves' Involved in Wolf Fest Events
11/03/2017
JONESBORO – A group of Arkansas State University students, alumni and faculty represented "Red Wolves for Red Wolves" during Wolf Fest at the Endangered Wolf Center in St. Louis. Wolf Fest was held during National Wolf Awareness Week, Oct. 16-22.
The group volunteered to assist event organizers and also toured the center, according to Dr. Tom Risch, chair of the Department of Biological Sciences and professor of animal ecology, who accompanied the group.
Michael Gates of North Little Rock, a senior biology major, is the outreach director for Red Wolves for Red Wolves.
"Our purpose was primarily to raise awareness about the critically endangered red wolf, what A-State students and faculty are doing to aid in red wolf conservation efforts, and doing some recruitment for the university with high school students and their families that attended the event," he said.
The group from A-State also helped the Endangered Wolf Center staff with various aspects of the event.
"I spent most of the day at the A-State booth interacting with all kinds of guests that came to Wolf Fest, sharing with them the plight of our mascot and what our school is doing to help and raise awareness," Gates added. "I also handed out many Red Wolves for Red Wolves wrist bands, with A-State pens, and various informational materials to interested parents and perspective students and shared with them the amazing college experience I've had here at A-State."
Arkansas State announced in July it will have a national role in the preservation of the endangered American red wolf species. The Arkansas Center for Biodiversity Collections on campus has been designated by the U.S. Fish and Wildlife Service as the national specimen bank for blood and tissue samples for red wolves.
Here are some photos of Red Wolves for Red Wolves activities during the Wolf Fest weekend at the Endangered Wolf Center: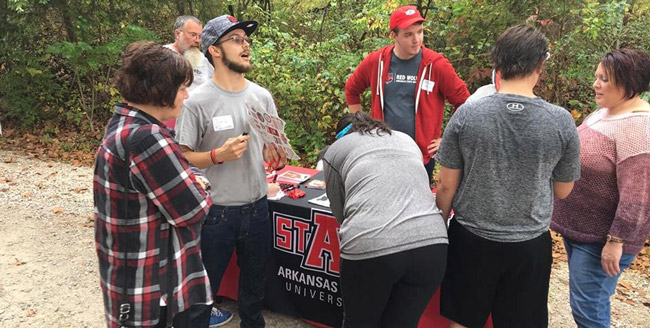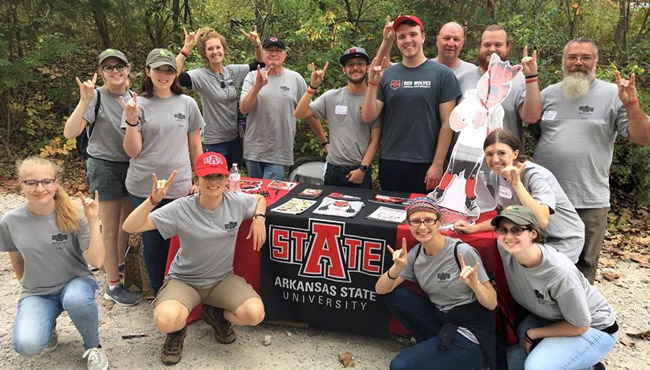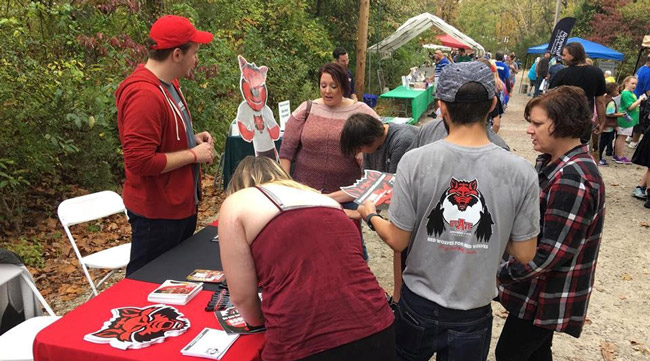 # # #