Record Number Summer Graduates Receive Diplomas
08/05/2016
JONESBORO — A record number of graduates were awarded diplomas during Arkansas State University's summer commencement ceremony Friday evening at the Convocation Center.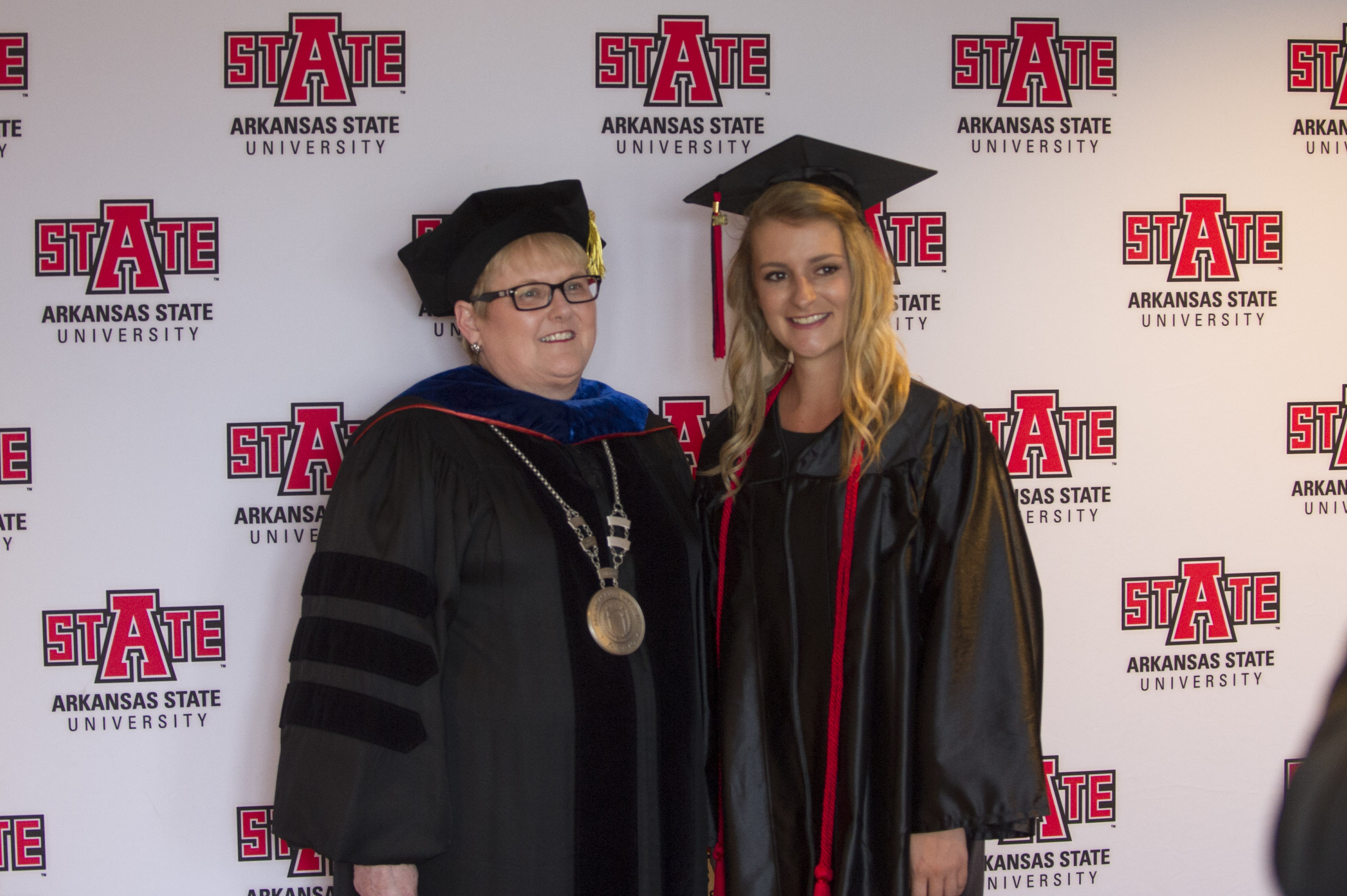 Acting chancellor and provost Dr. Lynita Cooksey (left) visits with Kaitlin Sellers of Hardy.
Sellers addressed the 2016 commencement audience on behalf of the A-State graduates.
Acting chancellor and provost Dr. Lynita Cooksey conferred degrees upon 949 graduating seniors, the largest number in a summer graduation in A-State history.
"Commencement is always a time of excitement at Arkansas State as it celebrates a milestone of the accomplishments in the lives of our graduates," stated Cooksey. "Many are first in their family to earn a college degree.
"You may have overcome obstacles, juggled jobs and studies, cared for family as well as handle other responsibilities to get where you are tonight. You are to be commended."
Cooksey also acknowledged the commission ceremony of five students earlier in the day as lieutenants into various branches of the U.S. military.
"These new officers have volunteered to serve their country to protect the many freedoms that are guaranteed to us."
In addition, she recognized the addition of 120 medical students that make up the inaugural class of the NYIT College of Osteopathic Medicine located on the A-State campus. The students participated in the symbolic white coat ceremony Friday morning.
"The partnership between NYIT and Arkansas State University will have significant impact on improving the health and well being of the people of Arkansas, the Delta and well beyond," Cooksey added.
Dr. Mike McDaniel, professor of communication disorders, spoke on behalf of the A-State Faculty Association while student Kaitlin Sellers of Hardy addressed the crowd on behalf of the graduating class.
"We've worked hard for this achievement," she said. "Today is an exceptional day with many more to follow as we take what we have learned and enter into the real world to become who we want to be.
"We're only beginning the rest of our lives. We've chosen Arkansas State University to be an important part of that dream. And, today we are honored to celebrate this landmark achievement."