Queretaro, Mexico Governor Addresses Graduates at Arkansas State Commencement Ceremonies
12/14/2013
JONESBORO, Ark. — Governor Jose Eduardo Calzada Rovirosa of Queretaro, Mexico, told nearly 1,200 Arkansas State University graduates that "education is more than gaining knowledge and skills; it's the foundation of the present and future of every society" while speaking at both of A-State's commencement ceremonies Saturday in the Convocation Center.
Gov. Calzada was the distinguished speaker (video here) for the events that included a ceremony at 10 a.m. for graduates in the Colleges of Education, Fine Arts, Humanities and Social Sciences, Media and Communication, and University College. The second ceremony began at 2:30 p.m. and featured the Colleges of Agriculture and Technology, Business, Engineering, Nursing and Health Professions, and Sciences and Mathematics.
"Commencement is always a time of excitement for graduates, their families and friends," said Dr. Tim Hudson, Chancellor at Arkansas State. "This is a milestone event in our graduates' lives and we commend them."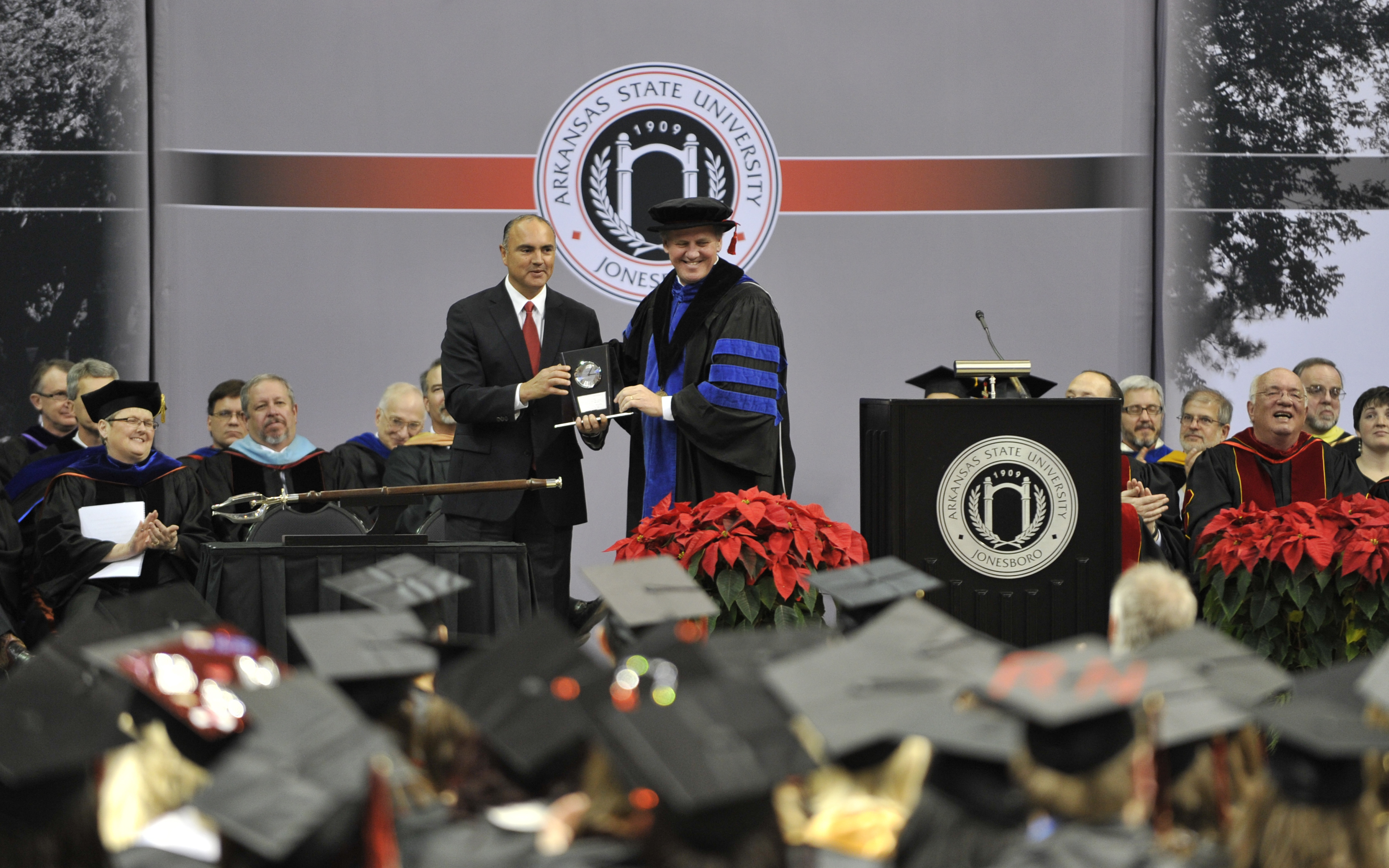 Chancellor Tim Hudson presents Queretaro, Mexico Governor Jose Eduardo Calzada Rovirosa (left) a gift to show appreciation to Gov. Calzada for serving as the featured speaker during A-State's two 2013 commencement ceremonies Saturday morning and afternoon.


Tonya Cole of Harrisburg addressed the morning gathering (video here) as the student representative, while Hannah Wright of Calico Rock spoke (video here) on behalf of the students in the afternoon ceremony.
In early February 2014, Arkansas State and private investors in Queretaro break ground on the first United States university residential branch campus in Mexico, thanks to Gov. Calzada's ability to orchestrate the collaboration of public and private sectors in support of enhancing educational access in his state and country.
"I celebrate being a part of an academic event with such relevant and diverse meaning for everyone," stated Gov. Calzada, the first foreign elected official to address A-State's graduates. "Education is the tool that strengthens the ties between the United States and my country, Mexico."
Elected governor of Queretaro in 2009, Gov. Calzada's administration put a high priority on expanding higher education and research. Queretaro is one of the most attractive regions for international investment in Mexico. Hundreds of prominent multinational corporations such as Bombadier, Eurocopter, New Holland, Unilever, Nestle and General Electric have headquarters or major operations in Queretaro.
"The outstanding leadership of Chancellor Tim Hudson and the extraordinary support from the Board of Trustees are making this a reality," continued Gov. Calzada. "It is an honor for my state to host Arkansas State University. We are the most progressive state in my country. We must tear down the walls that inhibit the quality formation of the future leaders of the world."
Chancellor Hudson closed the ceremony by inspiring the fall 2013 graduates to become agents of change.
"The destiny of our country, indeed the world, is in your hands," he said. "Please accept my encouragement to follow Ghandi's admonition and be the change you want to see in the world."