Parker Quartet in Lecture-Concert Series, March 31 and April 1
03/24/2016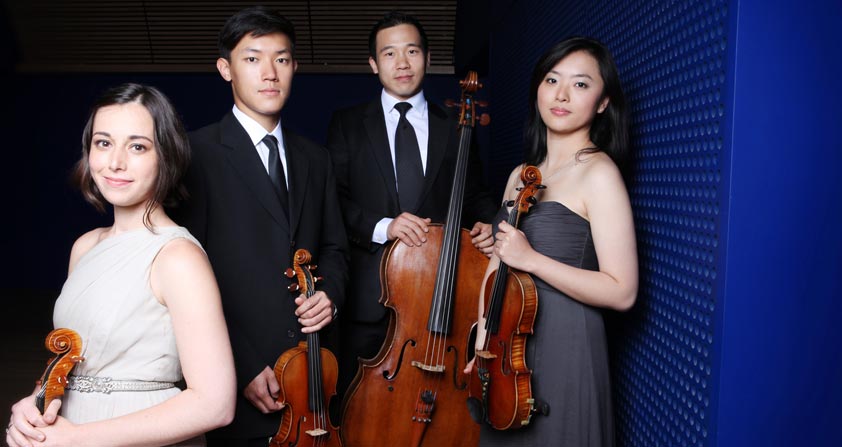 Jessica Bodner, viola, Daniel Chong, violin, Kee-Hyun Kim, cello, and Ying Xue, violin.
JONESBORO – The Parker Quartet will present the next performance in Arkansas State University's Lecture-Concert Series, Thursday, March 31, at 7:30 p.m. in Riceland Hall of Fowler Center, 201 Olympic Dr.
Also while in Jonesboro, the string quartet will be featured during a concert of musical compositions by Augusta Read Thomas, presented by Department of Music faculty and students the following evening, Friday, April 1.
Students, faculty, staff and the community are welcome to attend both concerts; admission is free.
In addition to the Lecture-Concert Series, the Department of Music, College of Fine Arts, College of Sciences and Mathematics, the Office of Diversity and A-State Orchestra are sponsors for the March 31 performance.
The Grammy Award-winning Parker Quartet has rapidly distinguished itself as one of the preeminent ensembles of its generation. The quartet began its professional touring career in 2002 and garnered international acclaim in 2005, winning the Concert Artists Guild Competition as well as the Grand Prix and Mozart Prize at the Bordeaux International String Quartet Competition in France.
Founded and currently based in Boston, the quartet received a Grammy Award for Best Chamber Music Performance in 2011. Members spend much of their time working with young musicians through educational residency activities.
The Parker Quartet's members hold graduate degrees in performance and chamber music from the New England Conservatory of Music and were part of the New England Conservatory's prestigious Professional String Quartet Training Program.
The Lecture-Concert Series serves Arkansas State and the surrounding communities by bringing notable guest speakers and performers of diverse backgrounds and wide appeal to the campus. Many of the Lecture-Concert Series events include additional campus activities, such as the masterclass.
For more details about the series, interested individuals may visit the Lecture-concert Series website, http://www.astate.edu/lectureconcert, or contact series chair Dr. Tim Crist, tcrist@astate.edu, (870) 972‑2094.
# # #