Opera Theatre to Present 'The Secret Marriage,' March 12-13
03/04/2015
JONESBORO – The Department of Music's Opera Theatre will give its performance of "The Secret Marriage" on Thursday and Friday, March 12-13, at 7:30 p.m. at Fowler Center.
This year's production is a charming story about a family and an exciting love story. "The Secret Marriage" tells a comic tale of lovers being forced to keep their marriage a secret until the complicated and surprising circumstances force them to come forward. Cimarosa's excellent music brings these exciting characters to life.
The cast of characters includes Dennese Adkins as Carolina, Jeffery Steward as Paolino, Gregory Self as Geronimo, Baylee Stracener as Fidalma, Crystal Kachevas as Elisetta, Anna Webb as the Maid, and Matt Crociata as Governor Robinson.
Tickets may be purchased at the Central Box Office by going online to tickets.AState.edu or by calling at (870) 972-2781. Tickets are $8 for adults, if bought in advance, and $10 at the door. Tickets are $5 for students and children at both the Box Office and the door.
For any information about this or any other A-State music event, please contact the Music Department at (870) 972-2094.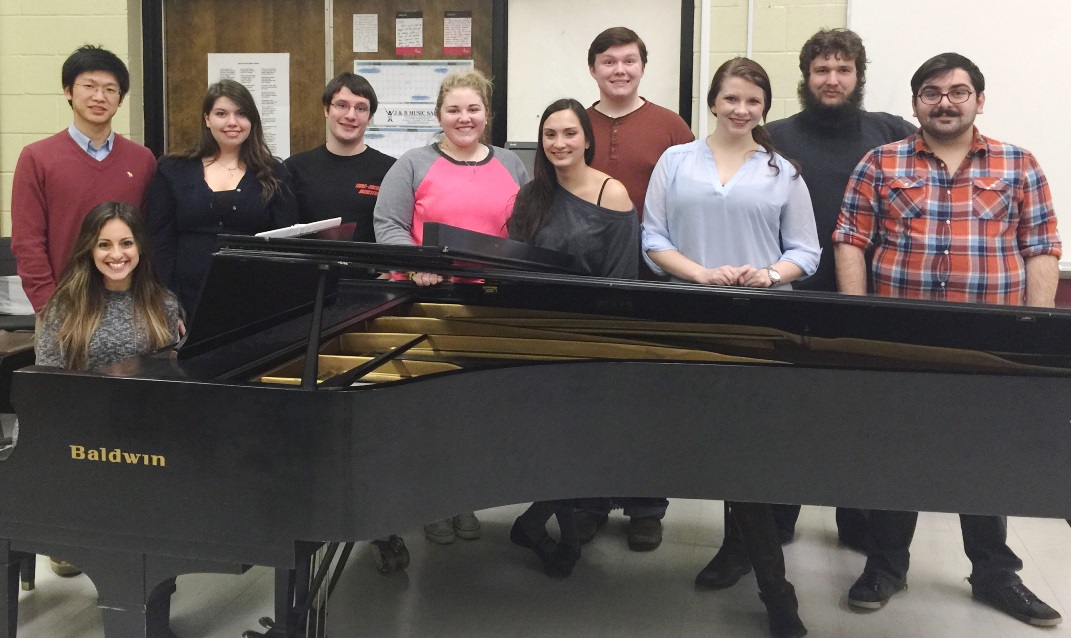 Opera Theatre includes (standing, from left) Sean Ye, pianist, Crystal Kachevas, Matthew Crociata, Anna Webb, Dennese Adkins, Jeffrey Steward, Baylee Stracener, Greg Self, Lane Grant and (seated) Bethania Baray, director.