NYIT Approved to Open First Osteopathic Medical School in Arkansas on A-State Campus
12/08/2015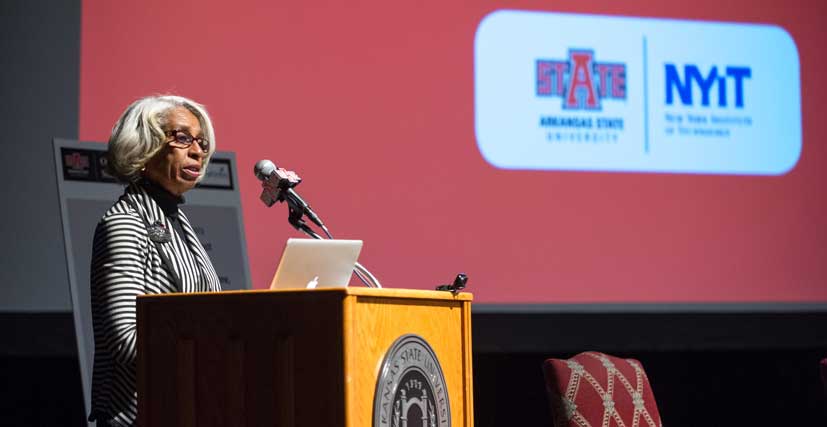 Dr. Barbara Ross-Lee
JONESBORO, Ark. – New York Institute of Technology's College of Osteopathic Medicine has received final approval to recruit students, open a second location on the campus of Arkansas State University in August 2016 and become the first osteopathic medical school in the state.
NYITCOM at A-State, with an inaugural class of 115 students, will join the University of Arkansas for Medical Sciences as the state's only two medical schools. The Commission on Osteopathic College Accreditation (COCA) endorsed the launch at a meeting Sunday.
"This distinctive planting of an established medical school of a not-for-profit university on the campus of a public state university and the added collaboration with the Arkansas health care community is a winning formula," said NYIT President Edward Guiliano, Ph.D. "It enables us to open a medical school and enhance the healthcare community to serve the people of Arkansas faster and at far less cost than previously imagined. It also leverages NYIT's success working globally with local partners, leveraging technology, and sharing expertise to meet demonstrated needs."
A-State approached NYIT in 2012 with the idea of bringing its medical program to Jonesboro. Arkansas ranks 49 out of 50 in its population's health status and 48 out of 50 in the percentage of active physicians per 100,000 people, according to national studies. A feasibility study by nationally renowned Tripp Umbach in 2014 concluded a D.O. school in Jonesboro would help meet the demand for more primary care physicians in the Delta and have an initial $70 million economic impact on Northeast Arkansas.
"We've distinguished ourselves in producing primary care physicians who stay and practice in the areas they train," said NYITCOM Dean Wolfgang Gilliar, D.O., noting that more than half of the college's graduates annually enter the primary care areas of family medicine, internal medicine, and pediatrics.
A $12.6 million renovation and modernization of A-State's historic Wilson Hall to accommodate the medical program will continue through the spring. Hiring is ongoing with an expected 80 faculty, staff, and administrative positions to be filled within two years.
"Since A-State approached us, we've developed a new model of medical education for Arkansas," said Barbara Ross-Lee, D.O., distinguished medical expert, public policy leader, and NYITCOM at A-State site dean. "Together with A-State, the community and our healthcare partners, we'll educate physicians in Arkansas for Arkansas."
Leaders from both institutions, led by Ross-Lee and A-State Vice Chancellor for University Advancement Dr. Jason Penry, have worked with regional institutions to establish hundreds of clerkship positions for third- and fourth-year students and are in the process of developing more than 400 residency slots for graduates.
"This is an extraordinary, transformative development for the citizens of Arkansas and the Delta, and for our institutions," said A-State Chancellor Dr. Tim Hudson. "NYIT's highly regarded osteopathic curriculum is a boon to our university, our community, and to all of the new medical students we will welcome to our campus."
Dr. Chuck Welch, president of the Arkansas State University System, said the collaboration with NYIT is a great example of using limited resources efficiently to provide much-needed services to the state and new educational opportunities for students.
"NYIT is a wonderful partner, and Arkansas State looks forward to a long relationship that will change healthcare in the Delta for generations," Welch said. "I also want to commend Chancellor Hudson, Jason, our partnering hospitals and the many individuals who worked to make this a reality."
Arkansas State's planning committee for the D.O. project includes Hudson and Penry representing the university; Mark Young, CEO of the Jonesboro Regional Chamber of Commerce; Chris Barber, CEO of St. Bernards Healthcare; Brad Parsons, CEO of NEA Baptist Memorial Hospital; Darrell King, former CEO of NEA Baptist Clinic; Dr. Shane Speights, associate dean of clinical affairs for NYIT in Jonesboro and previously vice president of medical affairs at St. Bernards Medical Center; and Mayor Harold Perrin of Jonesboro.
"This has been an incredible team effort and is a big win for Jonesboro and our state," Penry said. "The medical school will give more Arkansans opportunities to become a physician and provide more access to healthcare, particularly in the Delta."
About NYIT
New York Institute of Technology (NYIT) offers 90 degree programs, including undergraduate, graduate, and professional degrees, in more than 50 fields of study, including architecture and design; arts and sciences; education; engineering and computing sciences; health professions; management; and osteopathic medicine. A non-profit independent, private institution of higher education, NYIT has 12,000 students attending campuses on Long Island and Manhattan, online, and abroad. Led by President Edward Guiliano, NYIT is guided by its mission to provide career-oriented professional education, offer access to opportunity to all qualified students, and support applications-oriented research that benefits the larger world. To date, nearly 100,000 graduates have received degrees from NYIT. For more information, visit nyit.edu.
About A-State
Focusing on its mission to educate leaders, enhance intellectual growth and enrich lives, Arkansas State University is the catalyst for progress. Founded in 1909, A-State meets the challenges of continuing as a destination university for more than 13,000 students through the combination of world-class research with a long tradition of student-friendly instruction. The second largest university in Arkansas, Arkansas State is a doctoral-level national institution with more than 150 degrees areas of study, including a nationally recognized online program, and a diverse student body from across the nation and the world. For more information, visit AState.edu.
# # #