Nrityagram Dancers to Perform in Fowler Center Series
09/25/2019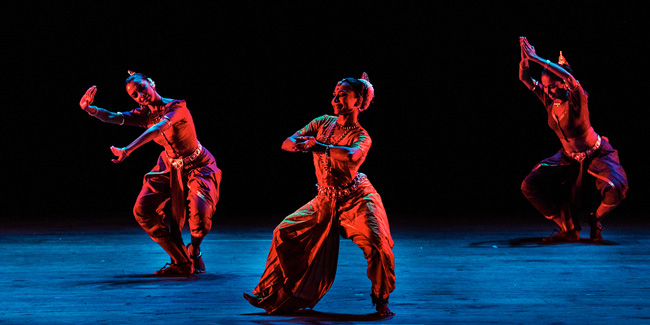 JONESBORO – Arkansas State University's Fowler Center will present the Nrityagram Dance Ensemble on Tuesday, Oct. 1, at 7:30 p.m., Riceland Hall, as part of its annual performing arts series.
One of the premier Indian Classical dance ensembles performing today, Nrityagram Dance Ensemble has the unprecedented distinction of making The New York Times' "Best Dance of the Year" list two years in a row.
More than a dance company, Nrityagram was founded as a village devoted to dance. Previously an all-female ensemble, the members' daily life of intensive training and meditation brings to the stage compelling and captivating performances that are at once sensual and lyrical.
The Nrityagram dance village is located outside Bangalore, India. It was founded in 1990 by Odissi dancer Protima Gauri, who converted 10 acres of farmland into a setting for the study, practice and teaching of dance. At Nrityagram, dance is a way of life. Recently, the ensemble has added male dancers.
Dr. Marika Kyriakos, director of Fowler Center stated, "Thanks to Dr. Tim Crist who organized the Fowler Series this year, we have these amazing artists in to entertain our community, as well as participate in our outreach programs. Nrityagram is presenting at several schools in addition to the Foundation of Arts. Hopefully this will maximize the opportunity for everyone to experience the mesmerizing exoticism through music and dance that this group brings to life."
All seating is reserved. Individual tickets are $35 and $25 for adults, and $28 and $20 for senior citizens, students, and A-State faculty and staff, and $15 and $10 for A-State students with a current ID. Group discounts are available for groups of 15 or more.
For more information, contact Fowler Center, 201 Olympic Drive, at (870) 972-3471. Tickets may be purchased at the Central Box Office in the First National Bank Arena, 217 Olympic Drive, or by calling (870) 972-ASU1 or toll-free (888) ASU-FANS. Tickets are also available online from the Central Box Office (AState.edu/tickets). For additional information, go to Fowler Center (www.yourfowlercenter.com).
# # #