Native Pride Dancers to Open 2019-20 Fowler Center Series
08/22/2019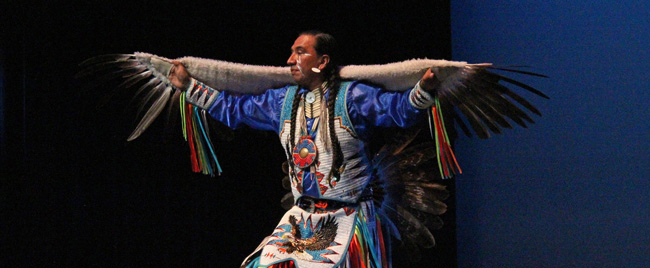 JONESBORO – Arkansas State University's Fowler Center will present the Native Pride Dancers featuring Larry Yazzie, Friday, Sept. 6, at 7:30 p.m., to open the 2019-20 season of presentations.
The Native Pride Dancers and musicians share the cultural history, traditions, ways, beliefs, and spiritual importance of Indigenous peoples. Keeping the great traditions of Native Americans alive, the dancers honor the uniqueness and history of First Nations Peoples including the Meskwaki Nation, Lakota, Ojibwe, Dakota, Nakota, Menominee, Cree, Ho-Chunk, Navajo, and other tribes.
"Everyone is invited to join in this most festive presentation by the Indigenous peoples whose poignant spirit and mesmerizing artistry is sure to take you on a compelling adventure, if only for one evening," stated Dr. Marika Kyriakos, director of Fowler Center.
Fowler Center Series at Arkansas State University regularly hosts world-class performing arts events for the region's enjoyment.
All seating is reserved. Individual tickets are $35 and $25 for adults, and $28 and $20 for senior citizens, students, and A-State faculty and staff, and $15 and $10 for A-State students with a current ID. Group discounts are available for groups of 15 or more.
For more information, contact Fowler Center, 201 Olympic Drive, at (870) 972-3471. Tickets may be purchased at the Central Box Office in the First National Bank Arena, 217 Olympic Drive, or by calling (870) 972-ASU1 or toll-free (888) ASU-FANS. Tickets are also available online from the Central Box Office (AState.edu/tickets). For additional information, go to Fowler Center (www.yourfowlercenter.com).
# # #