Music Legend Marty Stuart Excited About JCHF Appearance
07/19/2019
Marty Stuart has performed before four United States Presidents. He's a winner of five Grammy awards, starred in 156 episodes of The Marty Stuart Show on RFD TV and has had a Fender Telecaster guitar named after him. When he was 14 years old, he became a member of the Nashville Grass, the backing band for country music legend Lester Flatt. Eight years later, at the age of 22, he joined the band that backed Johnny Cash.
But Marty Stuart has never been to Dyess, Arkansas.
That will change Oct. 19 when Stuart headlines The Johnny Cash Heritage Festival concert with Rosanne Cash in the field adjacent to the Johnny Cash Boyhood home just outside of town.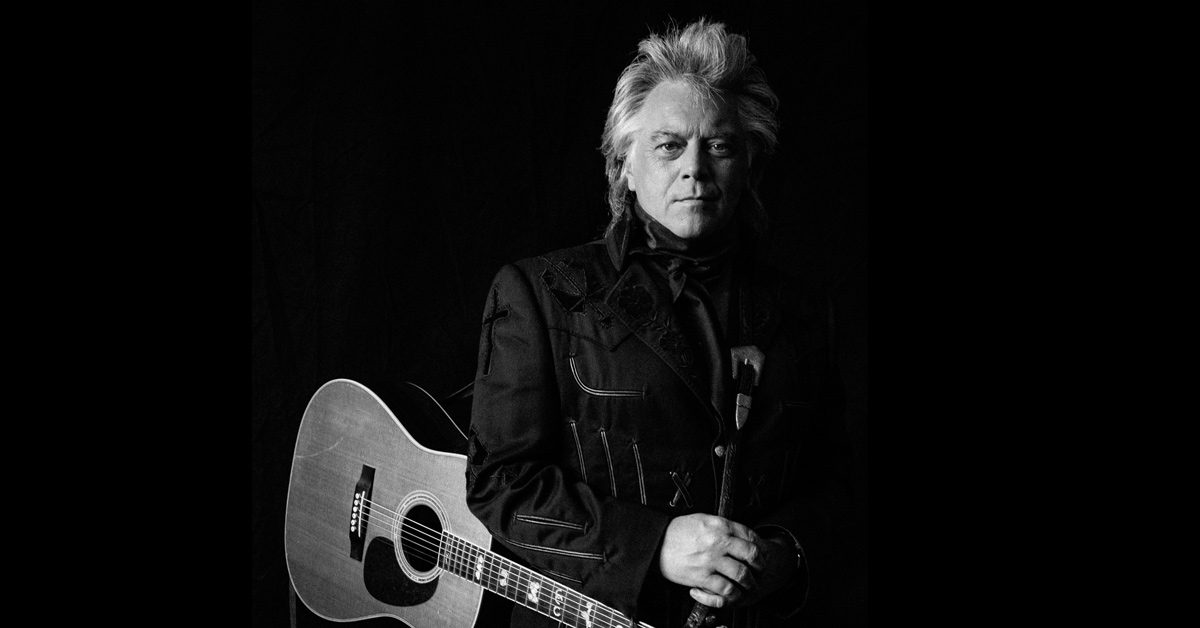 An eclectic performer who transitions between honky-tonk, rockabilly, traditional country and bluegrass, Stuart is considered one of country music's most historically minded "new" traditionalists, recording and releasing relevant music that honors country's rich legacy while advancing it into the future.
Rolling Stone magazine calls him one of the top country music artists of all time.
"It's unbelievable that I've never been to Dyess," said Stuart. "I certainly understand what that place is about, what came from there, and I think of it as being repurposed to not only talk about the past, but to lead people into the future.
"John's life was so interesting." Stuart continued. "It doesn't matter where you get on – just get on and start looking around, and what you'll find is a man of faith, a man of courage, a man who overcame and fought obstacles his entire life. It will put you in the slipstream of a great American and of a guy who was after God's heart his whole life. There's a great American story there for anybody to enjoy, and I think Dyess is the 'gettin' on' place."
Stuart's roots with Cash run deep, and once he joined the band, the two were connected for the remainder of Cash's life. Stuart met Cash shortly after the death of Flatt, and said there was an instant connection when the two first shook hands and Cash asked him where he was from.
When he told Cash that he was from Mississippi, Cash said, "I thought so." Cash then looked him in the eye and said, "I know you. Where have you been?"
Stuart replied, "I know you too. I've been gettin' ready. Let's go."
"Two or three weeks later, I was on stage (with Cash), and that was about the size of it. It was just the right moment," said Stuart. "I always believed that God is a God of preparation, and he prepares you for things years before they happen. And when you finally get there, it's because your heart was ready."
Stuart remained in Cash's band for the next five years. They became close friends, and later, next-door neighbors. They were neighbors in 2003 when Cash died, and Stuart visited with his friend and mentor shortly before his death on Sept. 12 of that year. On that day, Stuart used his 35mm camera and black-and-white film to shoot the final portrait of the American country music legend.
"I was sitting there in his office, and the light from the lake was coming in on his shoulders," said Stuart. "I said, 'J.R., let me take your picture,' and (the best) was the fourth frame of four. He just kind of looked drooped over in the first three, and I said, 'J.R., be Johnny Cash,' and he sat up straight and he pulled that collar and gave me that pose. He understood the camera better than anybody.
"That was four days before he died, and what I see now is like looking at a picture of an old president or a great old statesman. A great chief in his final minutes."
As he recalled his long history with Cash, Stuart said he's anxious to walk the grounds of the Johnny Cash Boyhood Home. He knows that seeing the Home in the distance as he's on stage for the concert will have an influence on his performance, but he's not sure how.
"I have no idea," said Stuart. "I am going to pull up and breathe the air, put my hands in the dirt and walk the fields, and walk around and see what I feel, and we will build the show around that."
The concert is scheduled to get underway at noon, and tickets are available through the festival website, JohnnyCashHeritageFestival.com, the Central Box Office in A-State's First National Bank Arena at the lower red entrance, or by calling 870-972-2781 or 800-745-3000.
Cory Jackson, the 2018 Arkansas Country Music Association Artist of the Year, will open the show.
Concert ticket prices are $35 plus applicable fees for general admission; $100 plus applicable fees for reserved chair seating; and $200 plus applicable fees for a Full Circle Package (limited number available).
The Full Circle Package includes seating in a special reserved section for the concert, field parking adjacent to the concert, admission to the ticketed Friday afternoon special presentations, and an invitation to a private Friday evening "suppertime stations" event with members of the Cash family.
A limited number of parking passes for the field adjacent to the concert are available to $100 ticket purchasers for $50 until spaces run out. They can be purchased by contacting the Central Box Office at the above numbers. (Parking passes cannot be purchased online.) Passes will be mailed out, along with a parking map, directions and instructions.
Special Friday afternoon speaker presentations, moderated by Rosanne Cash, are a new addition to the 2019 Johnny Cash Heritage Festival. Featured speakers include Dr. William Ferris, the Joel R. Williamson Eminent Professor of History Emeritus at the University of North Carolina at Chapel Hill; Pam Baucom, co-producer of the eight-part Ken Burns documentary "Country Music," which will air on PBS during September; and Thom Zimny, director of the feature-length documentary, "The Gift: The Journey of Johnny Cash," which premiered in March at the South by Southwest (SXSW) Music Festival in Austin. Tickets are $15 each, and may also be purchased at JohnnyCashHeritageFestival.com.
The festival is coordinated through Arkansas State University Heritage Sites and licensed through the John R. Cash Revocable Trust.
# # #