Madison Hewitt is First Recipient of the Chloe Elizabeth Vaught Memorial Scholarship
06/23/2021
JONESBORO — Madison "Madi" Hewitt, a senior from Rosie, has been selected as the first recipient of a scholarship honoring the late Chloe Vaught of Morrilton, a former All-America softball player and Honors College student at Arkansas State University who died tragically Sept. 29, 2020, at the age of 24.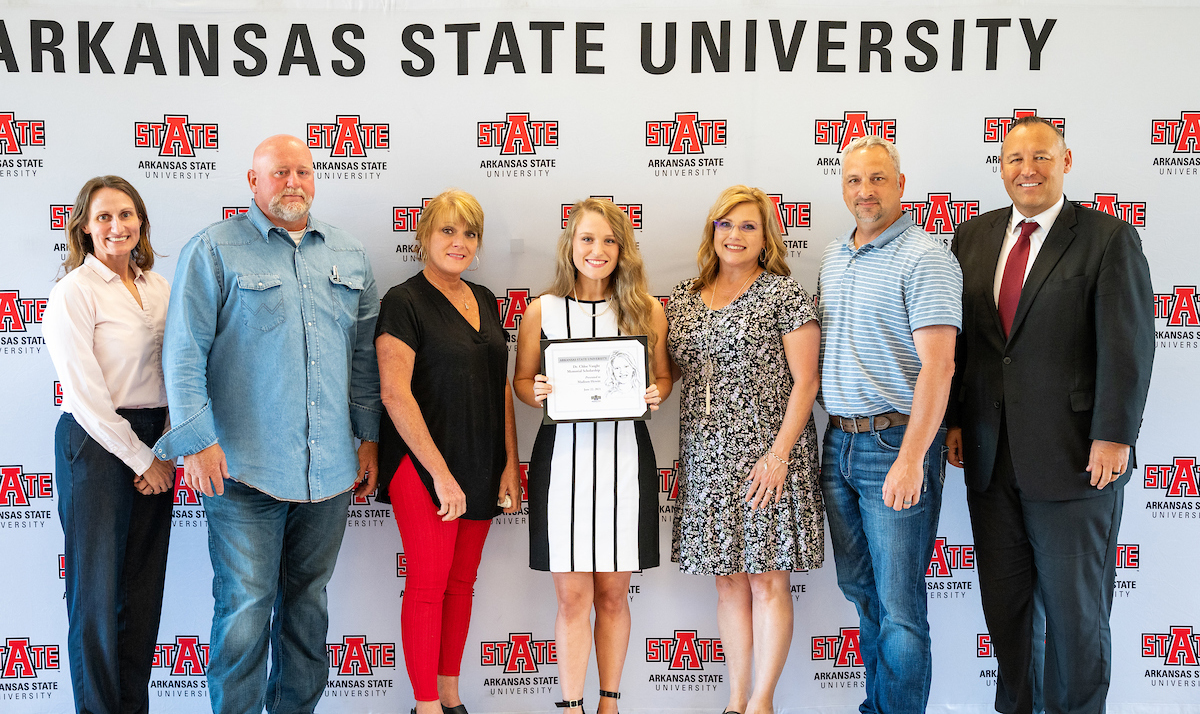 (From left) Dr. Amanda Deel, NYIT; Chris Vaught, Tonya Vaught, Madison "Madi" Hewitt, scholarship recipient; Janel Tilley; Myron Tilley; Chancellor Kelly Damphousse.
The Chloe Elizabeth Vaught Memorial Scholarship was donated by her family.

"To me, being compassionate is about being selfless," stated Hewitt. "It is about seeking to empathize with others. I believe that compassion starts within each person individually. Each person has the ability to make a conscious decision to try to understand and connect to the people around them. I want my actions to be rooted in the hope of helping those around me. I hope to practice this with my future patients."

Hewitt, who will be a senior in 2021-22, is an Honors College student majoring in biological sciences (preprofessional studies) with an overall grade point average of 3.84. She plans to attend medical school after graduation from A-State.

Among Hewitt's campus accomplishments are serving as an Honors Ambassador coordinator (2019-21); Honors College Association member (2018-2021) and executive council member (2019-21); Pre-Professional Club vice president (2019-21); Chancellor's List; Dean's List; and Honors Director's List (2018-21).

"As the first recipient of the Chloe Elizabeth Vaught Memorial Scholarship, I know that Madi will make Chloe's family proud," said Rebecca Oliver, director of the Honors College. "Madi will be an excellent steward of this scholarship and will carry on Chloe's legacy of service.

"Chloe was an Honors alumna, an amazing scholar, and was well on her way to becoming an outstanding physician. Madi's compassion has demonstrated that she, like Chloe, will someday be a phenomenal doctor who intends to serve her community one patient at a time," Oliver added.

Criteria for the scholarship include involvement in the Honors College, majoring in biology or chemistry, commitment, service and volunteerism on and off campus, and demonstrating academic excellence both in and outside the classroom by maintaining a 3.50-plus overall grade point average. A candidate must also be a junior or senior at the time of using the funds.

Preference is given to students from Arkansas, but not mandatory, and financial need may be taken into consideration.

Vaught received a Bachelor of Science in biological sciences with an emphasis in pre-professional studies as well as a Bachelor of Arts in chemistry in 2018. She was also a student in the Honors College graduating with the silver Honors medal and earned awards and recognition, including appearing numerous times on the Dean's List.

At the time of her death, she was a third-year medical student in the New York Institute of Technology College of Osteopathic Medicine (NYITCOM) on the A-State campus and was on track to graduate in 2022.

Vaught also played catcher for the Red Wolf club softball team where she was a first-team selection on the Rawlings All-American Team by the National Club Softball Association. Her team went on to win the 2017 NCSA World Series national championship.

"Chloe's intentionality and love continues to inspire us and challenge us to love others, to forgive, to speak up for those who don't have a voice, and show compassion to all," said Janel Tilley, Chloe's mother.