Lecture-Concert Series to present Moreau | VanTuinen Duo
11/13/2020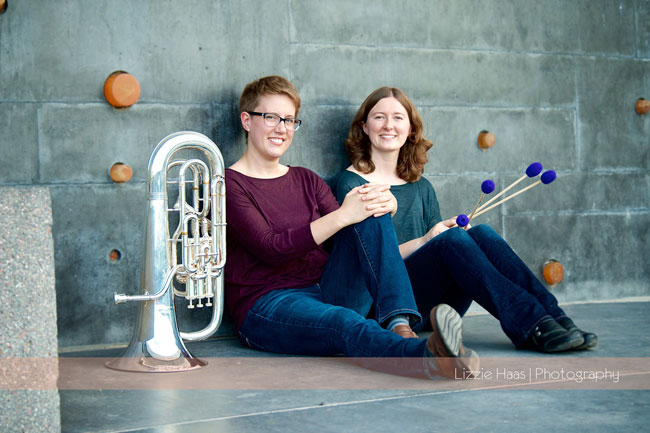 Danielle VanTuinen and Danielle Moreau
Moreau | VanTuinen Duo
JONESBORO – The Lecture-Concert Series at Arkansas State University will offer a pair of online programs by the Moreau | VanTuinen Duo, Tuesday, Nov. 17.
Dr. Danielle Moreau, a percussionist, and Dr. Danielle VanTuinen, who plays euphonium and tuba, will be featured in "The 21st Century Musician," a virtual presentation at 11 a.m. They will follow with a livestream performance at 7:30 p.m. Both will be presented via the Zoom platform (https://astatecall.zoom.us/my/edowen).
All events in the Lecture-Concert Series are admission free and open to the public.
The Moreau | VanTuinen Duo is one of the only all-female percussion and low brass duos in the world. Formed in 2014, the group's primary objectives include providing educational outreach opportunities and commissioning new repertoire.
In addition to their active solo careers, the Gainesville, Fla., duo regularly presents at universities across North America discussing career development for 21st-century musicians and professional chamber playing.
In addition to the A-State Lecture-Concert Series, additional funding support is provided by the College of Liberal Arts and Communication, the Office of Diversity and Community Engagement, and the Department of Music.
Interested individuals may visit the Lecture-Concert Series website, AState.edu/LectureConcert, for additional information on these and other upcoming events. For more details, one may contact Dr. Ed Owen, chair, Lecture-Concert Committee at (870) 972-3862 or via email at eowen@AState.edu.
# # #