Lecture-Concert Series Features Harlem String Quartet, April 7
03/31/2014
JONESBORO – Arkansas State University's Lecture-Concert Series will feature a presentation by the Harlem String Quartet Monday, April 7, at 7:30 p.m. in Riceland Hall of Fowler Center, 201 Olympic Dr. Admission is free to this and all Lecture-Concert Series events.
The program at Arkansas State will be presented with campus funding support from the Diversity Program, the Department of Music, and the College of Fine Arts, according to Dr. Tim Crist, chair of the Lecture-Concert Committee. Originally scheduled for February, the concert was postponed due to severe weather.
Harlem String Quartet's mission is to advance diversity in classical music, engaging young and new audiences through the discovery and presentation of varied repertoire that includes works by minority composers.
"The Harlem String Quartet is well known not only for the quality of their performances of the standard string quartet repertoire," stated Dr. Guy Harrison, assistant professor of music at A-State, "but also for pushing the boundaries of what the genre is still capable of, including collaborations with jazz musician Chick Corea and performances of works by minority composers."
Since its public debut in 2006 at Carnegie Hall, the ensemble has performed throughout the United States and several other countries.
Last year they completed their third and final year in the Professional String Quartet Training Program at New England Conservatory and participated in NEC's string quartet exchange program in Paris.
In addition to performing on chamber-music series around the country, they have collaborated with such distinguished performers as violinist Itzhak Perlman; cellist Carter Brey; clarinetist Paquito D'Rivera; pianist Misha Dichter, with whom the quartet made their Kennedy Center debut in February 2013; and jazz legends Chick Corea and Gary Burton, whom they joined for their six-month "Hot House" tour that began at Tanglewood in 2012.
Each member of the quartet is a seasoned solo artist. As an ensemble they perform not only in chamber music settings but with orchestra.
Harlem String Quartet has been featured on CNN, the Today Show, and the News Hour with Jim Lehrer. Their recording career began in 2007 when White Pine Music issued "Take the 'A' Train," a release featuring the string quartet version of the jazz standard by Billy Strayhorn.
The quartet's third recording, released in early 2011, is a collaboration with pianist Awadagin Pratt and showcases works by American composer Judith Lang Zaimont. More recently the quartet collaborated with jazz pianist Chick Corea in two recording projects, including a Grammy-winning Hot House album that included "Mozart Goes Dancing," which won a separate Grammy as Best Instrumental Composition.
Harlem String Quartet was founded in 2006 by The Sphinx Organization, a national nonprofit organization dedicated to building diversity in classical music and providing access to music education in underserved communities.
The Lecture-Concert Series serves Arkansas State University and the surrounding communities in bringing notable guest speakers and performers of diverse backgrounds and wide appeal to the A-State campus, Crist added. The Lecture-Concert Series supports Arkansas State University's mission to educate leaders, enhance intellectual growth and enrich lives.
The complete schedule for the 2013-14 Lecture-Concert Series, including performers' biographies and photographs, is available on the A-State website, AState.edu.
# # #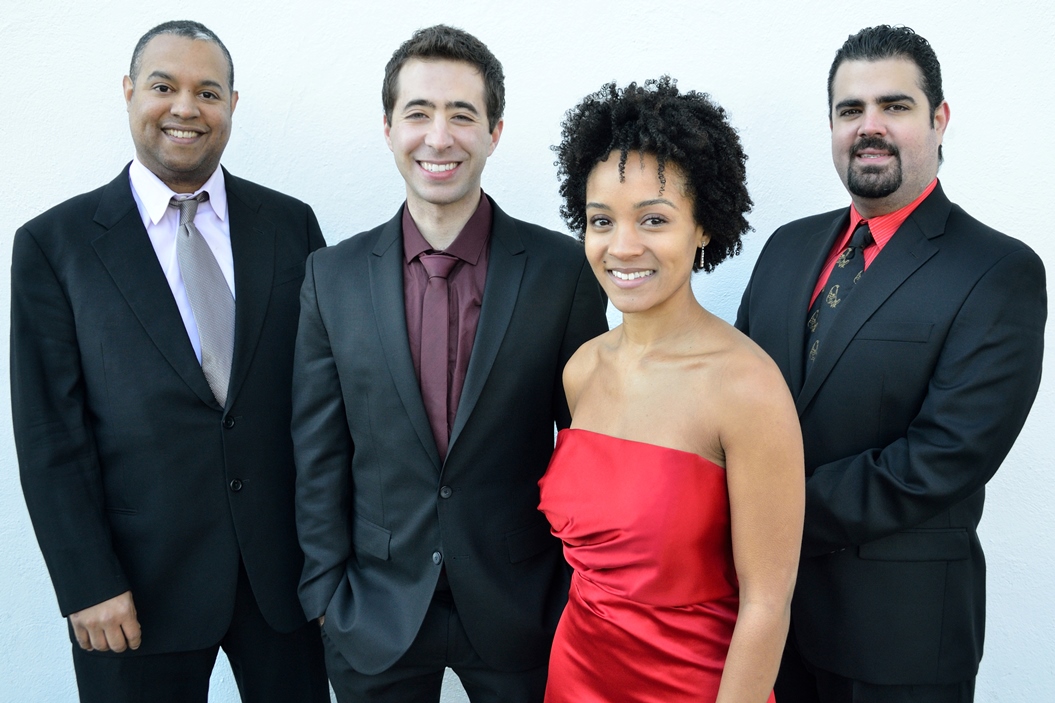 Members of Harlem Quartet and their instruments are (from left): Ilmar Gavilán (violin),
Matthew Zalkind (cello), Melissa White (violin), and Jaime Amador (viola).