Lakeport Legacies to Feature "Southeast Arkansas Legislators"
06/23/2017
LAKE VILLAGE – "A Case Study in Diversity: Southeast Arkansas Legislators, 1868-Jim Crow" will be presented by Rodney Harris in the Lakeport Legacies monthly history talk, Thursday, June 29, at the Lakeport Plantation, 601 Highway 142, in Lake Village.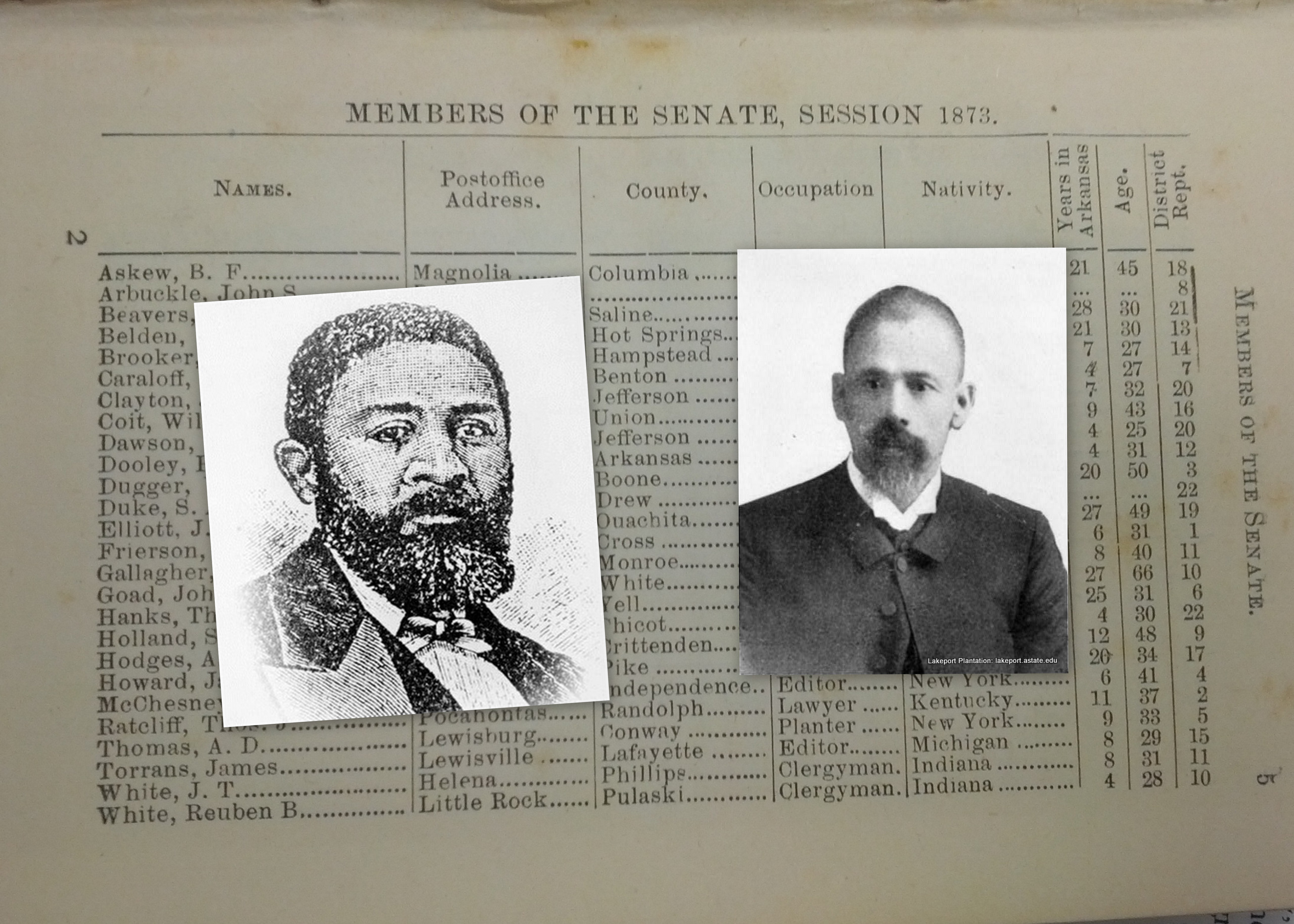 Image of William H. Grey (left) and James T. White superimposed on an 1873 roster of Arkansas State Senators. Grey, born free in Washington, D.C., came to Helena in 1865. He served in the 1868 Arkansas State Constitutional Convention and as a representative in the Arkansas House in 1869. White, a native of Indiana, represented Phillips County in the Arkansas House in 1868 and the Senate in 1871 and 1873.
The event gets underway at 5:30 p.m., with refreshments and conversation, and the program starts at 6 p.m. It is free and open to the public. For more information and to RSVP, contact Dr. Blake Wintory, Lakeport Plantation assistant director, at 870-265-6031.
Harris, a graduate of Arkansas State with a Bachelor of Arts degree in political science and a Master of Arts degree from the University of Central Arkansas, wrote his dissertation, "Divided Saints: Democratic Factions in the 1874 Arkansas Constitutional Convention," under the direction of Dr. Patrick Williams at the University of Arkansas at Fayetteville.
After spending 10 years as a real estate broker, Harris ran for state representative in 2004 and was named one of the 25 Outstanding Young Executives in Northeast Arkansas. He specializes in political and southern history and will join the faculty at Williams Baptist College in Walnut Ridge this fall.
During Reconstruction (1867-74), Republicans, including the first African-American office holders, controlled most political positions in Arkansas. Many people assume that African-American office holding ended with Democrats' political "redemption" in 1874.
Despite redemption, office holding on the local and legislative level remained quite diverse until 1893. Southeast Arkansas continued to elect Republicans, both black and white, along with Democrats at the county level and to the general assembly. This electoral diversity makes Southeast Arkansas unique and worthy of further examination.
Lakeport Legacies is a monthly history talk held on the last Thursday at the Lakeport Plantation during the spring and summer. Each month a topic from the Delta region is featured.
The Lakeport Plantation is an Arkansas State University Heritage Site. Constructed in 1859, Lakeport is one of Arkansas's premier historic structures and still retains many of its original finishes and architectural details. Open to the public since 2007, Lakeport researches and interprets the people and cultures that shaped plantation life in the Mississippi River Delta, focusing on the Antebellum, Civil War and Reconstruction periods.
Arkansas Heritage Sites at Arkansas State University develops and operates historic properties of regional and national significance in the Arkansas Delta. A-State's Heritage Sites include the Hemingway-Pfeiffer Museum and Educational Center, Southern Tenant Farmers Museum, Lakeport Plantation, the Historic Dyess Colony: Boyhood Home of Johnny Cash, and the Arkansas State University Museum.