Kays Foundation Grant Awarded for Arkansas Science Festival
02/19/2016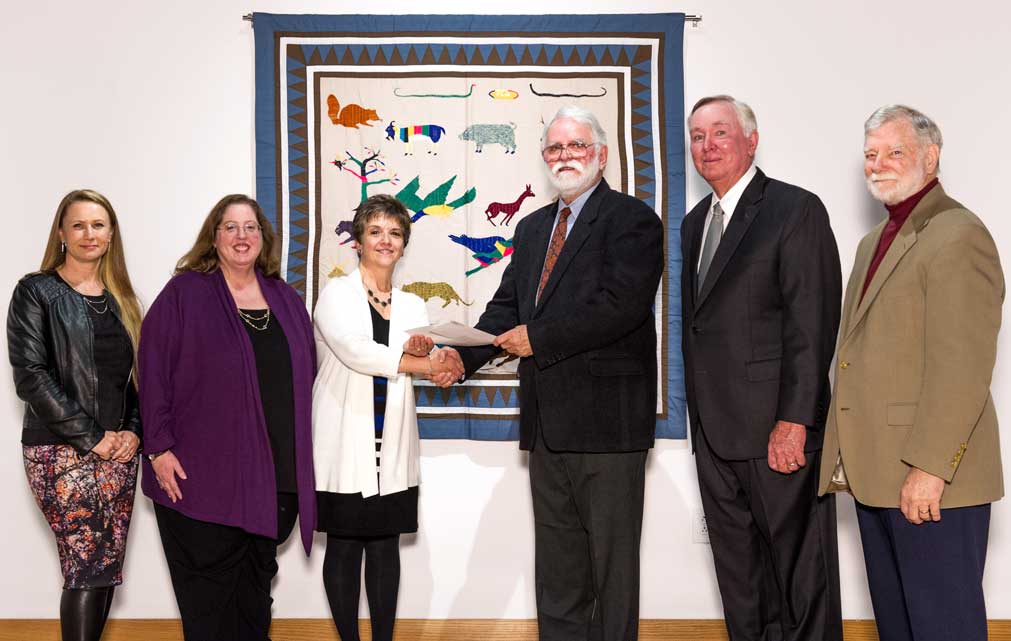 Arkansas Science Festival organizers (from left) Dr. Amy Pearce, Dr. Karen Yanowitz and
Dr. Anne Grippo accept a grant authorization from members of the Kays Foundation board,
including Terry Carty, Dr. Tom Bishop and Richard Carvell.
JONESBORO – The Kays Foundation has announced approval of a $4,250 grant to the Arkansas Science Festival, which is organized and conducted by faculty at Arkansas State University.
The foundation awarded the grant to assist with programming during the third annual Science Festival, to be held at A-State and the Jonesboro community during Homecoming weekend next fall.
"The Arkansas Science Festivals of 2014 and 2015 brought the fun of science to literally thousands of participants from Northeast Arkansas and beyond," said Dr. Anne Grippo, associate dean of the College of Sciences and Mathematics and one of the Science Festival organizers. "Through the generosity of the Kays Foundation, we look forward to building on these experiences to hold the 2016 Arkansas Science Festival's Super Science Saturday events. Planning has already begun."
Events offered on Super Science Saturday will include hands-on science activities, science and math-themed educational performances, a fun run, and programs coordinated with our local libraries and museums. Target dates are early October 2016.
Terry Carty, executive vice president, said the grant is part of the foundation's ongoing commitment to assist the university through grants in support of projects that advance its academic, service and research missions. The Foundation board reviews grant requests annually.
The Arkansas State College Foundation for the Advancement of Higher Education, which does business as Kays Foundation, traces its beginnings to 1911 and the administration of V.C. Kays, the founding president of the institution that evolved into Arkansas State University.
# # #