KASU's Bluegrass Monday to Feature David Davis and Warrior River Boys
04/12/2019
JONESBORO – David Davis and the Warrior River Boys will perform a concert of bluegrass music Monday, April 22, at 7 p.m. at the Collins Theatre, 120 West Emerson Street, in downtown Paragould. The show is part of the Bluegrass Monday concert series presented by KASU 91.9 FM.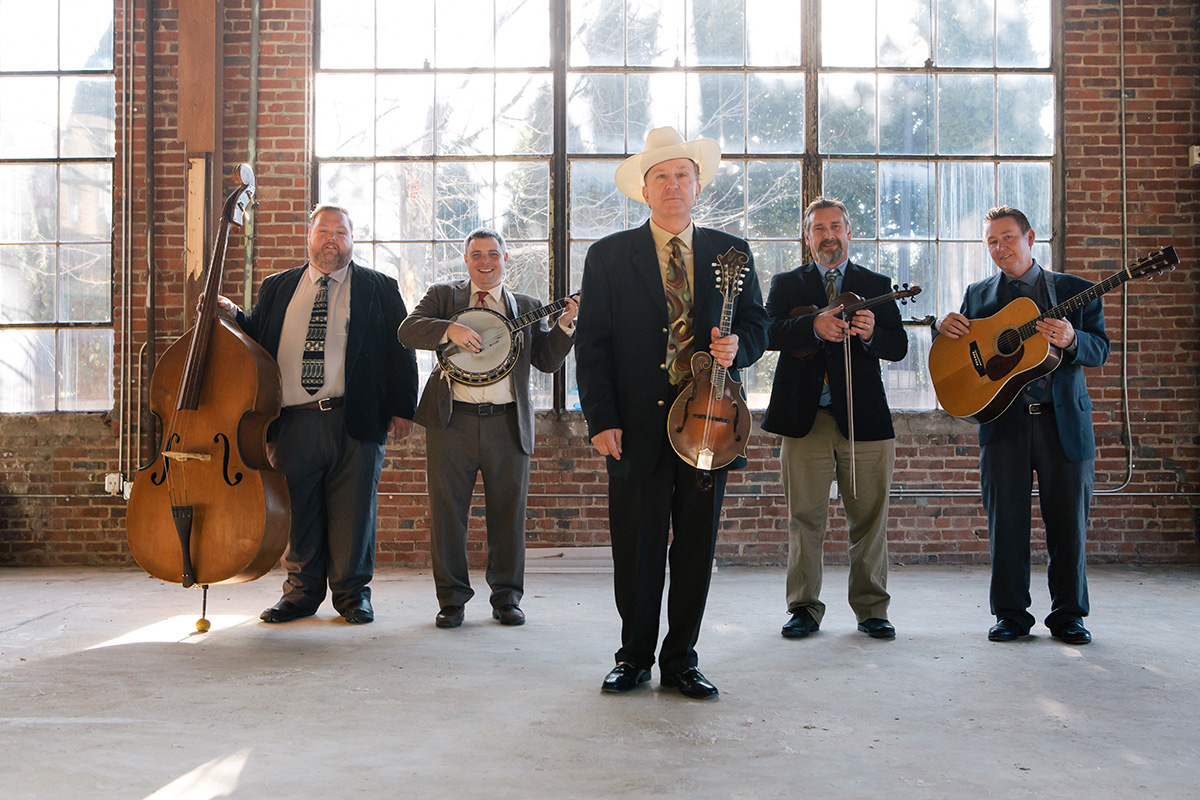 David Davis and the Warrior River Boys (left to right) Marty Hays, Robert Montgomery, David Davis, Philip James and Stan Wilemon — Photo by Amy Richmond.
From Alabama, David Davis is continuing a family tradition of singing and playing bluegrass music. In the 1930s, his father and two uncles played and sang in the style of "brother duets," a forerunner of bluegrass music as it is known today. Following World War II, Davis's Uncle Cleo was in the first incarnation of the Bluegrass Boys, the backing band for Bill Monroe, the man who invented the sound of bluegrass music.
Leading the Warrior River Boys since 1984, Davis has recorded CDs for the acclaimed Rebel record label, and the group currently records for the prestigious Rounder record label, one of the top producers of recorded bluegrass music. In 2010, Davis was inducted into the Alabama Bluegrass Hall of Fame, and in 2014 he was inducted into America's Old-Time Country Music Hall of Fame. Davis sings and plays mandolin for the band. His mandolin style is highly influenced by Bill Monroe's music.
The band appears at dozens of bluegrass festivals and venues across the country each year, and the group performs an outstanding style of hard-driving, traditional, entertaining bluegrass music. Their most recent CD, Didn't He Ramble: Songs of Charlie Poole, is a collection of songs made famous in the 1920s by Poole who was a forerunner of bluegrass music. That CD was named to multiple "best of 2018" lists by music critics and disc jockeys.
The Warrior River Boys include Robert Montgomery on vocals and banjo. A member of the band since 2008, Montgomery has won dozens of bluegrass-picking contests, most noteworthy the 2004 National Old-Time Banjo Championship at Uncle Dave Macon Days in Murfreesboro, Tenn. He was featured on the Cumberland Highlanders TV program on RFD-TV, and he has appeared as a guest musician on CDs by Marty Stuart and Bobby Osborne.
Marty Hays sings and plays bass for the Warrior River Boys. With the band since 1995, this Illinois native loves classic country music. He released his debut solo CD on Right Side Up Records in 2013, and he will release another solo CD soon.
Guitarist and vocalist Stan Wilemon has had a long relationship with Davis and the band. He was in the group in the early 1990s, and later performed with the Gary Waldrep Band before rejoining the Warrior River Boys. Wilemon is an acclaimed bluegrass songwriter, and many groups, including the Warrior River Boys, have recorded his compositions.
For their performance in Paragould, the band will be joined by fiddler Billy Hurt. He has toured with the Bluegrass Brothers, Jim Eanes, David Parmley and Continental Divide, Acoustic Endeavors, and Karl Shifflett and Big Country Show. He recorded a CD titled Fiddlin' for Patuxent Music on which he collaborated with past Bluegrass Monday performers C.J. Lewandowski of the Po' Ramblin' Boys and Jeremy Stephens of High Fidelity.
Additional information about David Davis and the Warrior River Boys is available at www.daviddavisandwrb.com.
Seating at the concert is first-come, first-served. Doors to the theatre will open at 6 p.m. There is no admission fee, but KASU will literally "pass the hat" to collect money to pay the musicians. The suggested donation is $5 per person.
In addition to the concert, Terry's Café, 201 South Pruett Street in Paragould, opens on Bluegrass Monday nights to welcome bluegrass music fans. The café serves a buffet meal beginning at 4:30 p.m. on the evenings of Bluegrass Monday concerts. Concessions will also be available at the Collins Theatre.
Bluegrass Monday concerts happen on the fourth Monday night of each month. These concerts are presented with support from Bibb Chiropractic Center, the Posey Peddler, the Northeast Arkansas Bluegrass Association, Holiday Inn Express and Suites of Paragould and KASU.
KASU, 91.9 FM, is the 100,000-watt public broadcasting service of Arkansas State University in Jonesboro. For more information, contact KASU Program Director Marty Scarbrough at mscarbro@astate.edu or 870-972-2367. Bluegrass Monday is also on Facebook (search "Bluegrass Monday").