KASU Bluegrass Monday To Present "Southern Raised" Band
08/12/2015
JONESBORO – The band Southern Raised will perform a concert of bluegrass music Monday, Aug. 24, at 7 p.m. at the Collins Theatre, 120 West Emerson Street, in downtown Paragould. The concert is part of the Bluegrass Monday concert series presented by KASU 91.9 FM. KASU will literally "pass the hat" to collect money to pay the group. The suggested donation is $5 per person.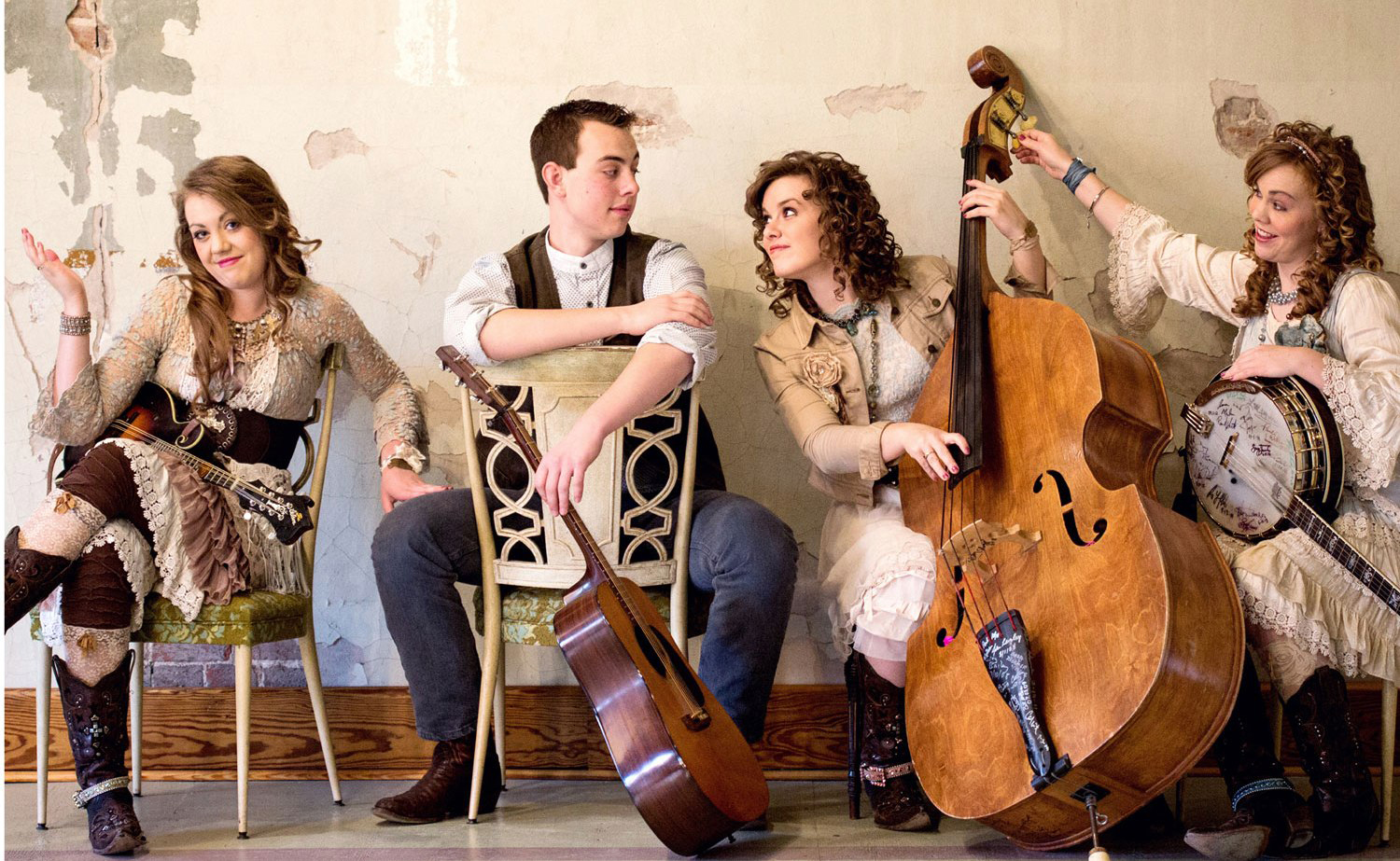 Southern Raised — (from left) Emily Reith, Matt Reith, Lindsay Reith and Sarah Reith.

Southern Raised is a family band from the Branson, Missouri, area. The group is four siblings in their late teens and 20s. They have been playing music professionally, primarily bluegrass gospel music, for eight years.

As young children growing up in Northwest Arkansas, the members of Southern Raised took lessons on bowed string instruments to learn to play classical music. Their first exposure to bluegrass music came after their family moved into the Ozark hills. After that encounter with bluegrass, they began to love the style of music, and the violins they were playing instead became "fiddles." They then began learning to play other bluegrass instruments such as banjo, mandolin, upright bass and guitar.
In 2009, Southern Raised won second place in the national single microphone championship at Silver Dollar City in Branson, Missouri. This competition recognizes the best acoustic groups in the country who perform in an old-time style, gathering around a single microphone.
In their career, the members of Southern Raised have received 32 award nominations from the midwest chapter of the Society for the Preservation of Bluegrass Music in America. In both 2013 and 2014, this organization has nominated Southern Raised for their entertaining, vocal, instrumental, gospel and contemporary bluegrass group of the year.
The band has also received awards and nominations from the Singing News Fan Awards, the Diamond Awards given by SGN Scoops Magazine and the Front Porch Fellowship Gospel Music Awards.
Oldest sibling Lindsay Reith plays upright bass, Sarah Reith plays banjo and Emily Grace Reith plays fiddle and mandolin. Matthew Reith plays guitar. All four Reith siblings sing, and in addition to gospel songs played on bluegrass instruments, their concerts also feature a cappella versions of classic hymns.
The band has produced six CDs, and they maintain a busy touring schedule with dozens of concerts each year from coast to coast in the United States. Videos of the band in performance are available on their website, www.southernraisedbluegrass.com.
In addition to the concert, Terry's Café, 201 South Pruett Street in Paragould, opens on Bluegrass Monday nights to welcome bluegrass music fans. The café serves a catfish buffet meal beginning at 4:30 p.m. on the evenings of Bluegrass Monday concerts. Concessions will also be available at the Collins Theatre.
Bluegrass Monday concerts are held on the fourth Monday night of each month. These concerts are presented with support from Bibb Chiropractic, the Posey Peddler, Holiday Inn Express and Suites of Paragould, the Northeast Arkansas Bluegrass Association and KASU.
KASU, 91.9 FM, is the 100,000-watt public broadcasting service of Arkansas State University. For more information, contact KASU program director Marty Scarbrough at mscarbro@astate.edu or (870) 972-2367. Bluegrass Monday is also on Facebook (search "Bluegrass Monday").