Jonesboro's Wood Family Provides Major Gift for A-State's College of Business Sales Leadership Center
10/05/2015
JONESBORO – The Arkansas State University College of Business received a huge boost for its new sales leadership center when the family of Robert M. ("Bob") Wood announced they are providing a gift of $1 million. This marks the largest single gift to the College of Business and is among the top 10 gifts in A-State history.


"All of us in the A-State College of Business are very thankful for this extraordinary gift from the Wood family," says Dr. Shane Hunt, business dean. "The R.M. "Bob" Wood Sales Leadership Center will be a shining example of our mission to educate, enhance and enrich our students, and the community of Jonesboro and indeed the state of Arkansas for generations to come.
"The R.M. 'Bob' Wood Sales Leadership Center strives to be the leading network for sales research and education throughout the state and the region," Hunt continued. "Professional sales is a rapidly growing field and the Wood Sales Leadership Center program prepares students for this demanding area through real-life experiences, practice sales call role plays, interviews, receptions and other events for sales students and sales professionals."
Located within the College of Business, the R.M. "Bob" Wood Sales Leadership Center will provide a laboratory environment for students and area professionals to perfect their sales and presentation skills and include state-of-the-art video training software along with two practice environments – a boardroom and individual sales-presentation settings. Construction of the facility is underway, and the endowment will support other future student needs within the center.
"Bob chose Jonesboro for his home after attending Arkansas State where he met his wife Peggy, and then starting a business while raising two daughters in the community" recalls son-in-law Mark Ammerman. "What most people who knew Bob didn't know was prior to his life in Arkansas real estate development, he was a traveling sales rep. Those were the days when trips were driven not flown, on the road two weeks at a time, snail mail not email, and sales were done face-to-face, not over the web. Bob knew good products were not enough; relationships were important and mutual; and salespeople needed to represent both their clients and their employers. It's a difficult art, but one Bob did quite well; he carried that art into community service. Those who become involved with the Leadership Center will learn the modern skills to build trust and solid relationships in pursuit of satisfied clients and careers.
"The family's gift today, presented by Peggy Wood, Jill (Wood) Morris, and Mark and Lisa (Wood) Ammerman, recognizes Bob's love for the community of A-State and Jonesboro, which have been blessed by Bob's dedication to sound business ethics and dedicated relationships," Ammerman continued. "We can't think of a better way to remember him than by supporting the university which he loved, the community where he spent his life, and creating a lasting means to change the lives of upcoming business leaders."
Along with naming the Wood Sales Leadership Center, the family gift establishes an endowed professorship in sales, supports student travel to national sales competitions and creates the largest scholarship endowment in the history of the College of Business.
In special recognition to Wood, a classroom in the Delta Center will be named the R.M. "Bob" Wood Classroom.

The sales leadership program began in June as a place to earn and hone cutting-edge sales techniques, and also provide opportunities to grow business relationship-building skills.
The program can provide students an innovative, university-level sales training experience, utilizing curriculum and access to business leaders through lectures and mentoring, all necessary to help in their careers. To further benefit the state's business interests, the center's lab space will be open to the general business community as well as all students at Arkansas State.
"We are grateful for the Wood family," Chancellor Tim Hudson said. "Their generosity will help A-State's College of Business reach new heights and dream bigger dreams. Their generous gift will unquestionably help Arkansas State rise to fulfill its vision of becoming one of the top sales programs of its kind in the country."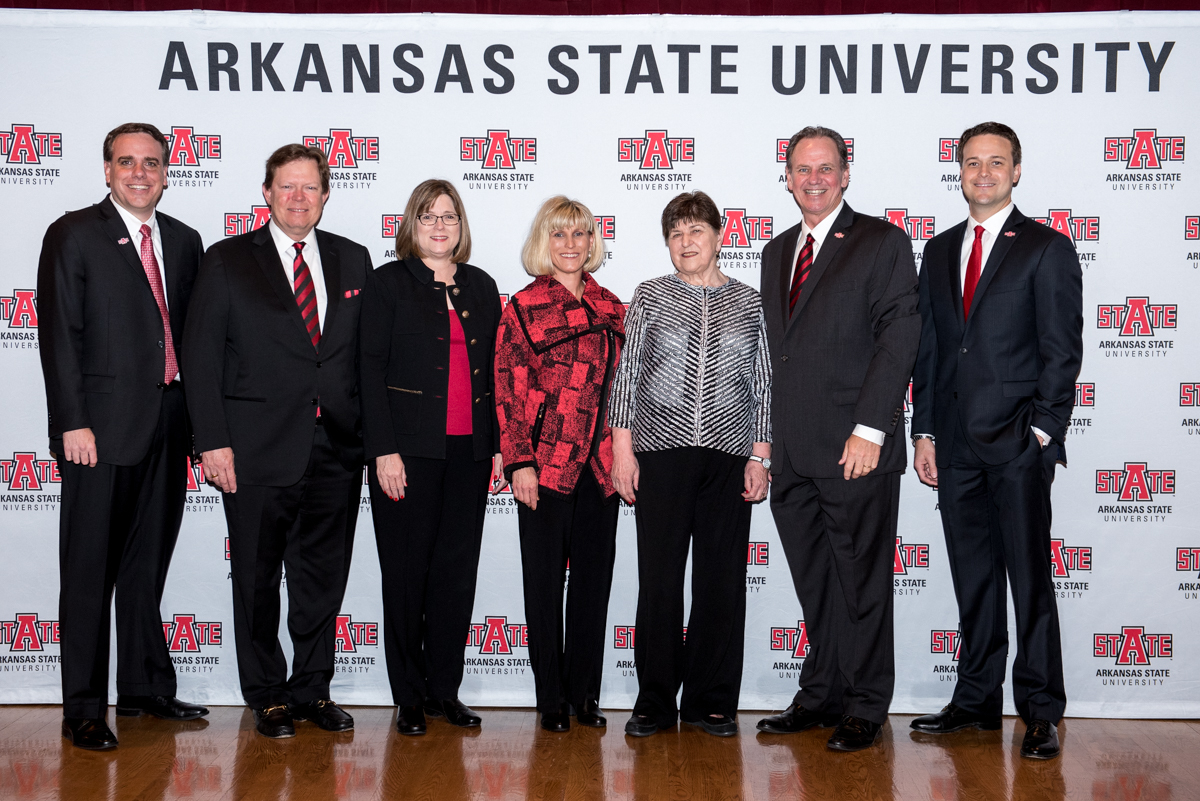 (from left) Dr. Shane Hunt, Mark Ammerman, Lisa Wood Ammerman, Jill Wood Morris, Peggy Wood,
Dr. Tim Hudson and Dr. Jason Penry