Johnny Cash Heritage Festival to Begin in 2017
05/21/2016
JONESBORO — After the immensely successful music events honoring international music icon Johnny Cash and benefitting restoration of his boyhood home, a new chapter begins in 2017 with the Johnny Cash Heritage Festival.
The new event that combines educational activities in Dyess, as well as entertainment and special events, continues the legacy of the earlier concert series held in Jonesboro.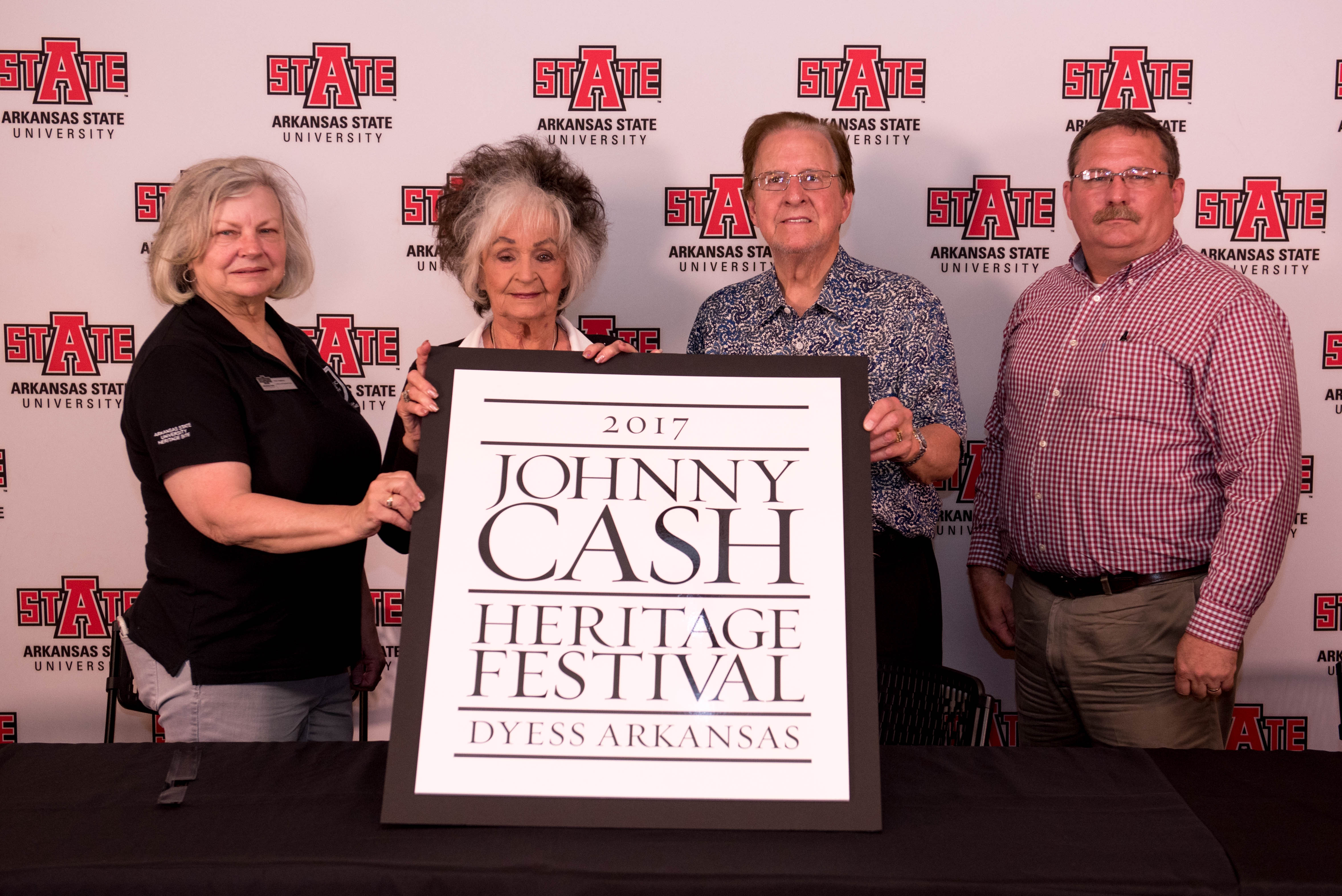 (From left) Dr. Ruth Hawkins, director of Arkansas State University Heritage Sites program; Joanne Cash Yates, Johnny Cash's sister; Tommy Cash, Johnny Cash's brother and Dyess mayor Ken Gilmore.


"I am thrilled to join Arkansas State University in announcing the first Johnny Cash Heritage Festival," said Rosanne Cash, who worked with the university in developing plans for the festival. "For the first time, we will hold a festival in Dyess, in the cotton fields surrounding my dad's childhood home and in the town center of the colony. We foresee an annual festival that will include both world-renowned artists on the main stage and local musicians on smaller stages, as well as educational panels, exhibits and local crafts."
The inaugural Johnny Cash Heritage Festival is set for Oct. 19-21, 2017, in Dyess. It will be extended beyond music to become a "heritage" festival, thus creating a great sense of both time and place associated with Johnny Cash's early years.
"As anyone who has spent any time listening – truly listening – to Johnny Cash knows, his music was born of some of the most profound events of the 20th century," said A-State Chancellor Tim Hudson. "A child of the Great Depression and an advocate for those without a voice in the 1960s, his legacy is point of entry for generations to come to understand America. By incorporating discussions of the societal and historical forces that shaped our nation into this celebration, we are broadening the understanding of Johnny Cash."
Johnny Cash's two living siblings, Joanne Cash Yates and Tommy Cash, were present for the announcement.


Dr. Ruth Hawkins, director of the Arkansas State University Heritage Sites program, noted the event would become a true festival by extending from a one-evening concert event to a three-day event that includes both educational and entertainment components. She also stated that the Heritage Studies, Ph.D. program would coordinate the educational/academic events with overall coordination through Arkansas State University Heritage Sites.
"Assisting in carrying out the Master Plan for making the Dyess Colony and Johnny Cash Boyhood Home a major tourism destination will continue as one of the key goals of the festival," Hawkins said. "The next phase will be to re-create the farmstead buildings at the Cash Boyhood Home and to provide other needed services and amenities for heritage tourists who come to visit the site.
"It is fitting to incorporate the New Deal heritage that was part of Johnny Cash's formative years into a major annual event that shines light on a critical era that is fading from memory," Hawkins continued. This three-day event will include entertainment events on Friday and Saturday, preceded by an educational conference on Thursday and Friday, she added.
In addition to educational programs and entertainment, other festival components will include local and regional crafts and regional and local flavor food vendors. Additional announcements will be made leading up to the first festival, including the keynote speakers for the academic conference and announcement of the lineup for the major concert event.
"For four years, we held concerts in Jonesboro with such great artists as George Jones, Kris Kristofferson, Vince Gill, Willie Nelson and many more, to raise funds for the restoration of the Johnny Cash Boyhood Home and the New Deal-era Dyess Colony in the Sunken Lands of Arkansas," Rosanne stated further. "Arkansas State University and the extended Cash family are immensely proud to honor and celebrate the Sunken Lands. We invite everyone to visit the Johnny Cash Heritage Festival in 2017 and to be a part of a new tradition that honors the art of my father, the resilience of the Cash family and all the hard-working families of Dyess Colony, and the very origins of my dad's musical inspiration in the Sunken Lands."