Johnny Cash Boyhood Home Tour Tickets Now on Sale
07/16/2014
JONESBORO — With the official grand opening less than a month away, tickets are available for opening day tours of the Johnny Cash Boyhood Home.
The opening for Arkansas State University's newest Heritage Site is set for Saturday, Aug. 16, and gets underway with a dedication ceremony at 10 a.m. at the Dyess Colony Administration Building. The ceremony itself is free and open to the public and features special remarks by the Cash family.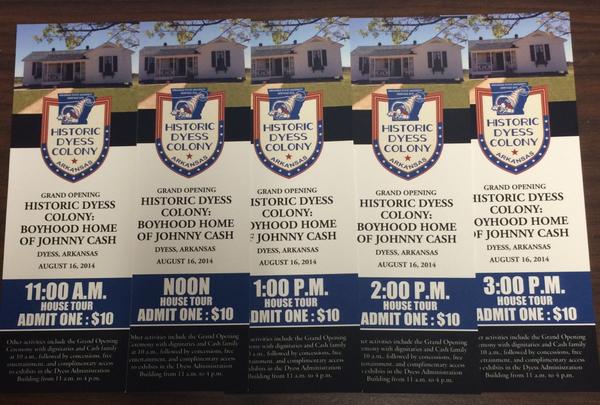 It will be followed by concessions, free entertainment, and complimentary access to Administration Building exhibits from 11 a.m. to 4 p.m. Exhibits are related to establishment of the Dyess colony, lifestyles of typical colonists, and the impact that growing up in Dyess had on Johnny Cash and his music.
Timed tours of the Cash Boyhood Home will be offered on the hour, from 11 a.m. until 3 p.m. for $10 per person. Tickets must be purchased in advance at the Arkansas State University Box Office in the lower Red Entrance of the Convocation Center. Box Office hours are 8:30 a.m.-5 p.m., Monday through Friday.
To purchase tickets, buyers may go online to Tickets.AState.edu or call (870) 972-2781. There is also a toll free number, 888-278-3267. The total number of tickets is limited to 500 for opening day.
"We want to accommodate as many visitors as possible on opening day, and by allowing fans who are also attending the Johnny Cash Music Festival the night before to have reserved times we can make sure they avoid long lines and have a great experience," said Dr. Ruth Hawkins, director of Arkansas Heritage Sites at Arkansas State.
Those who purchase the timed tickets on grand opening day receive a special commemorative ticket.
Parking for those who hold tickets to the Cash Boyhood Home will be available at the house, 4791 W. County Road 924. A shuttle also will be available from the Dyess Administration Building for ticket-holders.
The grand opening is the day following the fourth annual Johnny Cash Music Festival which will be Friday, Aug. 15, in the A-State Convocation Center at 7 p.m. Country Music Hall of Famers Reba McEntire, Bobby Bare and Loretta Lynn will perform at this year's festival and legendary singer and comedian Mark Lowry will host the event.
The Johnny Cash Music Festival is presented annually by Arkansas State to benefit the Johnny Cash Boyhood Home Project. As in years past, proceeds from this year's event will help fund the restoration project, as well as support a scholarship fund established in the international superstar's name.
The Dyess Colony was created in 1934 as part of President Franklin D. Roosevelt's New Deal to aid in the nation's economic recovery from the Great Depression. As a federal agricultural resettlement community, it provided a fresh start for nearly 500 impoverished Arkansas farm families, including the family of music legend Johnny Cash. The colony is being resurrected through restoration of several historic buildings that will be open to visitors.
The Johnny Cash Boyhood Hometown Project is expected to draw approximately 50,000 visitors annually, resulting in nearly $10 million in tourism-related income to the region. The Historic Dyess Colony: Boyhood Home of Johnny Cash is an Arkansas State Heritage Site.
Daily admission to the museum and boyhood home will be $10, with regular operations beginning the week following the grand opening. The A-State Heritage Site will be open from 9 a.m. to 3 p.m. Tuesdays through Saturdays.