John and Patricia Gibson Education Scholarship Established 
03/13/2023
JONESBORO – A new scholarship will soon be available to those studying education at Arkansas State University. The John and Patricia Gibson Education Scholarship is being established by their family with an endowment gift of $25,000 to the university, in addition to a scholarship of $3,000.

The scholarship will provide $1,000 a year for the first three years and is available to those seeking a degree in education to become teachers or educators. To qualify, students must be full-time, a junior or senior taking upper-level classes with a minimum 3.25 GPA while seeking a Bachelor of Science in Education. Students must also demonstrate a need for financial assistance.

The scholarship honors the late Dr. John W. Gibson, who graduated from what was then known as Arkansas State College. He received his bachelor's degree in 1962 followed by his master's degree in 1965. Gibson dedicated his professional career to public education, working as a teacher, principal and superintendent for more than 30 years.

"We wanted a meaningful and sustaining way to honor our dad and his life-long career in public education," the Gibson family said.
"He, along with our mom, Patricia Gibson, sacrificed a great deal in their early lives for my dad to attend Arkansas State and earn both his undergrad and graduate degrees. He would later go on to earn his doctorate from Saint Louis University."
John Gibson was raised in Doniphan, Mo., where he attended school in a one-room schoolhouse as a young child. His family moved to St. Louis when he was in the eighth grade. Patricia Gibson was born and raised in St. Louis.

Following high school and their marriage, John attended A-State, but Patricia could not find employment in Jonesboro, so remained in St. Louis where she worked and took care of their first child, Cindy Gibson.

The Gibsons spent most of their lives in St. Louis, and that's where the matriarch still lives.The Gibson family honored the matriarch of the family with this scholarship in part due to her support of her husband's educational pursuits.

"Our mom was his partner in this endeavor, providing countless hours of support, often typing papers late into the night, working a full-time job, managing the needs of their household, and three young kids," said the family.
Their dad was the first to attend the university, followed by other family members including daughter Cindy who went on to work for the university while attending classes.
"Our dad played baseball at A-State. It was pretty fun for a little girl (Cindy) to go to the ball field and cheer for her dad. Who knew that a few years later as a student at A-State, Cindy would work in the sports information office and see Coach Ike (Tomlinson) all the time, only this time she was helping promote other baseball players."

The Gibson children, including Cindy, John Jr. and Jim, said their family has a lot of fond memories of his years on campus.

"A-State provided the foundation for our dad's career in public education. Both of our parents are passionate about education and learning. They made education a priority because they understood the value it brings to one's life."

Anyone interested in contributing to the John and Patricia Gibson Education Scholarship may do so through the Arkansas State University System Foundation, Inc. Additional gifts can be made online through the university website.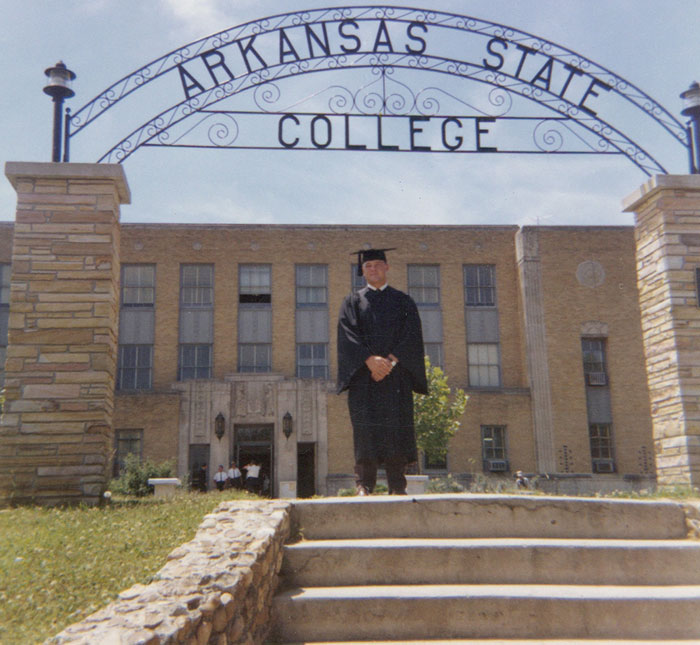 John Gibson stands in front of Wilson Hall