Jimmy Fortune, Don Reid of the Statler Brothers talk about their friend Johnny Cash
04/29/2013
By Jim Bessman
Johnny Cash was a lot of things to a lot of people, but what stood out the most for Jimmy Fortune, who will perform in the Man in Black's honor on Aug. 17 at the Third Annual Johnny Cash Music Festival at Arkansas State University's Convocation Center in Jonesboro, was his love of the common man.

"That's what I noticed about him wherever we were," says Fortune. "He'd always pick someone out in the back who was scared to say anything, and walk over to them and stick out his hand and say something really kind. That really became his legacy: He wasn't just Johnny Cash the man, but Johnny Cash, the man who loved his fellow man."

As the youngest Statler Brother who joined the legendary quartet in 1982 as the replacement for original member Lew DeWitt—who departed due to illness and died in 1990—Fortune, who wrote and sang lead on their No. 1 hit "Elizabeth," came late to Cash.

"They all knew him very well, because they had traveled on the road with him for eight-and-a-half years and done so much TV with him," says Fortune, speaking of DeWitt and the other Statler Brothers Don and Harold Reid (who actually are brothers) and Phil Balsley.

"After I came along we were on the road quite a bit so I didn't get to meet him for a while—but it was nice to hear all the stories from the guys."

It wasn't until the Statlers' 30th anniversary celebration that Fortune first met Cash.

"John and June [Carter Cash] were both there," recalls Fortune. "We sang [Cash's classic hit featuring the Statlers] 'Daddy Sang Bass,' and I sang the 'Mama sang tenor' line like Lew used to do—and John sang 'Daddy sang bass,' of course. We talked a bit that night, but it was still like ships passing in the night. Then time went on and we'd run into each other on the road and have a talk, and I always listened to him and the Statlers tell stories. I was just like a kid soaking it all up!"

The Statler Brothers had formed in Staunton, Virginia, in 1955, but as lead singer Don Reid notes, they were discovered when Johnny Cash met them at the Roanoke Fair and hired them on a handshake. Recalling their first night opening for him in Canton, Ohio in 1964, he says that Cash heard their imitation of his hit "Ring Of Fire," where Harold sang Cash's part and the other three mouthed the trumpets, and enjoyed it so much he had them back him on "horns" during his show.

"We had to drop it out of our act and do those silly trumpets when he sang it!" says Reid. "But he found the humor in it and wanted to be part of it."

The Statlers later wrote an affectionate tribute song to Cash, "We Got Paid By Cash."
"It was a little history of our meeting him and our relationship with him and June and [Cash's band] the Tennessee Three," says Reid. "They were wonderful years—and a quiet education: We were young and green but learned country music history and the business from them. Sometimes we learned what not to do, when he was fighting his demons, but we just kept our eyes open for eight-and-a-half years and picked up a lot of stuff."

The Statler Brothers stayed in touch with Cash after they left him for their own headlining career.
"Years went by, and toward the end of the Statlers' career, John started having a lot of health problems," notes Fortune. "So we made visits to his home a couple times when he got bad off but could still communicate. I remember the last time we went, and he showed us around the house, and June was there and they were so nice--and I listened to everyone and soaked it all up again!"

But Fortune also "really picked up on his faith and hope," he says.

"Everybody was saying goodbye and he put his hand on my shoulder and said, 'Jimmy, you came along later, but I've watched what you do and you're very talented, and I wish I'd got to know you a lot better.' I'll always treasure that."

Fortune, who now lives a mile-and-a-half from where Cash lived in Hendersonville, Tennessee, is thrilled to be part of the forthcoming Cash Music Festival, which also stars Vince Gill and Larry Gatlin & the Gatlin Brothers.

"Of course I'm a big fan of everybody on the show!" he says. "I've been listening to the Gatlin Brothers since before I was with the Statlers, and Vince Gill is one of my favorite singers in the whole wide world. But getting to come to Jonesboro for a special occasion like this means a lot to me, because in a way I get to say 'thank you' back to John, and lift up his spirit at the same time—which all of us are going to do, because we know he'll be there with us celebrating."

As for Reid, he says he's "tickled" that Fortune is doing the festival.

"It makes for a nice circle," he says. "Everybody who knew John was also a fan of his for life. I know it will be a great evening and a wonderful time."
Tickets for the Johnny Cash Music Festival are available at ASU's Central Box Office and online at
www.tickets.astate.edu
. Tickets can also be purchased by logging onto the official website of the Johnny Cash Music Festival,
www.johnnycashmusicfest.com
. Call to purchase tickets toll-free at 1-888-278-3267.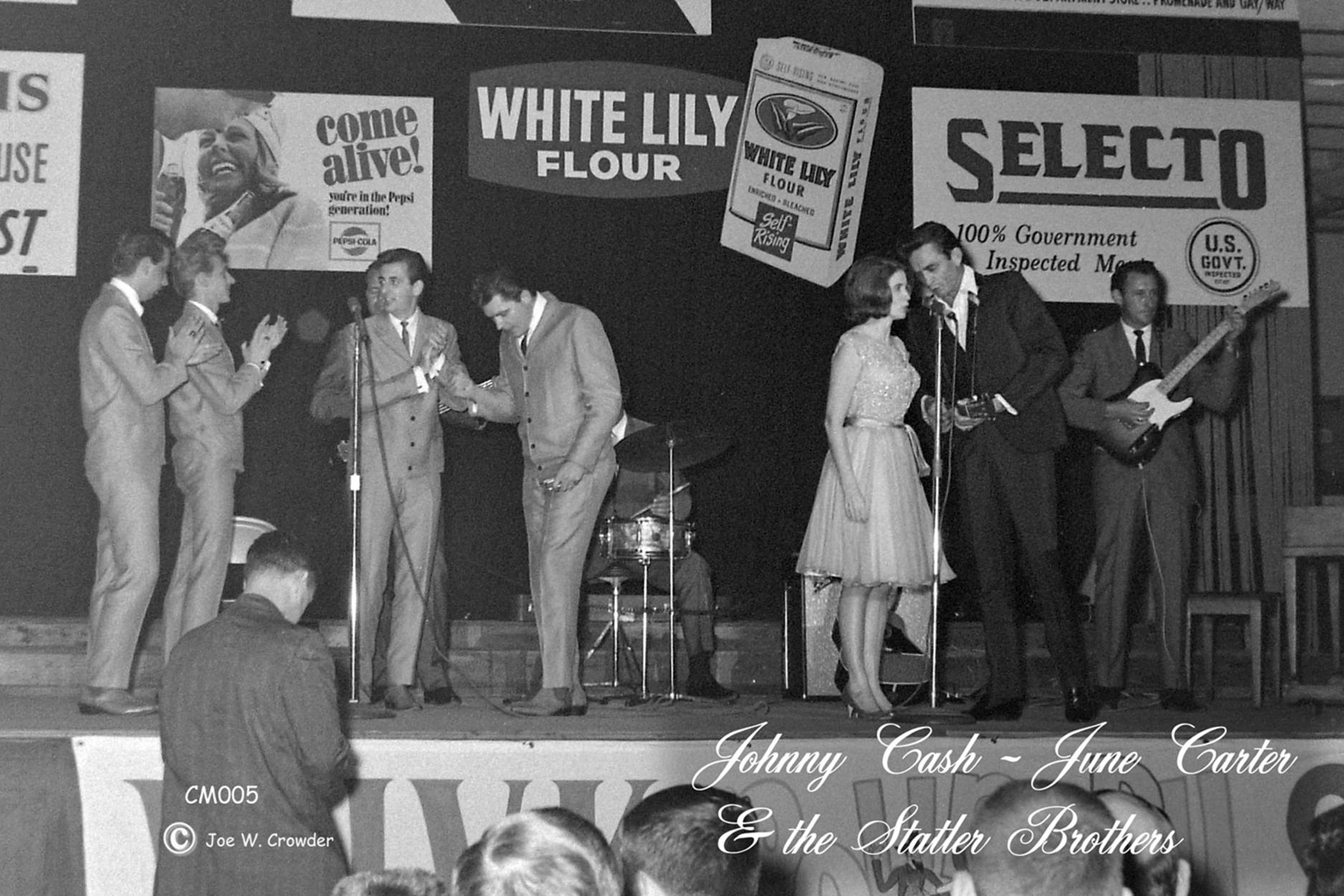 Above: Image from the private collection of Don Reid/Statler Brothers, taken around 1967. Reid is 3rd from left.