Jazz Orchestra Led by Twin Fatum Brothers in Riceland Series
03/06/2015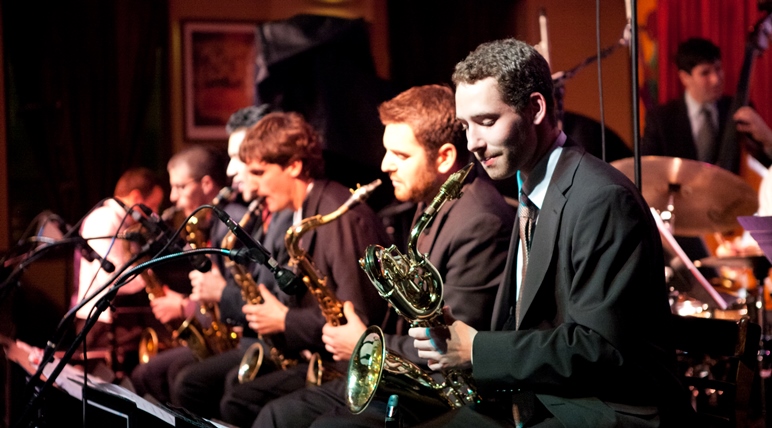 Fatum Crittenden Jazz Orchestra
JONESBORO – Arkansas State University's Fowler Center, 201 Olympic Drive, will present the Fatum Crittenden Jazz Orchestra as the next featured performance of the Riceland Distinguished Performance Series on Thursday, March 19, at 7:30 p.m. The sponsor for the show is the Jonesboro Regional Chamber of Commerce.
The group's founders are twin musicians, Michael and John Fatum, who started performing together at the age of four from behind the piano. Raised in Chicago, they fell in love with Gospel music from the South Side of the city as well as the story-telling festival community. Eventually they found the trumpet and drums respectively, and fell in love with jazz music.
At 18 they began the Fatum Brothers' Jazz Orchestra (Now the Fatum Crittenden Jazz Orchestra) which recorded two albums and did two extensive U.S. tours before the boys graduated college.
Their group is comprised of young musicians, all recent graduates from top conservatory programs. They have already completed two cross-country tours, developed a "Jazz For Young People . . . By Young People" curriculum, and produced two records of all original music.
Michael Fatum finished his degree at New York University and John Fatum at the Eastman School of Music. They have taken their leadership skills onto such projects as the Rad Trads.
The group's concerts includes sold out performances at the Blue Note, Chicago Jazz Festival, and San Jose Jazz Festival. Their recording "Live in Chicago" includes new compositions from the next generation of leading jazz composers and arrangers. When in New York City, the boys lead their own small group projects of a trio and quintet.
Members of the orchestra will give a free masterclass at 11 a.m. in the band room in the Fine Arts Center. For more information, one may contact Dr. Ken Carroll, professor of jazz studies.
All seating is reserved. Individual tickets for the Riceland Distinguished Performance Series are $30 and $20 for adults, and $23 and $15 for senior citizens and students, $24 and $16 for A-State faculty and staff, and $10 and $6 for A-State students with a current ID. Group discounts are available for groups of 15 or more.
For more information, contact the Fowler Center at (870) 972-3471. Tickets may be purchased at the Central Box Office in the Convocation Center, 217 Olympic Drive, Jonesboro, or by calling (870) 972-ASU1 or by calling toll-free at (888) ASU-FANS. Tickets are also available online from the Central Box Office (http://www.AState.edu/tickets/) and from Fowler Center (www.yourfowlercenter.com).
# # #