Inaugural Bowdon Chair in Accounting Introduced at A-State
09/16/2020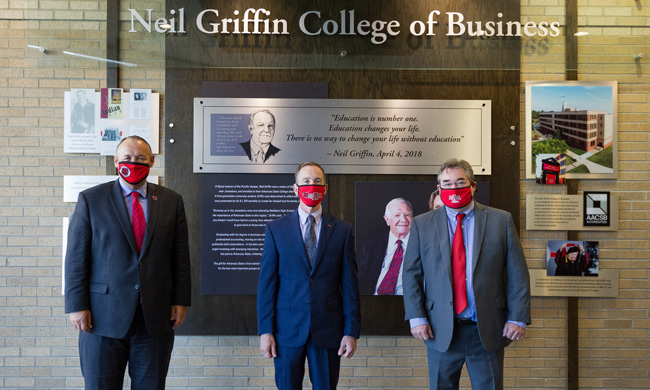 (From left) Kelly Damphousse, chancellor; Steven Muzatko, H.B. Foster Bowdon Chair of Accounting; and Dudley Bowdon, CPA, gather in front of the Neil Griffin recognition display.

JONESBORO – As veterans of World War II returned to civilian life and used the G.I. Bill to resume their education, faculty members at then-Arkansas State College worked hard to meet these ambitious students' high expectations.
One faculty member was H.B. Foster Bowdon, a young Jonesboro businessman who ASC had recruited to teach business and accounting. As Bowdon recalled in later years, the eager veterans challenged him daily to impart the knowledge they would need for success in their post-war life.
One of the veterans was F. O'Neil Griffin of the Needham community, a Navy veteran who acquired the educational foundation that eventually took him far in the world of business. In 2018, Griffin committed a gift of $10 million to Arkansas State University as a way to give back to the institution he largely credited with his success.
He designated part of the gift for an endowed professorship, to be named the H.B. Foster Bowdon Chair of Accounting, in honor of the individual he distinctly recalled for the dedication and passion he brought to the young veterans.
Although Griffin died in June at age 93, he had already witnessed some his gift's impact on what the university renamed the Neil Griffin College of Business.
Today was the next step, as Chancellor Kelly Damphousse announced Dr. Steven Muzatko is the inaugural holder of the H.B. Foster Bowdon Chair of Accounting.
"With this announcement, we bring to life in Steven the kind of real-world connection to students that Mr. Griffin imagined his gift would create," Damphousse said as he stood in front of a recognition display about Griffin. "I know all our endowed chair holders put great value in their positions they hold, but we are extremely pleased to have a faculty member accepting this appointment who has such a keen appreciation of the special mission that we all foresee in this particular chair. Steven's past strength as a mentor and instructor is evident in the honors he received before he joined us at A-State, and I feel confident that he will represent not only the Griffin endowment but the legacy of the Bowdon family as well."
Muzatko responded, "It is a privilege to be the first person to hold the H.B. Foster Bowdon Chair of Accounting. I would like to express my sincere appreciation for the generosity of Neil Griffin in establishing this endowed position in recognition of Professor Bowdon. In my professional and academic career, I have had the good fortune of being surrounded by outstanding professors, colleagues, mentors and students. My professional successes reflect everything I learned from those relationships, and I hope to honor Professor Bowdon's legacy of impactful teaching. I am excited to meet the students at A-State and look forward to engaging with the business community of Northeast Arkansas."
Griffin began his professional career in accounting and moved on to positions as chief financial and chief executive officer in banking, investments, and other business interests.
Dudley Bowdon, a certified public accountant in Jonesboro, enjoyed getting to know Neil Griffin and learning more about his father's dedication to educating those who had served their country.
"Mr. Neil Griffin was very proud to give back in a way to ascertain that others would have the opportunity to benefit from education as he did. It was such an honor that he chose to recognize my father, H.B. Foster Bowdon, his accounting instructor, in naming the Chair of Accounting. Mr. Griffin recounted that my father went above and beyond to ensure that all students did the work, often extending office hours to accommodate those who needed that extra help. Even after 70-plus years, Mr. Griffin believed that there were professors out there who cared as much as H. B. Foster Bowdon did way back then."
Dr. Muzatko earned a Ph.D. from the University of Wisconsin-Madison, where he was the recipient of the Douglas Clarke Memorial Teaching Award. He previously served on the faculties of Winthrop University and the University of Wisconsin-Green Bay. His research has been published in several professional peer-reviewed journals.
A certified public accountant, Muzatko has experience in public accounting as an auditor, as well as having worked for a Fortune 500 size company. He is a member of the American Institute of CPAs and is an associate editor of the Journal of Information Technology Case and Application Research.
"Throughout his academic career, Dr. Muzatko has demonstrated excellence in teaching and has been active in building meaningful relationships with business and industry," noted Dr. James Doering, Jones/Schaaf Endowed Chair of the Department of Accounting. "He has been an avid promoter of student success, and countless students have benefited from his teaching and mentorship."
Dr. Melody Lo, the Neil Griffin Dean of Business, foresees a productive future at A-State for Muzatko.
"When I met with Steven, I was deeply impressed with his dedication and passion to provide students with the necessary skills for career success. His background and experience will be of major benefit for the Griffin College in its mission to develop a new strategic approach that focuses on integrated learning through robust industry partnerships. In his position as Bowdon Chair, Steven will assist the college in establishing industry relationships that will enhance the career readiness of our accounting students."
Dr. Erika Krennerich Chudy, vice chancellor for University Advancement, noted, "Donations such as this provided by the late Mr. Neil Griffin for professorships and scholarships are of the utmost importance to sustaining support for faculty and students. We are very grateful to have amazing donors and alumni who know the value of their college degree, and thus give back to help others succeed."
The Department of Accounting has a strong reputation for the quality of its program. According to recent statistics, A-State Master of Accountancy students passed the CPA exam at a rate of 81% on their first attempt while the national average was 55%.
# # #