Hye Sun Choi is Named 2023 Wilson Award Winner at Arkansas State
04/27/2023
JONESBORO – Hye Sun Choi, a senior from Seoul, South Korea, received the prestigious R.E. Lee Wilson Award for 2023, at the 90th student honor awards ceremony tonight at the Cooper Alumni Center.
Choi will graduate from Arkansas State University in May with degrees in criminology and political science. She was selected from a group of seven Distinguished Service Award winners honored at the ceremony.
Perry Wilson of Little Rock, the award namesake's great-great-grandson, announced Choi as the recipient.
With a cumulative grade point average of 4.0, Choi has received numerous honors and awards including the 4.0 Scholar Award from the College of Liberal Arts and Communication.
"I came to A-State and I honestly didn't know what to expect out of college, but I think the last four years, it's been nothing more than amazing," said Choi.
She said she has met great mentors who are willing to invest in her and other students. Choi said she is the first in her immediate family to attend college.
A Chancellor's List student, she was granted two scholarships from the Korean American Scholarship Foundation Southwestern Regional Chapter, in addition to various other awards.
On top of her academic excellence, she has been president of the Korean Student Association (KSA), held offices with the Criminology, Sociology and Geography Club, and served in several roles with the Student Government Association.
"Being recognized for a university-wide award is something that I didn't expect when I first came to Arkansas State, so am really honored," she said.
Her instructors say they have witnessed her academic and non-academic successes. She feels her work with the KSA is her biggest impact on campus.
Choi said she, along with other international students, often stick together, especially those from the same regions of the world. She said when home is 1,000 miles away, it can be hard to accomplish some things that other students take for granted like getting a ride to the airport or finding the ingredients she needs from a grocery store.
She said she voiced these concerns to members of the SGA and found them to be receptive.
"It was honestly really refreshing," said Choi. "Despite being the very, very small minority in that big group of outstanding students, they were always willing to listen to my opinion."
Her goal is to go to graduate school to conduct research in an international setting on different countries. She would like to be remembered as someone passionate about criminology who wants to improve systems in this country and others.
R.E. Lee Wilson, a Mississippi County planter and businessman, served on the institution's Board of Trustees from 1917 until his death in 1933. The annual Wilson Award presentation began the following year, more than eight decades ago.
Choi was one of seven DSA winners, recognized for leadership, scholarship and citizenship, include Sydney Stauffer of Belleville, Ill.; Kaleb Webb of Cabot; Izzeldin Ahmed of Tuti, Sudan; Nathan May of Newport; Mason Rhodes of Benton; and Rylie Bowman of Bentonville.
Faculty, staff and advisers nominate top students for the prestigious annual awards.
All of the nominees have achieved excellent academic records and provided countless hours of service to the community, their classmates, campus organizations, their departments and colleges, and to Arkansas State University. A committee comprised of students, faculty, staff and previous Wilson Award recipients makes the final selection.
The names of Wilson Award winners are permanently listed in a prominent display outside Centennial Hall in the Carl R. Reng Student Union. Previous Wilson Award recipients formed a Wilson Fellows Chapter of the A-State Alumni Association that has funded a scholarship program. Wilson Award winners receive a post-graduate scholarship from the chapter to be used for additional education after graduation from A-State.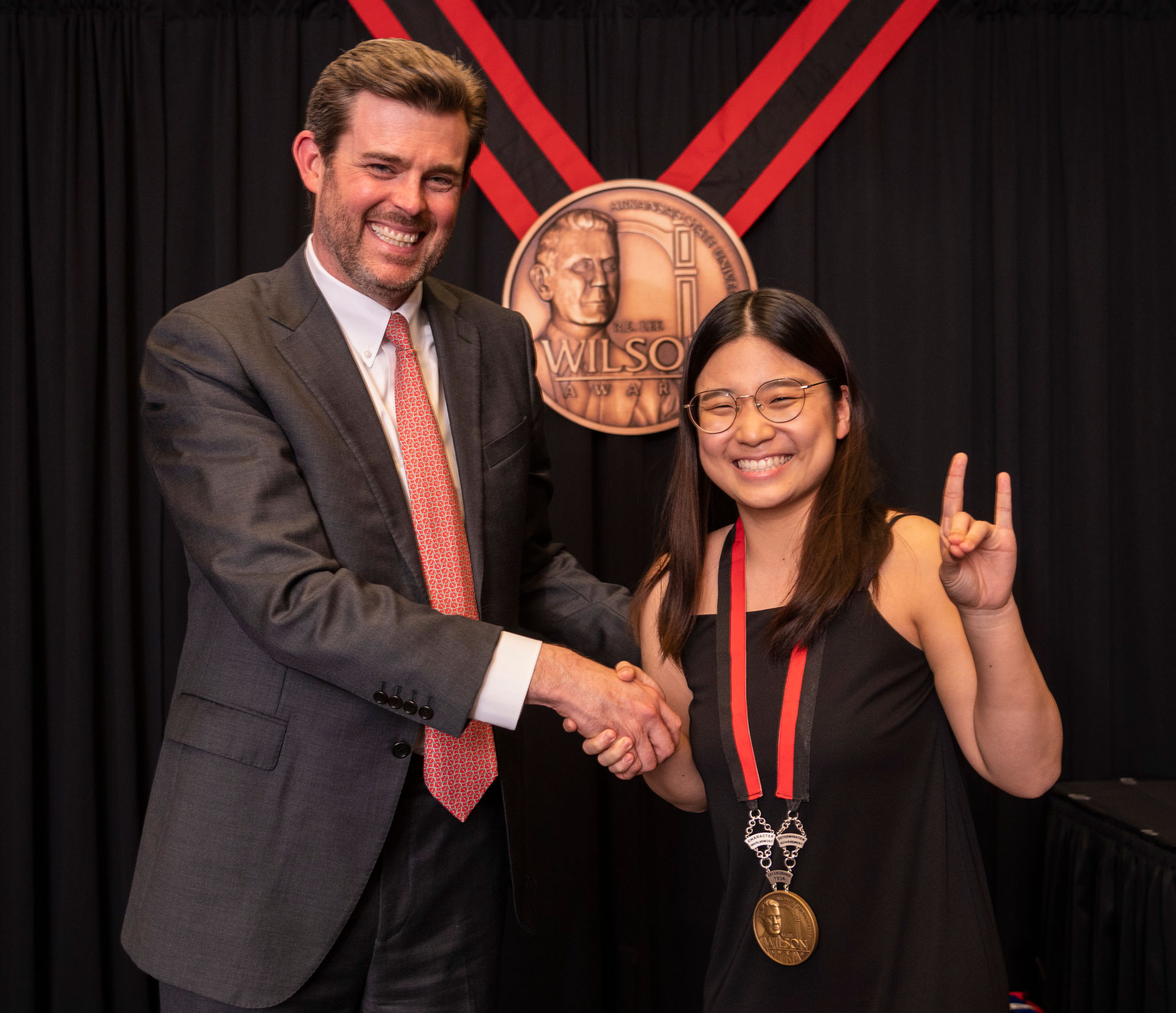 Hye Sun Choi, winner of the R.E. Lee Wilson Award, is congratulated by Perry Wilson, who made the presentation at the conclusion of a university dinner recognizing the 2022-23 winners of the Distinguished Service Awards.