Seven Exemplary Students Chosen for 2022-2023 Distinguished Service Awards
04/11/2023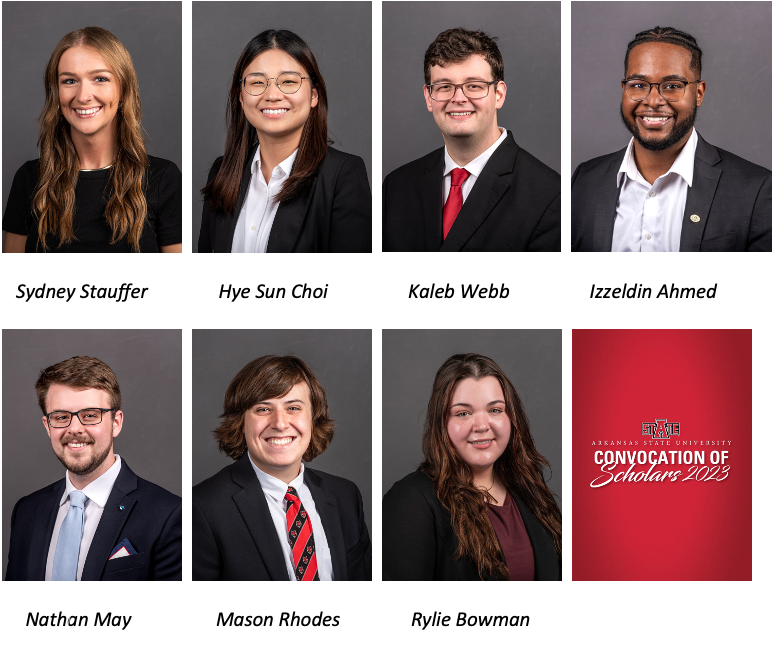 JONESBORO – Seven outstanding students from Arkansas State University have been selected as Distinguished Service Award (DSA) winners for 2022-2023. The DSA recipients will be recognized during the Convocation of Scholars as the institution's most outstanding graduates based on their record of leadership, scholarship and citizenship.Sydney Stauffer of Belleville, Ill.; Hye Sun Choi of Seoul, South Korea; Kaleb Webb of Cabot; Izzeldin Ahmed of Tuti, Sudan; Nathan May of Newport; Mason Rhodes of Benton; and Rylie Bowman of Bentonville.

One of these students will be announced as the 2023 recipient of the university's highest honor, the R.E. Lee Wilson Award, on Thursday, April 27, at a campus dinner for the DSA winners. This year's recipients of the Distinguished Service Award are

Faculty, staff and advisers nominate top students for the prestigious annual awards.A marketing and sales major in the Neil Griffin College of Business, Stauffer will graduate in May. Highly involved on campus, Stauffer has held leadership positions with the Student Philanthropy Council, Volunteer A-State, A-State Food Pantry, and worked as a Student Emergency Fund ambassador. Sydney Stauffer of Belleville, Ill. She has held many positions in her sorority, Alpha Gamma Delta, and was crowned homecoming queen in the fall of 2022. A top student in her major, one of Stauffer's professors ranked her in the top ten percent of past students in the program. Her academic achievements include being on the Chancellor's List multiple times. Her adviser is Dr. Katrina Hill, associate professor of marketing.Hye Sun Choi of Seoul, South KoreaWith a cumulative grade point average of 4.0, Choi is a criminology and political science major in the College of Liberal Arts and Communication. She has received honors and awards including the Dr. Joseph Rukus Memorial Book Award, Dean's Award for Undergraduate Oral Presentation, and Student Government Association Rookie of the Year.

A Chancellor's List student, Choi was granted two scholarships from the Korean American Scholarship Foundation South Western Regional Chapter.

All of the nominees have achieved excellent academic records and provided countless hours of service to the community, their classmates, campus organizations, their departments and colleges, and to Arkansas State University. A committee comprised of students, faculty, staff and previous Wilson Award recipients makes the final selections. Here are some highlights about each of this year's DSA winners.

In addition to her academic excellence, she has been president of the Korean Student Association, held offices with the Criminology, Sociology and Geography Club, and served in several roles with the Student Government Association. Her adviser is Justin Gibson, undergraduate academic advisor for criminology sociology, and geography.

Kaleb Webb of CabotA May graduate, Webb is majoring in political science, world languages and cultures with an emphasis in global studies in the College of Liberal Arts and Communication. With many academic and campus accolades, he has made many contributions to campus. He is a national semifinalist for a Fulbright English teaching assistantship and a 2020 semifinalist for the Fulbright UK Summer Institute. Among his accomplishments, Webb was awarded the Emerging Leaders Scholars Program Shining Star Award in 2022. He has also been on both the Chancellor's List and Honors Director's List.

In addition to educational honors, Webb served as vice president of the A-State Young Democrats, is part of the A-State Honors College Association as an ambassador, president of the A-State Student Philanthropy Council, and volunteered for El Centro Hispano. His adviser is Dr. Vicent Moreno, associate professor of Spanish.Izzeldin "Izzo" Ahmed of Tuti, SudanAhmed will graduate in May with a double major, receiving degrees in biology and chemistry from the College of Sciences and Mathematics. Described as highly motivated and dedicated by his instructors, Ahmed came to A-State when he was 17-years-old with a promise to his mother to make the most out of the opportunity. He left the university to help support his family financially, before rejoining the university as a junior, attending classes while also holding a position as a student worker on campus. A Chancellor's List student, Ahmed has had two research papers published and has presented at various conferences more than a dozen times during his collegiate career. In addition to his academic achievements, he has worked with the African Students Association, Student Diversity and Recruitment, Student Government Association, International Student Association, and Minority Association for Preprofessional Students. His advisers are Dr. Fabricio Medina-Bolivar, professor of plant metabolic engineering and academic adviser Dr. Lorna Scaife.Nathan May of NewportA biotechnology major in the College of Sciences and Mathematics, May will graduate this spring. He has many academic achievements including the Chancellor's List, Dean's List, and Honors Director's List. He has been awarded numerous scholarships and is currently applying to graduate school programs. During the pandemic, May began conducting research which led to him changing his major to focus more on research and data. In addition to accolades he has received, May has also left an impression on many who have helped him along his journey who list him as one of the top students they have ever instructed. In addition to his academic pursuits, May is an active member of the Phi Delta Theta fraternity, and helped found the A-State chapter. He is president of the Honors College Association and has assisted in numerous events and activities on campus. His adviser is Dr. Maureen Dolan, associate professor of molecular biology.Mason Rhodes of BentonRhodes will graduate in May with a degree in mechanical engineering through the College of Engineering and Computer Science. His academic achievements were highlighted by several scholarships and grants, including the Arkansas State Scholar, NASA Student Payload Opportunity with Citizen Science, and Student Undergraduate Research Fund Grant. He has made numerous presentations on his research, including one at the Kennedy Space Center Visitor Complex in Cape Canaveral, Fla. He is an officer with the American Society for Mechanical Engineers student chapter and was an engineer for A-State's team that participated in NASA's Student Payload Opportunity with Citizen Science. Among his many academic accomplishments, he was a member of the Sound of the Natural State and served as section leader and captain of the band. His adviser is Dr. Robert Fleming, assistant professor of mechanical engineering.Rylie Bowman of Bentonville

A strategic communication major in the College of Liberal Arts and Communication, Bowman will graduate in May. In her time at A-State, Bowman achieved academic recognition as well as having served the student body with various on-campus involvement.

Among her many successes, Bowman was on the Chancellor's List and Dean's List in her time at A-State. She has been involved in many organizations including the Performance and Rhetoric Oratory Society, Pi Kappa Delta Forensics Honorary, and the student congress and wolf pack leader with Chi Alpha Ministry. In addition to her academic excellence, Bowman has won numerous awards in speaking, networking and debate. She also gives back by serving as a mentor, working as a career coach to other students. Her adviser is Dr. Myleea Hill, a professor in the strategic communication program.