HPMEC to Sponsor Hemingway's "A Farewell to Arms" Trip
10/02/2015
PIGGOTT, Ark. —Friends of the Pfeiffers, the membership program of the Hemingway-Pfeiffer Museum and Educational Center (HPMEC), invites the community to join them for Ernest Hemingway's "A Farewell to Arms," a trip to Italy and Switzerland next spring, May 27-June 5, 2016.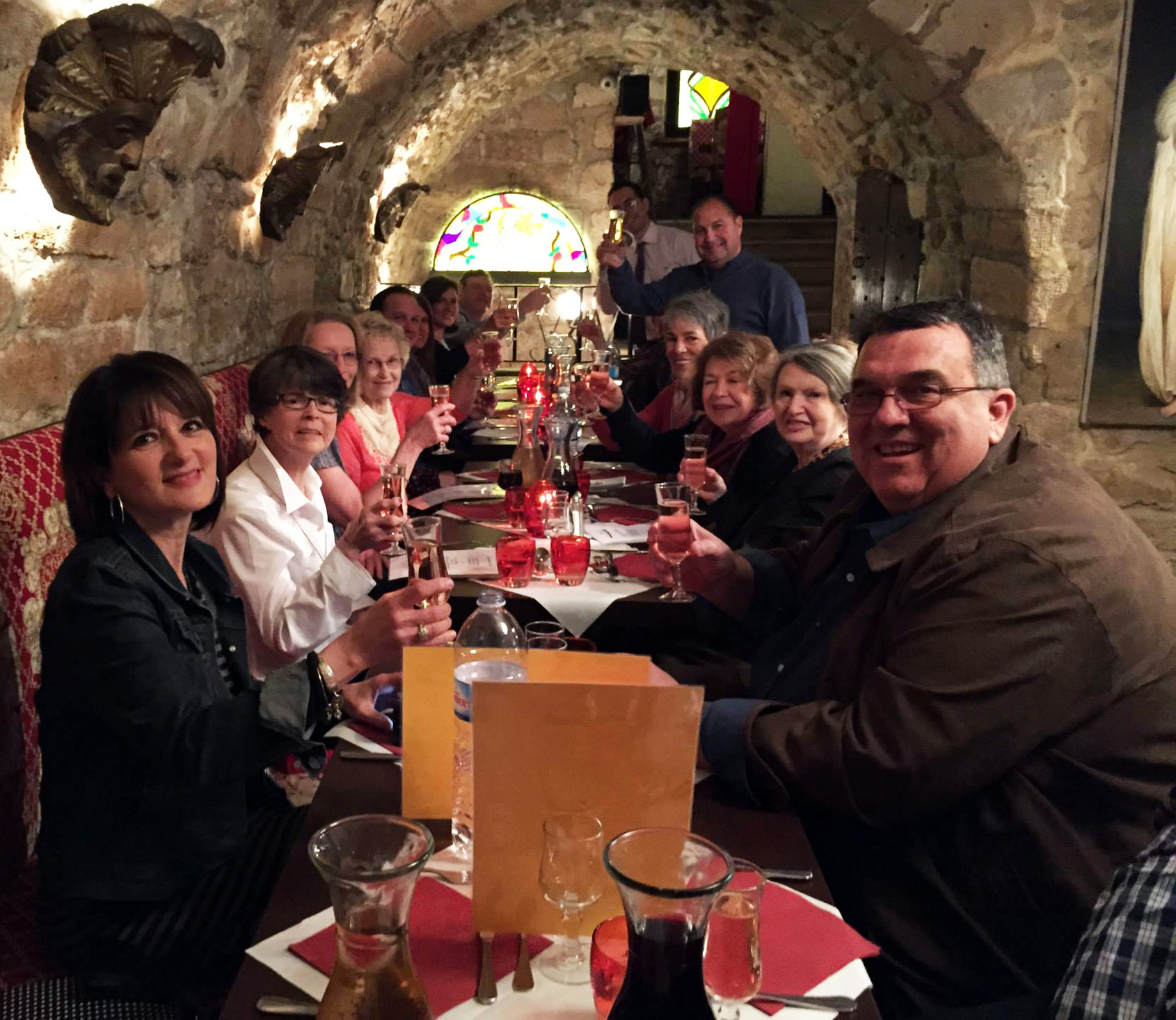 Friends of the Pfeiffers enjoy dinner at a Paris restaurant during a trip to France in March 2015
The trip is a unique opportunity to follow in the footsteps of the famous novel and the historical figures that inspired it. Hemingway wrote portions of the novel at his in-laws' house in Piggott, in the barn they would later make a permanent studio for him.
In 1918, Hemingway joined the Red Cross on the Italian front. He was injured near Venice and recovered in Milan. Drawing on these experiences, "A Farewell to Arms" follows wounded ambulance driver Frederic Henry as he is injured, falls in love with his nurse and elopes to Switzerland.
This trip will explore sites associated both with Hemingway's historical experiences and his fiction, traveling from Venice to Milan to Switzerland, with stops along the way. In addition to major Hemingway sites, the trip will also explore the history, art and architecture of one of the world's most picturesque regions.
The trip is open to the public, but space is limited and expected to fill up fast. The cost is $3,899 per person (land package, double-occupancy). To receive a brochure about the trip, contact the museum at (870) 598-3487 or adamlong@astate.edu. Questions can also be directed to John Frankel at International Tours (870) 972-5580).
In March, the tour featured an excursion to Paris, France. The group travelled to Havana, Cuba, in May 2014.
HPMEC is an Arkansas State University Heritage Site. Regular museum hours are Monday-Friday from 9 a.m.–3 p.m., and Saturday, 1-3 p.m., with tours on the hour. To learn about the Hemingway-Pfeiffer Museum and Educational Center, go to http://hemingway.astate.edu.