Honors Graduate Will Combine Interests in Science and Service as Peace Corps Volunteer in Cambodia
05/11/2013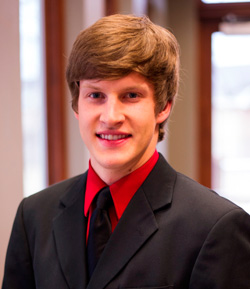 Zach Marsh
JONESBORO – One of Arkansas State University's top graduates received his diploma during Spring Commencement on Saturday, May 11, then continued preparing for his first job. That doesn't sound so unusual until one considers the job is serving as a volunteer with the Peace Corps in Cambodia.
Zach Marsh, who earned a bachelor's degree in biological sciences with an emphasis in pre-professional studies, already has attained two of Arkansas State's most significant student honors. He received the prestigious Distinguished Service Award, and he was named Chancellor's Scholar in the College of Sciences and Mathematics as the senior with the highest grade point.
"Zach is gifted academically, displays compassion beyond his years, is a servant leader, and demonstrates integrity and enthusiasm that inspires those around him," commented Rebecca Oliver, director of the Honors College, through which he also will graduate "In University Honors."
Marsh, whose family lives at Pearcy (Garland County), learned about the Peace Corps while attending a conference in Washington, D.C., during his freshman year. Although it did not fit well at the time with his future plans, circumstances changed.
"I knew I still wanted to become a medical professional, and I later discovered epidemiology. This profession would give me the ability to work with cutting-edge medicine and also travel, which has become a passion," explained Marsh, who represented A-State during a four-country trip as part of the Global Student Leaders program in 2011.
His interest in epidemiology was whetted by his work as a research assistant for his advisor, Dr. Tanja McKay, who commended his skill in her entomology lab, and for Dr. Fabricio Medina-Bolivar and Dr. Malathi Srivatsan at Arkansas Biosciences Institute.
Another factor was his involvement as a founding member of the Volunteer ASU Council. He recently chaired Alternative Spring Break, during which A-State students worked for various service agencies in Austin, Texas. Last year, the students helped people in New Orleans.
"I have become passionate about non-profit work. The Peace Corps is the perfect fusion of medical exposure and non-profit work," he continued.
Because of the rich experience available through the Peace Corps, along with the post-service educational benefits, he decided this was the right step to take. Established during President John Kennedy's administration in 1961, the Peace Corps is a federal agency that provides trained individuals to developing countries that request assistance. The agency currently has volunteers in 76 countries.
With the rigorous application process completed successfully, he was assigned to Southeast Asia, where he will be a "health education extension agent" in Cambodia. His duties will include helping educate the residents who visit the local clinic where he will be working.
"My primary responsibility is to talk about preventative practices that are not commonly implemented in Cambodia. Also, I will be visiting local schools where, in exchange for teaching an English class, I will be allowed to teach a class on health," Marsh said.
His specific duties will be tailored to the needs of the village to which he will be assigned. "Part of my job will be to assess the needs when I arrive and determine ways to best complete their requests."
After leaving for Cambodia in early July, he will participate in up to three months of specialized training. He will become one of only 28 Arkansans who currently serve in the Peace Corps. His actual term of service will be two years, providing a solid foundation of field experience for graduate studies in epidemiology.
Marsh has already asked, how does one prepare to live in Cambodia for two years?
"I have been told by numerous Peace Corps volunteers currently living there I need to eat lots of burgers, cheese, and guacamole," he says with a smile, but his preparation has been underway for some time.
He already has started a blog, ZAMbodia.wordpress.com, to allow his relatives and friends the opportunity to keep up with his experiences by way of the Internet. The name is based on a clever juxtaposition of his initials and destination.
"Thinking back over the past four years, I am overwhelmed at the number of life-changing experiences ASU has offered me," the senior posted in the blog last week. "This university took my ambition and exposed me to different world views which have molded me into a global citizen. Without Arkansas State, I wouldn't be leaving for Cambodia in July and have the courage to leave all that is comfortable to me. I am indebted to this university and could not be happier with my decision to attend this great place of learning."
Several graduate school programs are available to Returned Peace Corps Volunteers (RPCV).
"The Peace Corps has partnered with many prestigious graduate schools, and they provide RPCVs with a variety of other educational and occupational assistance programs. I would like to pursue a master's degree in public health with an emphasis in epidemiology," he added. His career goal is working for the Centers for Disease Control and Prevention.
"I know this experience will not only help my future career, but it will also provide me with an essential cultural perspective. Being a global citizen is vital to working in today's global economy. I am going to miss my family, friends, and girlfriend, but they understand this is a great opportunity."
# # #