Guitarist Barry Greene to Perform in Concert with Jazz Band
02/08/2018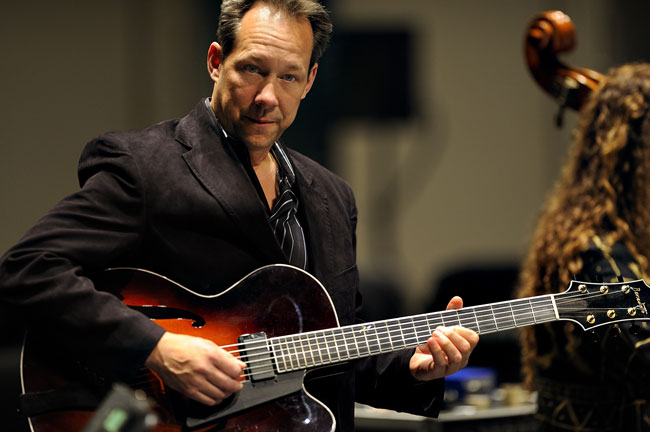 Barry Greene
JONESBORO – Jazz guitarist Barry Greene will join the Arkansas State University Jazz Orchestra Tuesday, Feb. 13, for a night of romantic jazz in advance of Valentine's Day. The concert begins at 7:30 p.m. in Riceland Hall of Fowler Center, and admission is free.
Greene, who began playing guitar at the age of 10, is strongly influenced by Wes Montgomery, Joe Pass, George Benson and Pat Martino. A professor of jazz guitar at the University of North Florida since 1995, he has developed into a world-class guitarist, arranger and composer.
Greene's appearance in the Lecture-Concert Series at A-State is also supported by the College of Liberal Arts and Communication, the Department of Music, the A-State Guitar Guild, and the Delta Jazz Workshop.
The A-State Jazz Lab will open the evening with Oliver Nelson's salute to Berlin, "Checkpoint Charlie." The romantic theme continues with two classic Mike McGowan arrangements sung by Larry Heil, "My Funny Valentine," and the infectious "Girl from Ipanema." The opening half concludes with a Tom O'Connor original mambo, "Cohiba."
The Jazz Orchestra will open the second half with a funky classic from the Thad Jones big band, "US." The band will be joined by Greene for a performance of Tadd Dameron's "The Squirrel."
The Jazz Lab and Jazz Orchestra are directed by Dr. Ken Carroll, director of jazz studies.
Greene will play a trio set including "Oleo," "My Romance," and Ornette Coleman's "Turnaround." The evening will close with two fantastic new Mike McGowan arrangements featuring Greene, "I Don't Stand a Ghost of a Chance" and "Mrs. Luckey's Blue Plate Special."
The guest guitarist has recorded/performed with such artists as Tim Hagens, Danny Gottlieb, Bill Goodwin and Paul Bollenback. He has recorded eight CDs as leader, including "Sojourner," "At Home," "Urban Jazz," "In the Meantime" and four new releases, "Resurgence," "Barry Greene Trio," "The Other Side," and "Urban Jazz II."
Greene has several books published with Mel Bay Publications and has authored three iBooks in addition to his series of video jazz guitar lessons. "Allaboutjazz" describes Greene as "an excellent player, a superior musician with power to spare."
The Lecture-Concert Series serves Arkansas State and the surrounding communities by bringing notable guest speakers and performers of diverse backgrounds and wide appeal to the campus, according to Dr. Tim Crist, chair of the Lecture-Concert Committee.
For more details about the series, interested individuals may visit the Lecture-Concert Series website (AState.edu/lectureconcert), or contact Crist, tcrist@AState.edu, (870) 972-2094.
# # #