Greek Organizations Show Highest Rates of Student Success
10/09/2015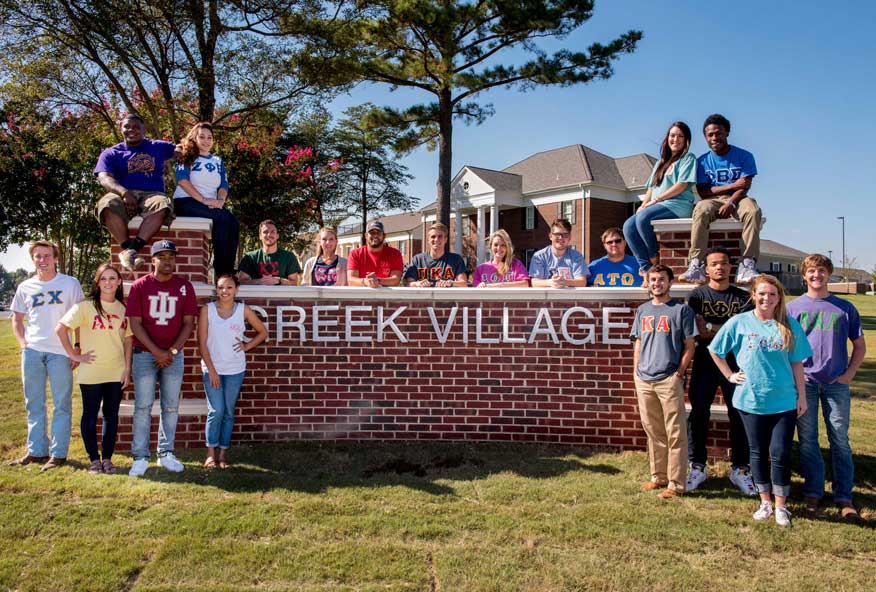 Students at Arkansas State enjoy Greek Village
JONESBORO – At Arkansas State University, guiding students to their educational goals has many measures. They are technical-sounding terms – retention, persistence, graduation cohorts – but one that cuts across all the stats: success rate.
"When we look at groups of students, we want to know are they returning each semester, are they working toward their degrees and are they graduating," Vice Chancellor for Student Affairs Rick Stripling said. "We look a lot at success rate because it measures both – the number of students who graduate plus the total number that are back to continue their course work."
Those numbers are rising at A-State, and there is a common thread as to why: community.
"We know that the students who live on campus have a higher retention rate than those who don't, but what we have discovered is that students who are a part of campus life groups – whether it's academic-based, faith-based or special interest – they have the best success rates," Stripling said.
Arkansas State has several large student organizations that foster connections to each other. There are over 200 different student groups for interests that range from anime to chess; sport activity groups from cycling to swimming; national champion club teams like rugby and shooting sports.
However, the largest group also has the highest success rate of all: Greeks.
In the past three fall semesters, the success rate for all A-State undergraduate students rose from 77.3 percent to 78.7 percent. Meanwhile, the Greek life students went from 89.5 percent in fall 2012 to 91.2 percent in fall 2014.
"There is nothing like peer mentoring," Stripling said. "They hold each other accountable and they keep an eye on each other."
In the past four years, the number of students choosing to participate in Greek social organizations is on the climb. From 942 participants in fall 2012, the total number involved in Greek life surpassed 1,400 students for the fall 2015 semester.
Student activity groups including Greek organizations are a part of the Leadership Center at Arkansas State.
"Leadership and teamwork are two skills we know are important for success in life, and we want to encourage participation in all types of programs that promote those abilities," Director of the Leadership Center Martha Spack said. "That leadership experience comes from being a part of traditional things like student government or student programs, but we encourage those opportunities for students to connect to each other in all aspects of their lives."
Investments in Greek life over the past three years are a key to the success dividend that A-State is experiencing. The university created Sorority Row, a series of five houses along Aggie Road that opened for the fall 2012 semester. That resulted in a 42 percent increase in Greek membership the first year, spilling over from sorority participation into the fraternities as well.
The designation of the area where the social organizations are located into Greek Village followed in 2013.
This Homecoming, an enlarged Unity Park was rededicated for the Divine Nine of National Pan-Hellenic Council fraternities and sororities as a part of the village.
To learn more about student life at Arkansas State, go to AState.edu/LeadershipCenter.
# # #