Get to Know the Faculty: Holly Hall
02/24/2015
Joining A-State wasn't a choice for Holly Hall as much as fulfilling a legacy. Not only growing up in Jonesboro and attending Jonesboro High, her parents, Ray and Barbara Hall, are Arkansas State graduates. Ray was the SGA president when Arkansas State College became a university. Her grandfather was a director of field services for the legendary Carl Reng. Let's learn more about College of Media and Communication's strategic communication professor and social media maven, Holly Hall.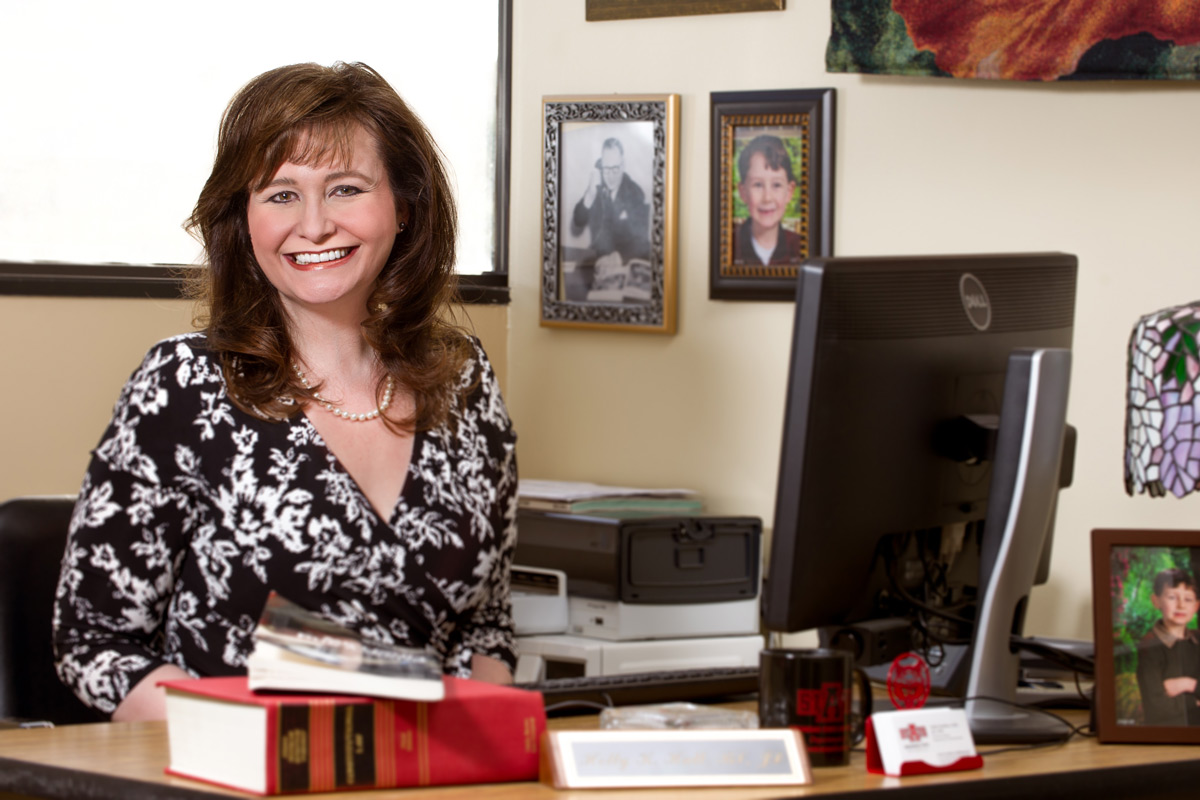 Holly Kathleen Hall
Place of birth?
Cincinnati, Ohio
What do people not know about you?
I attended numerous summer camps at A-State as a child, including one with famed gymnastics coach Bela Karolyi.
Who was your favorite teacher (and why)?
A law school professor named Ranko Shiraki Oliver. She made the classes of Disability Law and Immigration Law accessible, which is not an easy thing to do! She broke the material down in a way to make it understandable and interesting. We stay in touch to this day. She has been a wonderful resource for me as we both have children on the autism spectrum. I always encourage students to build relationships with their professors. It enriches not only the classroom experience and professional prospects, but also life itself.
Your philosophy on education in seven words.
Student-centered, interactive, relevant, supportive, rigorous, encouraging, collaborative
If you could teach another field, which one and why?
I have always loved meteorology. I contemplated it, but math has never been my strong suit.
What music is playing in your car?
Billy Joel, unless my son is with me, then it's all about The Wiggles.
My favorite motion picture is...
Sense and Sensibility (1995).
The television series I must DVR...
Doctor Who and Downton Abbey.
The last book I read for fun was...
"The Way I See It" by Dr. Temple Grandin.
If I could travel anywhere it would be...
I've been to the UK four times, and would go back in a heartbeat.
Four people I'd take to coffee...
Well, the Golden Girls, of course: Blanche, Rose, Dorothy and Sofia!
My hobby is...
cooking and cross stitching.
My pro sports team is...
don't really have one. I love to watch Olympic gymnastics, though.
My pet peeve is...
plagiarism! And cell phones ringing in class!
A perfect day is...
this is a really tough question. I think somehow Gerard Butler or Richard Armitage would have to be involved...
Cats or dogs?
Both. And horses.
Beach or mountains?
Mountains. Unless it's a beach in a cool climate. I hate the heat.
Dinner or supper?
Supper
Only my friends know I...
I used to be a DJ for an easy-listening radio station while I was in high school. I'm great at introducing Barry Manilow songs.
My favorite saying is...
from the Scottish poet Robert Burns: "Firmness in enduring and exertion is a character I always wish to possess. I have always despised the whining yelp of complaint and cowardly resolve."