Get to Know the Faculty: Dr. Mickey Latour
02/11/2021
A native of our neighbor in Mississippi, Dr. Mickey Latour, loves his Saints, NASCAR and a life-long commitment to excellence in higher education. Let's get to know our new College of Agriculture dean.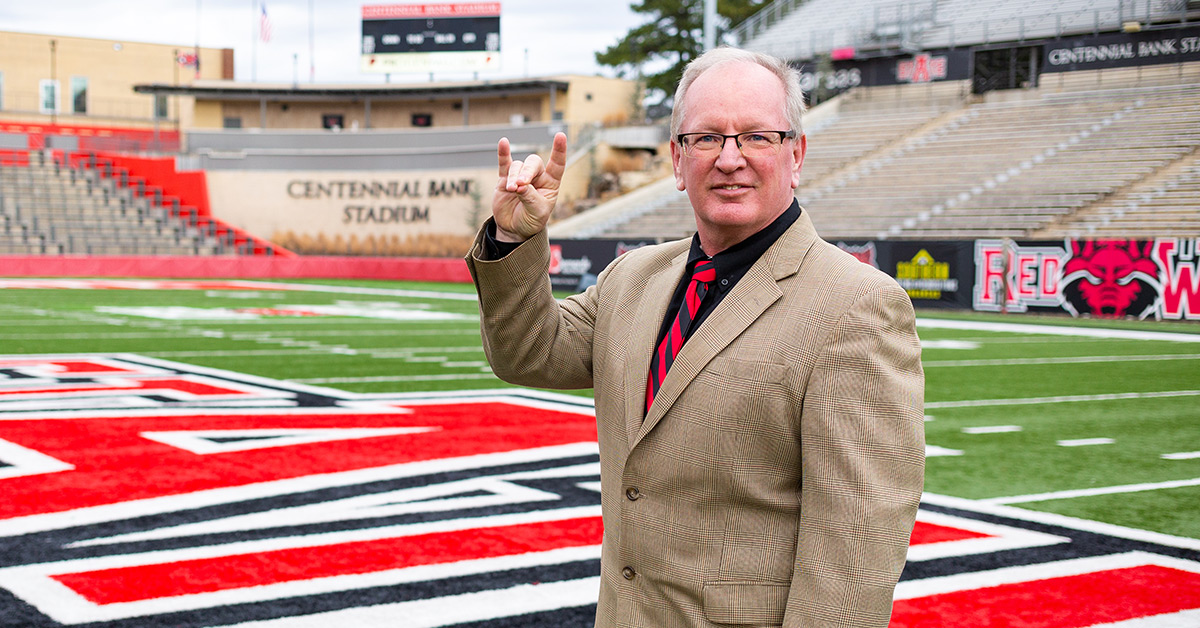 Dr. Mickey Latour
Place of birth?
Mississippi
Family?
I have two daughters
Why did you choose A-State?
I was attracted to the rich history and commitment to agriculture. What I have learned since being here is how wonderful people are across the campus and community.
My pro sports team is...
SAINTS
What makes a good professor?
The ones that care about success for students
Who was your favorite teacher (and why)?
Dr. Christian Fischer, he set high expectations and encouraged students to achieve their absolute best
What makes for a good student?
Have a curious attitude and willingness to try new things
The television series I must DVR...
NASCAR
Four people I'd take to coffee...
Jeff Gordon, Mike Wolfe, Frank Fritz, and Rick Harrison
What's the value of a university education?
Data shows as education rises so does corresponding salaries, but aside from salary, education allows you to see things from many angles
What is one thing you always have on you...
Today, that's a mask
Your philosophy on education in seven words:
Education is cheap compared to no education
If you could teach another field, which one and why?
I would enjoy biostatistics, because I like thinking through permutations and influences on factors
What I like about Jonesboro is...
the very friendly people and caring
What is the one thing you wish you could teach everyone about your field?
Just how much science is behind the foods we take for granted every day from nutrition to food safety
What are you working on right now?
I am working on strategic planning for the College
My favorite meal is...
Anything Italian
The one thing I will not eat is...
Fried desserts
Before you retire I want to...
See our college distinguish itself from the competition and become the destination place to learn agriculture
In college, I was known for...
Commitment to see a project to completion
What music is playing in your car?
Enjoy the 70's music
What is your favorite podcast?
Anything from NPR
My favorite motion picture is...
It's a Good Life
What is your most prized possession...
my two daughters and Annie
The last book I read for fun was . .
Who Moved My Cheese?
My favorite trip was...
Kentucky Lake, nice cabin and relaxing
If I could travel anywhere it would be...
Mount Rushmore
The best advice I ever received was...
Focus on what matters
What is the one thing I've learned I'd tell my college self...
You need to earn trust and all else will come in line
My hobby is...
Enjoy working in the yard and cleaning the cars
My passion is...
See people (our students, staff, faculty, alumni, donors, etc.) realize their potential
My favorite thing in my office is...
My mother's high school GED
My pet peeve is...
a dirty vehicle
A perfect day is...
Sitting in front of a camp fire on the lake
My spirit cartoon character is...
Sponge Bob
Cats or dogs?
Dogs
E-book or hardback?
Hardback
Beach or mountains?
Mountains
Dinner or supper?
Supper
The one thing I'd take to a desert island...
Matches
I wish I could...
Teleport in time
Only my friends know I...
Consider myself independent
My favorite saying is...
There is no substitute for excellence