Get to Know the Faculty: Dr. Argelia Lorence
02/03/2015
Recently named one of five fellows of the Arkansas Research Alliance, Argelia Lorence is an associate professor of metabolic engineering. Let's get to know her.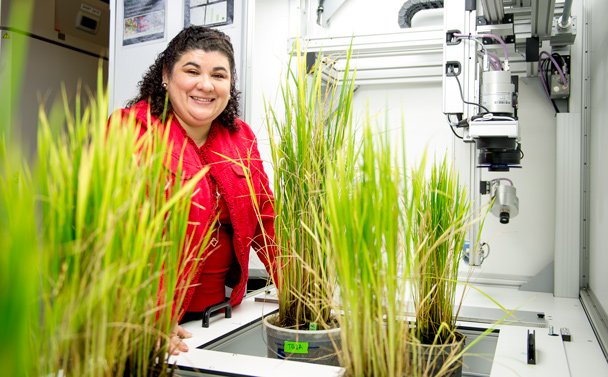 Dr. Argelia Lorence
Place of birth?
Mexico City, Mexico
Family?
I am married to David Andrew Dyer. We celebrated our 7th wedding anniversary this year, and our only son, Noah, was born in Jonesboro in 2009.
What makes a good professor?
Passion! Passion to do research and to teach the younger generations. I love seeing the eyes of my students when they suddenly "get it."
What makes for a good student?
Curiosity, thirst for learning new things, and commitment.
If you could teach another field, which one and why?
Marine biology, I have been fascinated by marine creatures since childhood.
What academic project are you working on right now?
I work on several projects. The newest and most ambitious one is a project I co-lead called the Plant Imaging Consortium (PIC). This work funded by the National Science Foundation is focused on developing unique tools and imaging approaches to better understand how plants adapt to stresses that currently limit plant productivity. This consortium is allowing plant scientists in Arkansas and Missouri to have unprecedented access to high throughput phenotyping and other molecular imaging tools. These powerful tools are empowering discoveries in plant stress biology that have the potential to positively impact US agriculture.
What music is playing in your car?
Brazilian bossa nova
What is your favorite podcast?
Diana Nyad: Never, ever give up. TEDWomen, 2013
The last book I read for fun was...
Bossy Pants by Tina Fey.
Four people I'd take to coffee...
To talk science Marie Curie, Barbara McClintock, Rosalind Franklin, and Rita Levi-Montalcini.
To talk art Frida Kahlo, Remedios Varo, Isabel Allende, and Elena Poniatowska.
Cats or dogs?
Dogs!
Only my friends know I...
I partied a lot when I was in high school. I went dancing every Friday and Saturday back then.
My favorite saying is...
Good leaders must lead by example.