Fowler Named Female Sun Belt Postgraduate-Scholar Athlete
05/21/2017
JONESBORO, Ark. (4/21/17) – Former Arkansas State women's basketball student-athlete Brittany Fowler has been named the Sun Belt Conference's Female Postgraduate-Scholar Athlete the league office announced Sunday evening in Point Clear, Ala., at its annual Honors Reception.
As part of the honor, Fowler will receive a $6,500 scholarship to use toward her postgraduate studies. She plans to attend the University of Arkansas for Medical Science in Little Rock where she will pursue a pharmaceutical degree.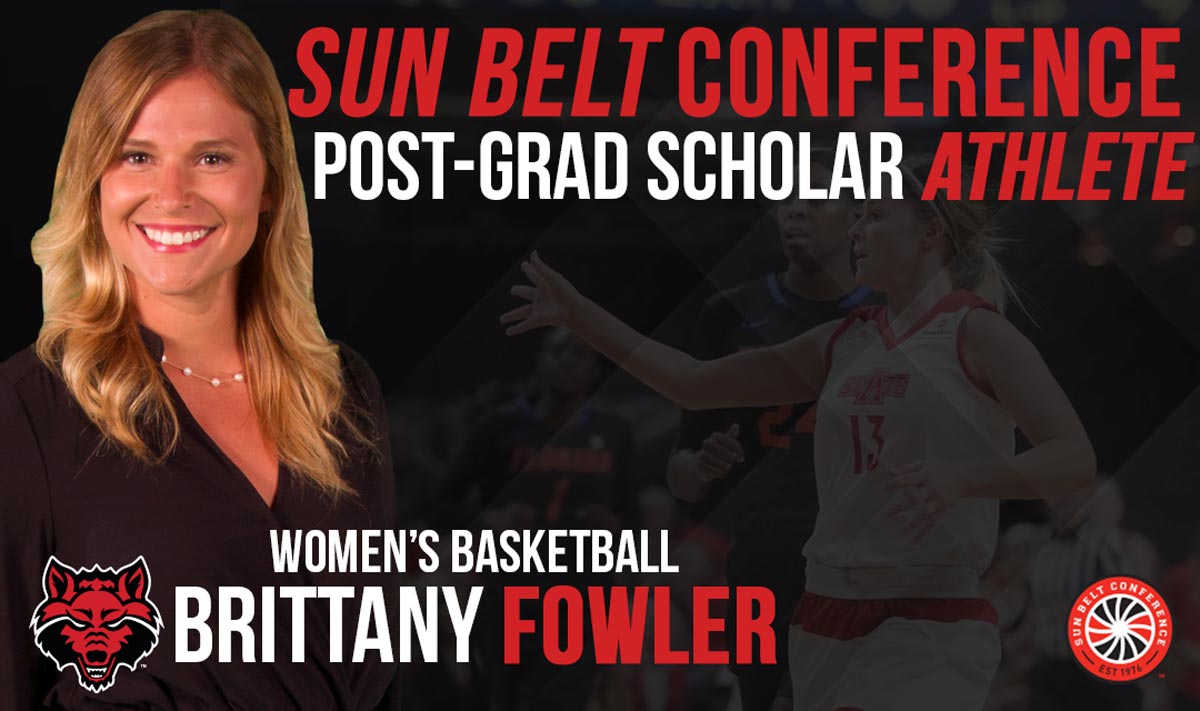 "We are extremely proud of Brittany for all the hard work she put in during her time at A-State," A-State head women's basketball coach Brian Boyer said. "Her degree plan certainly was not the easiest and when you add on basketball to that it made it even harder, but she applied herself to both fully. Not only did she become a very good player for us, but she was a model student-athlete as well and is certainly someone that we have and will continue to point to when we tell future student-athletes about what you can do when you come to school here."
She is the fourth student-athlete from A-State to be honored by the conference as the Female Postgraduate-Scholar Athlete. Jason Wood (football) was recognized with the award in 2005, while Lucy Ritchey (Cross Country) and Aaron Raney (Track & Field) took home the honor in 1997 and 1998.
Fowler concluded her four-year career at Arkansas State as one of the most accomplished student-athletes both on and off the court in the program's history. During her career the Red Wolves won two regular season Sun Belt Conference championships, appeared in the Women's National Invitation Tournament (WNIT) three times and set the school record for victories in a single season.
"It is an honor to just be nominated for this award," Fowler said. "It is a big help because pharmacy school is a big expense and to know that I have a little bit to help me is a relief, but to also know that the Sun Belt is willing to help students out is a great thing and something that makes me proud to be associated with the league."
Individually, she was one of the most accuarate shooters in the Sun Belt and finished her senior season with 62 made 3-pointers, the seventh most in school history. She made 40.5 percent of the shots she took from beyond the arc, the ninth best mark in program history and enjoyed the best game of her career on senior day when she scored 27 points, including a career best seven made 3-point attempts. Nationally, Fowler ranked 19th in Division I with an average of 1.94, 3-pointers made per game and ranked in the top-5 in the conference in both 3-pointers made and 3-point field goal percentage.
The Leachville, Ark., native not only excelled on the court, but off the court as well. The Chemistry and Biology double major maintained a GPA of 3.38 and appeared on the Sun Belt Conference Academic Honor Roll in every semester that she was a student-athlete. She also made the Arkansas State Athletic Director's Honor Roll in six straight semesters and appeared on the Arkansas State Dean's List twice.
"I don't think I can even relate to amount of hours she put in," Boyer said. "She had a lot of late hours studying after practice and she handled it well. She is one of those players that is involved in everything and gave her full effort to whatever she was doing at that particular time whether it was academics, basketball or something else."
Fowler also took steps to work toward her post-athlete career as a pharmacist by working in local pharmacies during the summer months. She worked as a Pharmaceutical Technician at both Bryant Pharmacy in Batesville, Ark., and Gibson's Pharmacy in Jonesboro where she filled prescriptions, gathered information from doctors and nurses for prescriptions and worked with customers to answer questions. Her hard worked paid off as the she was the only Division I college athlete to be accepted into the pharmacy schools where she applied, and ultimately choose to attend the UAMS in Little Rock to continue her postgraduate education.
In addition to her many responsibilities as a student and an athlete, Fowler also volunteered her free time to the community where she logged over 150 hours of service time. She also held the unique distinction of being the first A-State women's basketball player in over 10 years to pledge to a sorority where she maintained a good standing with her time and commitment to the Omicron Zeta Chapter of the Chi Omega Fraternity.
For the latest on the A-State women's basketball follow the team log onto the team's Facebook page at Facebook.com/RedWolvesWBB, follow them on Twitter @AStateWB and on Instagram at "AStateWBB."