Football Team Honored By State Assembly
02/20/2013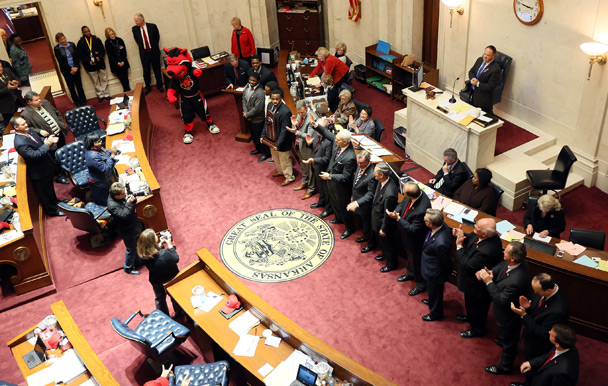 LITTLE ROCK, Ark. - The Arkansas State football program received a great honor Wednesday when the 89th General Assembly of Arkansas recognized the 2012 team for its second consecutive Sun Belt Conference championship and victory in the 2013 GoDaddy.com Bowl.
Members of the Arkansas State football team, athletics and University administration and the ASU Board of Trustees all made an appearance at the Arkansas State Capitol Building, where the team was recognized by the House of Representatives and Senate with a pair of resolutions celebrating the Red Wolves' many accomplishments last season.
Head football coach Bryan Harsin, defensive coordinator John Thompson and players David Oku, Qushaun Lee, Darion Griswold and J.D. McKissic were all present for the event, along with Director of Athletics Terry Mohajir, Chancellor Dr. Tim Hudson, ASU System President Dr. Charles Welch and Board of Trustee members Ron Rhodes, Mike Gibson, Dan Pierce, Charles Luter and Howard Slinkard.
Prior to hearing the resolutions, the Arkansas State travel party all met with Arkansas Governor Mike Beebe, who congratulated them on their accomplishments and took time to take photos with the group.
"This was a tremendous experience and an outstanding honor to be recognized in that way for a great season last year," said Harsin. "Everyone really responded well to us being there, and it was just a fantastic day."
House Resolution 1011 by 35 members of the House of Representatives and Senate Resolution 5 by state Sen. Paul Bookout of Jonesboro both passed unanimously, adding another honor to ASU's 2012 season that saw the Red Wolves post a 10-3 record and receive votes in the final Associated Press and USA Today Top 25 polls.
"This was a great experience and the reception we received from the House and Senate was unbelievable," said Mohajir. "We couldn't be more appreciative of the people who put the resolutions through."