Female Faculty Members Share Experiences with Gender and Higher Education
03/29/2023

JONESBORO – Bringing attention to the experiences of women who work in higher education and the uphill battles many have faced was the topic of a roundtable discussion today at Arkansas State University.

This event featured seven faculty members from across the A-State campus. Each of the participants in "Women Scholars and Scientists Roundtable: The Difference Gender Makes in our Work and Lives" comes from different backgrounds, education and experience. One commonality is that they are women. Collectively, the faculty members who participated in the roundtable discussion have more than 110 years of experience teaching, contributing to, and growing the reputation of A-State and its graduates. Dr. Lucy Barnhouse, assistant professor of history, said the place of women on university faculty was relatively recently won and remains fraught. "Gendered expectations still negatively affect the working lives and opportunities of women academics. This also applies to students."

Participants focused on the differences gender has made in their work.

Dr. Kellie Wilson-Buford said, "As a department chair, I have experienced what many might assume are things of the past like sexism, harassment, surveillance, and microaggressions rooted in misogyny. I live these things as a female department chair, but there are few places to turn to for support." Her hope is to create a safe space for women at A-State to be able to navigate their current and future careers. "I hope not only to encourage a woman-positive support group but also provide a forum for other women to speak their truths without fear of retribution." The participants hope to make this into an annual roundtable event featuring different faculty members from across campus. "I do hope that this will help students think critically about their own attitudes towards female faculty," Barnhouse added.

"While a great deal of progress has been made for women, there remain many gender-related issues and common concerns," said Dr. Sarah Wilkerson-Freeman, professor of history and moderator of the roundtable discussion.

Other participants in the roundtable included: Dr. Karen L Yanowitz, Dr. Cherisse Jones-Branch, Dr. Tina Teague and Dr. Katherine Baker.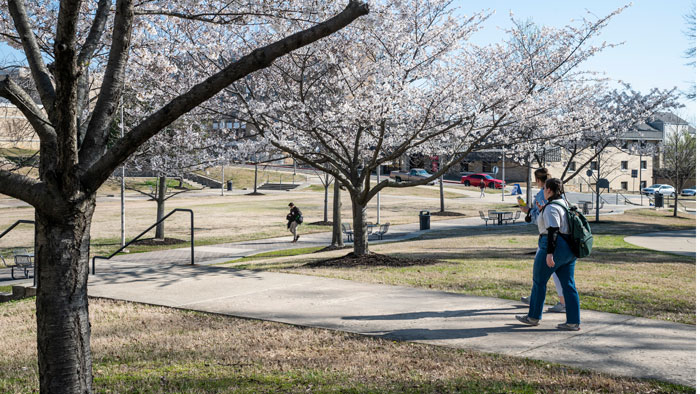 Students walk towards the Carl R. Reng Student Union on the A-State campus.