Eight to Be Inducted Into Inaugural Army ROTC Hall of Fame
06/01/2016
JONESBORO — Eight alumni of Arkansas State University's Reserve Officer Training Corps (ROTC) program who went on to exceptional military and civilian service careers are being inducted into the U.S. Army Cadet Command Hall of Fame. The induction ceremony is Friday, June 10, at Fort Knox, Ky.
The eight inductees are Col. (Ret.) Buddy G. Beck; Col. (Ret.) Douglas E. Moore; Dr. Eugene Smith; Maj. Gen. (Ret.) James E. Simmons, Ambassador James W. Pardew, Jr.; Lt. Col. John Lewis; Capt. Felix P. Settlemire; and Col. (Ret.) Ray A. Clardy.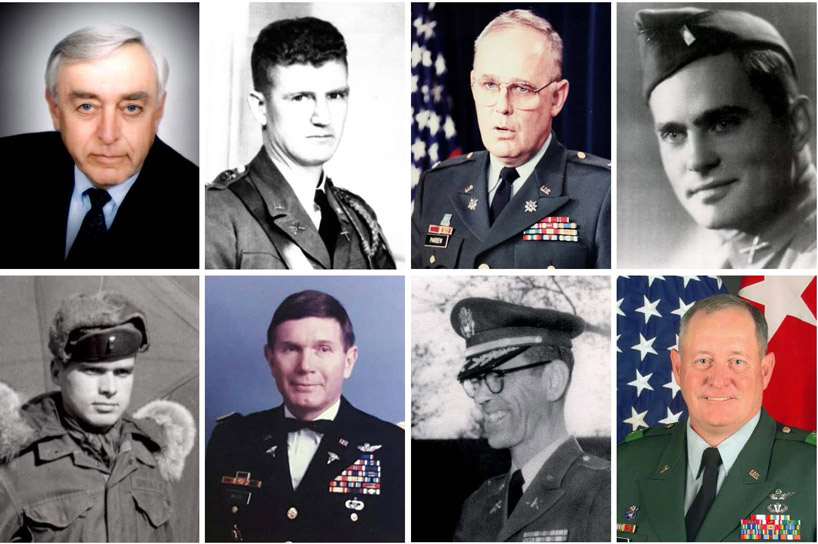 Eight alumni of Arkansas State University's Reserve Officer Training Corps (ROTC) program are being inducted into the U.S. Army Cadet Command Hall of Fame. The inductees are (top row from left) Buddy Beck, John Lewis, James Pardew, Jr. and Felix Settlemire. (bottom row) Eugene Smith, Douglas Moore, Ray Clardy and James Simmons.

The Hall of Fame honors graduates of ROTC who have distinguished themselves in civilian or military service who have made significant contributions to the nation and history of the Army ROTC program. Lt. Col., Michael Fellure, professor of military science, submitted a-State's nominees.
"We're very proud so many alumni of our program are being recognized at a national level," said Fellure. "There is no doubt that their success can be attributed to the support of the Jonesboro community and the Arkansas State University family. We're very gracious that even today, during our 80th anniversary, that ROTC cadets still see that same support from the community. We're looking forward to producing more distinguished officers for the Army for years to come. We have had a distinguished past and want to keep moving forward."
Additionally, the group will be recognized during Homecoming, Saturday, Oct. 15, and again on Veterans Day, Friday, Nov. 11, when the Arkansas State ROTC program hosts a reunion to celebrate its 80th anniversary.
Buddy Beck, of Fairfax Station, Va., earned his Bachelor of Science degree in chemistry in 1959. After receiving his commission as a 2nd Lieutenant in Field Artillery from A-State, he served in Korea, Germany and Vietnam. He retired from the Army in 1984 after 26 years of distinguished service.
Since his retirement, Beck has held numerous senior leadership positions in the private sector. He founded and served as president and chief executive officer of several successful companies. He also served on the White House National Security Council staff for both Presidents Gerald Ford and Jimmy Carter. Beck is well known as a leader in the field of technology and owns several patents.
In 2007, Beck and his wife Charlotte founded the Beck Personal Rehabilitation, Individual Development and Education (PRIDE) Center for America's Wounded Veterans on the Arkansas State campus. The Beck PRIDE Center supports wounded veterans with counseling, physical and mental rehabilitation, and identifies services available to assist each individual veteran. The center aids veterans in their pursuit of a college education as well as helping them explore career opportunities. The Beck PRIDE Center is nationally recognized and is a primary reason Arkansas State University remains ranked among the top Military Friendly Schools in the United States.
Beck has been awarded the Distinguished Alumnus Award from A-State. He was inducted into the A-State ROTC Hall of Heroes in 2012.
Douglas Moore, from Marked Tree, graduated from Arkansas State in 1959 with a Bachelor of Science degree in agricultural education. As a commander of an ambulance helicopter in Vietnam, Moore is one of America's most decorated Vietnam-era soldiers, with two Distinguished Flying Crosses, a Purple Heart and the nation's second highest award for valor in combat, the Distinguished Service Cross. Moore's awards also include the Bronze Star.
Moore retired after 30 years of active duty, accumulating over 3,500 hours of flight time, including more than 1,100 hours of combat flying time. He served more than nine years in the Pentagon as team chief for the Army inspector general and as the executive officer for the Army surgeon general.
He was also selected as an Arkansas State University Distinguished Alumnus in 1994 and inducted into the A-State ROTC Hall of Heroes during its inaugural event that same year.
James Simmons, a native of Newport, entered Arkansas State on a football scholarship in 1969 and played on two conference championship teams and one national championship team (1970). Following Airborne and Ranger qualification in 1973, he served as the Cadet Brigade Commander for the ROTC program until graduation in 1974.
Simmons was commissioned as the highest ranked ROTC graduate on the national OML and commissioned into the regular Army in 1974. He has commanded armor, infantry, cavalry, and aviation formations from platoon through brigade in the U.S., Europe, Korea and the Middle East.
As a general officer he served as the assistant division commander (M) for the 1st Cavalry Division, the commanding general Combined Joint Task Force Kuwait, the commanding general of the U.S. Army Safety Center, the deputy commanding general of III Corps and Fort Hood, the deputy commanding general of Multi-National Corps Iraq 2003-04, the commanding general of III Corps and Fort Hood 2004-05, and as the deputy commanding general for support of Multi-National Corps Iraq during the Surge 2006-08. In this capacity, Simmons directed the day-to-day combat actions of nearly 39,000 soldiers, sailors, airmen and Marines.
His awards include the Distinguished Service Medal (OLC), the Department of Defense Superior Service Medal, the Legion of Merit (3OLC), the Bronze Star, the Meritorious Service Medal (OLC), the Air Medal, the Army Commendation Medal (OLC) and the Army Achievement Medal.
In 2014, Simmons was inducted into the A-State Athletics Hall of Honor. Since his retirement in 2008, he served as the senior mentor for several Aviation Brigade Command Teams during their aviation training exercises prior to deployment. He is a frequent visitor to A-State, speaking to the athletic teams and guest lecturing for the ROTC program. Simmons is a 2006 inductee in the A-State ROTC Hall of Heroes.
Dr. Eugene W. Smith received a Bachelor of Science degree in accounting in 1952 and was commissioned as a field artillery officer. The distinguished military graduate, an artillery officer in the Korean Conflict, was a student and research assistant at the University of Mississippi, where he earned his Master of Education degree in 1955 and his Doctor of Education in 1958. From 1958 to 1984 he served at Arkansas State University in positions ranging from instructor to professor, dean of the Graduate School and vice president.
In 1984, Smith became the university's president, and for eight years led Arkansas State through one of its greatest eras of growth and prosperity. He retired in 1992, but in 1994, upon the death of A-State's interim president, Smith was called back to duty as president until 1995. During these years, Smith also served as president of the Jonesboro Industrial Development Corporation, president of the Jonesboro Regional Chamber of Commerce, City Council member and chairman of the City Council finance committee.
Arkansas State University matured into a comprehensive university, and that growth and development occurred under Smith's leadership, including establishment of the institution's first doctoral degree program, in educational leadership, major expansion of the Dean B. Ellis Library, moving the university's athletics department to Division I membership in the National Collegiate Athletic Association (NCAA) and accomplishment of early steps toward formation of the Arkansas State University System. In May 2009, the campus building that housed the Center for Excellence in Education was renamed in honor of President Emeritus, "Eugene W. Smith Hall."
James Pardew, Jr. grew up in Jonesboro and graduated from Arkansas State in 1966 with a Bachelor of Science degree in journalism. He commissioned through A-State ROTC as a military intelligence officer. As a distinguished military graduate, he was also a senator in the A-State Student Government Association, co-editor of the Herald (student newspaper), and president of Tau Kappa Epsilon fraternity.
During his 28-year military career, he saw combat in Vietnam, served tours of duty in Turkey, Japan and Germany and served in Operation Restore Hope in Somalia. During the collapse of the Soviet Union and Operations Desert Shield/Storm, he served as the vice director of intelligence, director of foreign intelligence and chief of current intelligence for the Army general staff. He has published military articles and written classified intelligence studies on Soviet military subjects. He served as managing editor of a current intelligence publication with worldwide readership.
Pardew was appointed as a U.S. special representative in December 1995, following service as the Secretary of Defense representative to the U.S. peace-negotiating team that achieved the Dayton Peace Agreement in the former Yugoslavia. In May 1996, President Bill Clinton accorded Pardew the personal rank of ambassador in his capacity as the U.S. special representative for military stabilization in the Balkans in southeast Europe.
Ambassador Pardew's awards include the Defense Superior Service Medal, two awards of the Legion of Merit, two Bronze Star medals, the Air Medal, the Department of Defense Medal for Distinguished Service, the National Intelligence Distinguished Service Medal and the Secretary of State Distinguished Service Award.
John Lewis graduated from high school in Lake Village, and then attended the U.S. Military Academy at West Point where he graduated in 1925 and was commissioned as a second lieutenant in the Infantry. From 1936 to 1939, Lewis served as the assistant professor of military science on the first military staff at Arkansas State College. In that assignment, Lewis sponsored the first pistol association for Arkansas State ROTC and helped formulate long-range policies that shaped the future of the ROTC program.
On Oct. 23, 1941, prior to the United States entering World War II, Lewis was transferred to the Philippines. His assignment was to organize the 61st Field Artillery regiment by enlisting and training over 1,000 Filipino soldiers. On the evening of May 9, 1942, Lewis and his regiment were attacked by overwhelming Japanese forces during which he was severely wounded. On May 10, the U.S. forces on Mindanao surrendered to the Japanese and the badly injured Lewis was taken prisoner.
Lewis was a prisoner of war for over two-and-a-half years and held in four different POW camps. On Dec. 13, 1944, he was placed in a cargo hold of the Oryoku Maru to be transferred to Japan. While underway, the ship was attacked by aircraft from the USS Hornet. During the two-day assault on the Oryoku, a large number of Japanese and 250 POWs were killed. On Dec. 27, 1944, Lewis was transferred to another Japanese ship, the Enoura Maaru. U.S. aircraft also attacked that ship.
On Jan. 14, 1945, the surviving POWs, including Lewis, were loaded onto the Brazil Maru and it sailed for Japan. The combination of cold weather, inadequate clothing and food, injuries and illness resulted in the deaths of up to 50 POWS a day aboard the Brazil Mara. Lewis died on Jan. 25, 1945 – four days before the Brazil Maru arrived in Japan.
Lewis was inducted into the A-State ROTC Hall of Heroes in 2011. While Lewis was a graduate of the U.S. Military Academy, he qualified to be inducted into the Hall of Heroes as an assistant professor of military science at Arkansas State.
Felix P. Settlemire, a native of Jonesboro, graduated in 1941 from Arkansas State with a Bachelor of Science degree in agriculture and a commission in the field artillery. While at A-State, he lettered in basketball and football and was called by many to be "one of the finest football players in the history of the college."
Settlemire was often referred to as "Jonesboro's No. 1 hero of World War II," with a Silver Star, three Purple Hearts, and the nation's second highest award for valor in combat—the Distinguished Service Cross. Lt. Gen. George S. Patton, Commanding General of the Seventh Army, personally awarded Capt. Settlemire with the Distinguished Service Cross for heroism in action during the Tunisian campaign.

Settlemire trained at Fort Bragg, N.C., in 1941, served in North Africa, Italy, England, and France. He served with both Gen. Patton and Gen. Dwight Eisenhower as a member of their staff. He was killed in action on June 20, 1944, in Cherbourg, France. Capt. Settlemire was awarded the Silver Star for conspicuous gallantry and intrepidity in action against the enemy while serving with the 39th Infantry Regiment, 9th Infantry Division, in action during World War II. Capt. Settlemire's gallant actions and outstanding leadership, personal bravery and zealous devotion to duty at the cost of his life exemplify the highest tradition of military service.
Ray A. Clardy graduated from Arkansas State College in May 1942 with a Bachelor of Science degree in agriculture and commissioned as a second lieutenant in the United States Army. From August 1943 to Dec. 1945, he served with the 44th Infantry Division Artillery, participating in three major campaigns: Northern France, Central Europe, and the Rhineland.
Clardy was separated from the service when the 44th was deactivated in December 1945. He remained in Active Reserve and was recalled to active duty in October 1948. Colonel Clardy's final assignment prior to his retirement in Dec. 1967 was director, Doctrine Division, Artillery Agency, U.S. Army Combat Developments Command, Fort Sill, Okla. During his illustrious military career, Col. Clardy received the Bronze Star, Legion of Merit, and the Distinguished Service Cross among other awards and decorations.
He was decorated for extraordinary heroism in action on April 26, 1945, near Gutenzell, Germany, when his battery and nearby battalion installations were subjected to heavy fire from enemy positions within 300 yards. Captain Clardy led 30 of his men in an attack on the enemy, forcing them to withdraw.
Climbing to the turret of a supporting tank, he pursued the enemy and personally accounted for nine enemy casualties, including the commanding officer, and completely disorganized the German forces and their attack. Clardy's heroism and swift action against a numerically superior enemy destroyed their effectiveness and ended a threat to the main supply route of an infantry regiment and an armored division.
Following retirement, Col. (Ret.) Clardy worked for the Booz-Allen Applied Research Co. culminating his civilian career as the research director in charge of the ICAS War Game Facility.