Dr. Eugene W. Smith, Eighth President, Remembered for Contributions and Devotion to University's Advancement
09/24/2018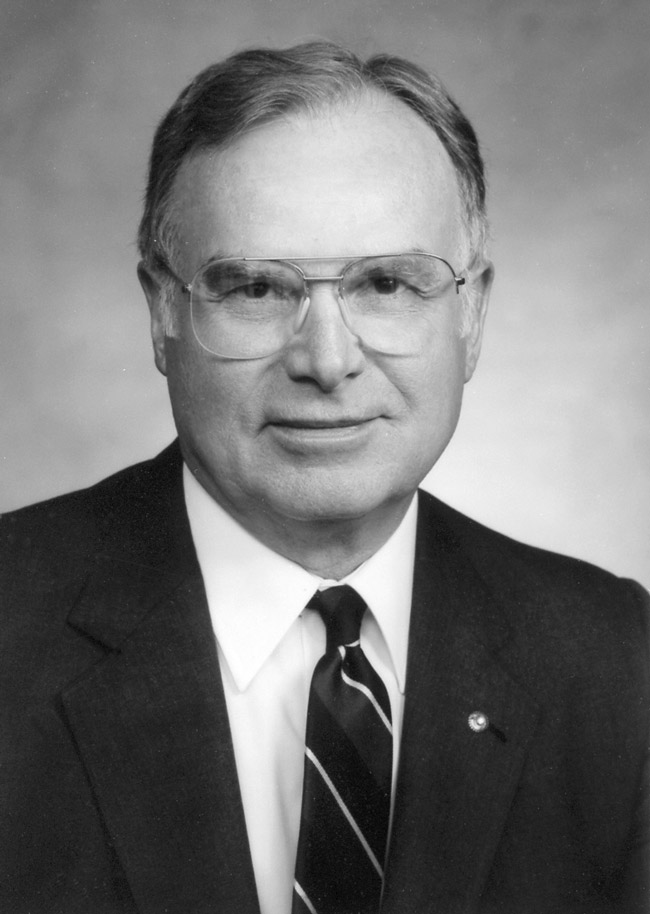 Dr. Eugene W. Smith
JONESBORO – The Arkansas State University community today is remembering the life of Dr. Eugene W. Smith, the eighth president of the institution, who died Sunday following a lengthy illness. He was 88.
The Board of Trustees appointed Smith president in February 1984, largely in recognition of his contributions and devotion to the institution's growth and advancement during the first 26 years of his career at the institution.
"As an A-State alumnus, Eugene W. Smith brought passion and dedication to whatever role he fulfilled during his long career at Arkansas State University, especially his term as the institution's eighth president," commented Chancellor Kelly Damphousse. "He will be long remembered for his leadership in establishing the university's first doctoral degree program, and his work toward enlarging the library to support advanced graduate studies. While serving as a professor, dean of graduate studies, vice president, and president, he constantly exhibited the highest standards of integrity and professionalism. The university family extends our sympathy to Ann and to Lucinda McDaniel and Brad Smith in this time of loss of her wonderful husband and their devoted father."
Over his eight-year presidency, Smith led Arkansas State through one of its greatest eras of growth and development. Smith took particular pride in several highlights of his term, including establishment of the institution's first doctoral degree program, in educational leadership; construction of the First National Bank Arena; a major expansion of the Dean B. Ellis Library, including the clock tower; the university's ascension to Division I-A (now Football Bowl Subdivision) in the NCAA; and early steps toward formation of the Arkansas State University System.
"Gene Smith loved Arkansas State University immensely and put his heart, soul and talents into its growth and success through the years," said Dr. Chuck Welch, president of the ASU System. "When you consider his military service in Korea and then his 35 years of teaching and leadership at A-State, Dr. Smith's life was one of extraordinary public service. His love for higher education in Arkansas and devotion to his alma mater impacted generations of students and families. We extend our condolences to Ann, Lucinda, Brad and the rest of his family."
Dr. Tim Langford, chair of the ASU Board of Trustees, added, "Dr. Smith was a gifted and visionary leader who contributed greatly to the development of not only Arkansas State, but also the City of Jonesboro and northeast Arkansas. He had a significant role in so many defining moments for ASU — from development of our first doctoral degree and expansion of the library to the athletics department's move to Division I-A and construction of First National Bank Arena. We are forever grateful for his life and contributions to the university and ASU System."
The retirement Smith began in 1992 did not last long. The Board of Trustees brought him out of retirement in 1994-95 to lead the campus as interim president. Near the conclusion of that assignment, the university hosted a dedication ceremony for the library expansion that drew national attention as U.S. President Bill Clinton accepted Smith's invitation to serve as dedication speaker and became the first sitting U.S. president to visit the campus.
Smith Arrived in Fall 1948
A native of Forrest City, Eugene Wilson Smith first arrived at Arkansas State College as a student in the fall of 1948. After completing a bachelor's degree in English and earning a commission through the Army ROTC program, he served as an artillery officer during the Korean War. After nearly two years of service and an honorable discharge, he resumed his formal education, completing graduate-level work to complete master's and doctoral degrees in education at the University of Mississippi.
After working as research fellow at Ole Miss, he returned to Jonesboro and began his career at Arkansas State in 1958, initially as a faculty member and later as director of graduate programs and executive assistant to President Carl R. Reng. He worked closely with Reng on a number of projects, including the institution's challenging but successful 1967 quest to attain university status through legislation passed by the Arkansas General Assembly and signed into law by Gov. Winthrop Rockefeller.
Over the next 17 years, Smith served in several leadership roles, including vice president for administration, dean of the Graduate School, senior vice president and interim president. After the sitting president resigned to accept another position, the ASU Board of Trustees appointed Smith president, effective Feb. 15, 1984, during a special meeting, .
He retired at the end of the 1991-92 academic year, and was named president emeritus by the Board of Trustees. A little more than two years later, the board called him back for the additional service as interim president. During that year, he helped the board identify and recruit the institution's next president, and was instrumental in establishing the ASU-Mountain Home campus.
Smith's involvement in local civic affairs was extensive, including president of the Jonesboro Regional Chamber of Commerce; alderman on the Jonesboro City Council; the Committee for Arkansas' Future; president of the Jonesboro Industrial Development Corp.; and a member of the Kays Foundation board. He was named Arkansas Volunteer Industrial Developer of the Year in 1983.
His professional memberships included the honor societies of Phi Kappa Phi, Kappa Delta Pi, Phi Delta Kappa, and Rotary International.
Later in his career he was recognized as a Distinguished Alumnus by both Arkansas State and Ole Miss. In 1992, the A-State Alumni Association made a gift establishing the Dr. Eugene W. Smith Fellowship Endowment to support an outstanding doctoral program candidate each year. In May 2009, the board of trustees renamed a campus building, which now houses programs in education and health professions, Eugene W. Smith Hall.
Memorials and Arrangements
The family requests those wishing to leave lasting memorials consider the Smith Fellowship Endowment, c/o Arkansas State University Foundation, Inc., P.O. Box 1990, State University, AR 72467, so that his legacy of education may continue.
A memorial service will be at 5 p.m., Saturday, Sept. 29, at Emerson Funeral Home in Jonesboro, preceded by visitation from 3:30 p.m. until time of service. The obituary is online.
# # #