Club Softball Prepares for Play in Fourth World Series
05/16/2016
JONESBORO — For the fourth consecutive year, Arkansas State University's No. 2-ranked softball club will pursue a national title in the 2016 National Club Softball Association (NCSA), Friday through Sunday, May 20-22, at the South Commons Softball Complex in Columbus, Ga.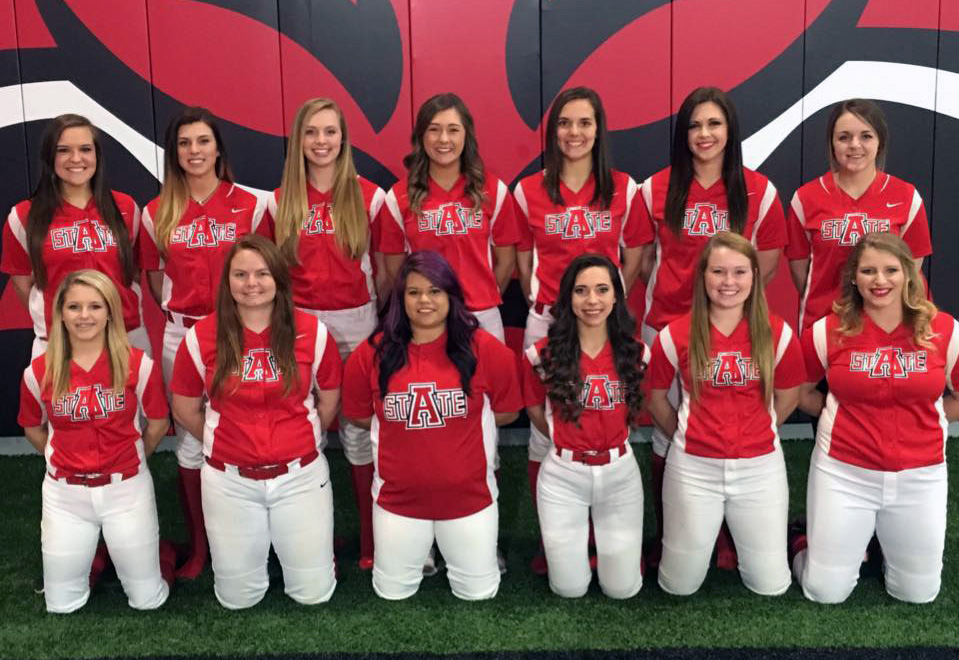 2016 Arkansas State University Softball Club—(Front from left) Keeli Tanner of Jonesboro, Jerri Mathis of Jonesboro, Karla Marroquin of Monette, Kristen Black of Maumelle, Erin Eckert of Cabot, Chloe Vaught of Marion. (Back from left) Raegan Massey of Conway, Sabrina Luttrell of Blytheville, Rachel Hinson of Vilonia, Brooklyn Archer of Kaufman, Texas, Madison Carr of Blytheville, Shea Cothren of Paragould, Mackenzie Powers of Paragould. —Photo by Cesar Marroquin.

Second-seeded Arkansas State will face 10th-seeded Rutgers University in Pool B, Friday, May 20, at 10 a.m. CT. The University of Illinois and Ohio State University are also in Pool B.
A-State, winner of the Mid-America-East Conference, is undefeated in league play with a 15-0 mark and stands 33-7 overall. The Red Wolves participate in a conference with the University of Missouri, Southern Illinois University-Edwardsville, St. Louis University, Maryville University and Southern Illinois University-Carbondale. Defending champion James Madison University returns as the top seed.
"We have as good of a shot to win it as anyone, but we will have to play our best," said Head Coach Chris Powers who is in his 17th season. "I feel our biggest opponents will be ourselves. We have to overcome the mental part of the game."
Powers' team finished third in the nation last year after shutting out the Air Force Academy (17-0) and Kansas (14-0) on the final day of play. In the third game, the Red Wolves came up short against the University of Florida with a 3-2 loss. The team opened the tournament with wins over Grand Valley State University (8-1) and University of Connecticut (5-4), then lost to James Madison, 2-1.
"Defending champion James Madison didn't lose anyone from last year's team," added Powers. "They and Florida will be the teams to beat. I don't like the month lay-off from regionals to the World Series, but everyone has to deal with it, so I think we'll be fine."
Powers is relying on the strength of pitchers Shea Cothren of Paragould and Karla Marroquin of Monette, Mackenzie Powers of Paragould at shortstop and Brooklyn Archer, a freshman outfielder from Rossier City, Texas.
Powers leads the team in hitting with a .538 batting average. She has hit 35 home runs, also the most on the squad, along with 34 runs batted in. Cothren is close behind with 34 runs and 46 RBIs. As a pitcher, Cothren has won 15 of the 19 games she played.
"We have four freshmen starting," continued Powers. "I think we are finally coming together and peaking at the right time. Whoever gets hot at the right time will win it. Hopefully, that will be us this year."