Civil Engineering Team Wins in Deep South Competition
04/12/2019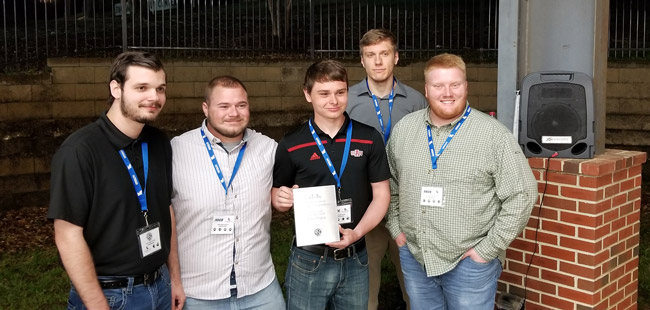 Steel bridge team (from left) Austin Petty, Tristin Phillips, Ronald "Drew" Slaven, Adam Weiner and Collin McCrary
JONESBORO – When it comes to steel bridge design and surveying, civil engineering students from Arkansas State University are the best in the Deep South this year.
Twenty students in the A-State civil engineering program competed at the recent Deep South Conference in Ruston, La. A-State is one of 14 universities in Deep South, which conducts a series of competitive civil engineering activities to test the students' design abilities, construction and usability skills, teamwork, and understanding of their chosen field in conjunction with an annual meeting.
In addition to the first place overall finishes in the steel bridge and surveying competitions, the A-State students scored third in the sustainable doghouse competition, according to Jason Stewart, student chapter faculty adviser and director of civil engineering in the College of Engineering and Computer Science.
A-State is particularly familiar with the steel bridge competition, having won five of the last seven regional competitions.


Steel bridge construction team members (from left) Ronald "Drew" Slaven, Tristin Phillips, and Collin McCrary
Tristin Phillips of Bismarck is captain of the steel bridge team, which also includes Ronald "Drew" Slaven of Bono, Collin McCrary of Harrisburg, Austin Petty of Cabot, and Adam Weiner of Little Rock. The regional win qualifies the team to enter the national competition at Carbondale, Ill., May 31-June 1. In addition to first-place overall, the steel bridge team also scored sub-category first place awards in lightness, aesthetics, stiffness, economy and efficiency, along with a second in construction speed.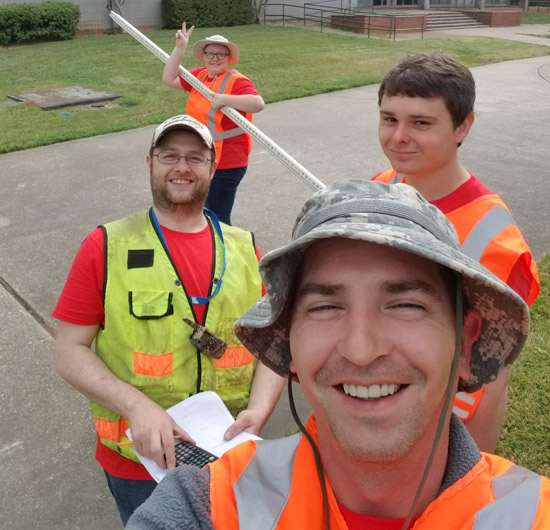 Surveying team, clockwise from front, Terry Walker, Joshua Hurd, Sydney Allgeier and Ronald "Drew" Slaven
Terry Walker of Paragould is captain of the winning survey team. Other team members are Sydney Allgeier of Corydon, Ind., Joshua (Josh) Hurd of Bono, and Slaven.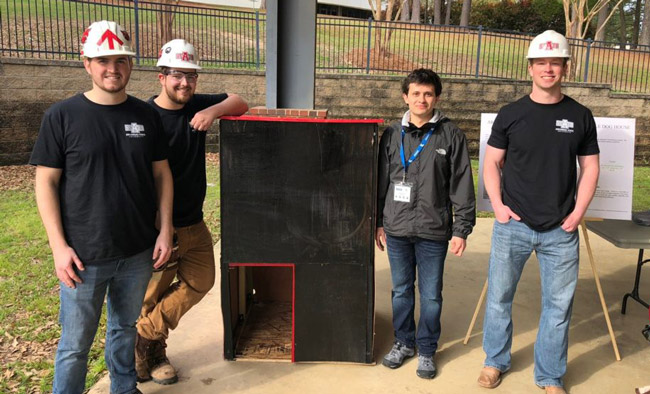 Sustainable doghouse team, from left, Patrick Leppold, Ian Gates, Ziyad Almalki, and James Ketchum
The third-place sustainable doghouse team includes Ian Gates of Maumelle (captain), Ziyad Almalki of Makkah, Saudi Arabia, Patrick Leppold of Mountain Home, and James Ketchum of Heber Springs.
All Deep South schools must compete in the Daniel W. Mead professional paper competition in order to be eligible for awards in any other event. Those papers are submitted to the national American Society of Civil Engineers (ASCE) group as well as the regional conference. One student from each school writes the paper on a new topic each year and makes a five-minute oral presentation.
Paige Leissner of Cabot, secretary of the ASCE student chapter, wrote the Mead competition paper on how the ASCE's code of ethics on diversity and inclusion in the industry can benefit the profession and student chapters.
Sara Ford of Paragould was the concrete canoe team captain. ASCE also sponsors the concrete canoe competition, while the American Institute of Steel Construction sponsors the steel bridge competition.
Other regional events are sponsored by ASCE and/or the Deep South Conference, including the sustainable doghouse and surveying competitions.
Other Deep South Conference schools are UT-Martin, Memphis, Ole Miss, Mississippi State, UALR, Jackson State, LSU, Southern, Louisiana Tech, New Orleans, McNeese State, Christian Brothers and UL-Lafayette.


Group shot with concrete canoe after competition, from left, Ziyad Almalki, Harry Kabodha, Erin Bowie, Austin Petty, Tristin Phillips, Collin McCrary, Zachary Maddox, Adam Weiner, James Ketchum, Mason Keeling, Matt Widmer, Sara Ford, Sydney Allgeier, Justus Sawyer, Ronald "Drew" Slaven, Ian Gates, Paige Leissner and Patrick Leppold.