Chancellor Hudson Meets With Lake Village Officials at Lakeport Plantation to Discuss Economic Impact
11/12/2014
JONESBORO — Arkansas State University Chancellor Tim Hudson visited Tuesday with Lake Village, Arkansas, officials to tour the Lakeport Plantation and discuss its economic impact on Chicot County.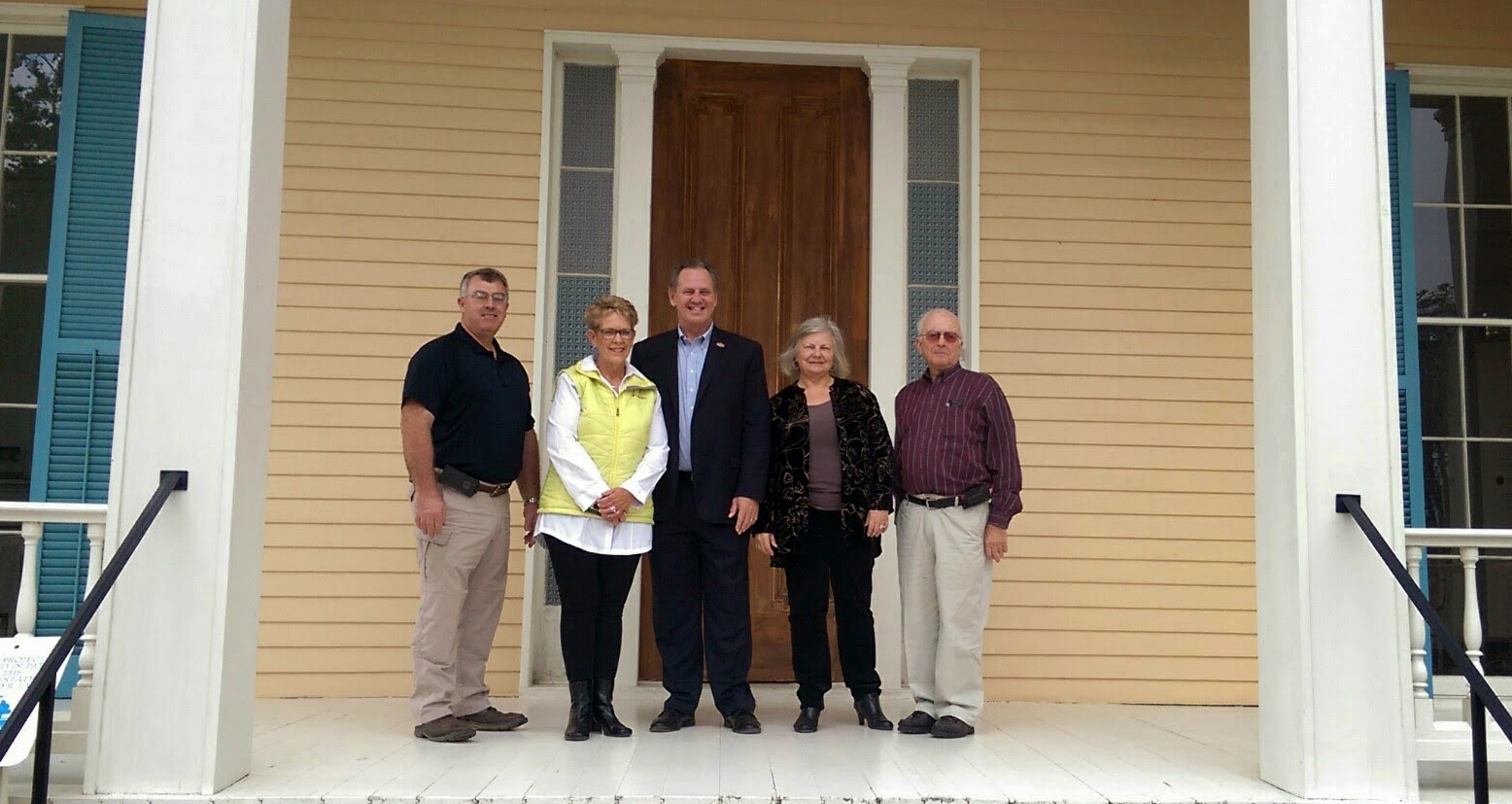 (From left) Sam E. Angel II, Lake Village Mayor JoAnne Bush, A-State Chancellor Tim Hudson, A-State Heritage Sites Director Ruth Hawkins, and Sam Epstein Angel on the porch of the Lakeport Plantation house.
The Lakeport Plantation, which opened in 2007, is an Arkansas State University Heritage Site near Lake Village. Within one year of its opening, tourism dollars generated in the county increased by 6.3 percent. It has attracted visitors and preservationists from all 50 states, as well as numerous international visitors.
In addition to serving as an economic catalyst in the community, Lakeport Plantation serves as an educational laboratory for A-State students in the heritage studies Ph.D. program. Students participated in the research, restoration, and interpretation related to the site, and ongoing research is being conducted related to its agricultural and African American heritage, along with Lakeport's role in the Civil War, Reconstruction, and tenant farming eras.
The house was donated to Arkansas State University in 2001 by the Sam Epstein Angel family and was restored through grants from the Arkansas Natural and Cultural Resources Council, the National Endowment for the Humanities, and the Save America's Treasures program.
Lakeport is Arkansas's last remaining antebellum home on the Mississippi River. It is located along a stretch of the river once dominated by numerous plantations. Built around 1859 utilizing enslaved labor, it also is significant nationally in that it retains many of its original decorative finishes.
Faux marbling on mantels, decorative graining on doors, and other finishes throughout the house have been carefully conserved, restored or, in some cases recreated, by the Lakeport restoration team. State-of-the-art techniques also have been used in researching, documenting and preserving the structure, making it a best practices model for preservationists around the country and a recipient of a National Preservation Award through the National Trust for Historic Preservation.