Center for No Boundary Thinking Approved at A-State
07/31/2020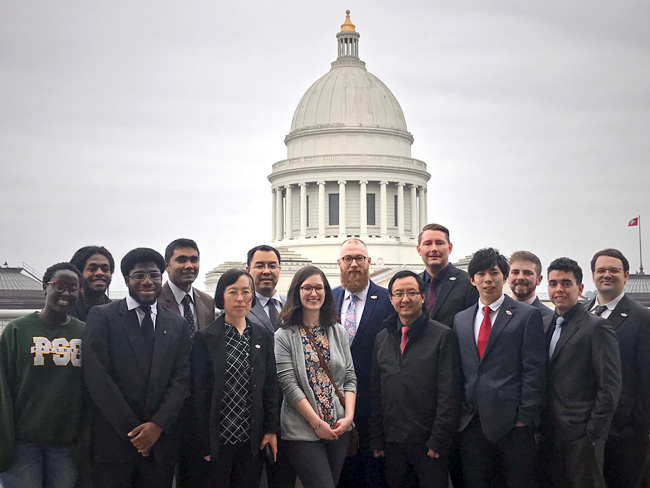 The AI Campus team in Little Rock with Dr. Xiuzhen Huang (front, third from left)
JONESBORO – A proposal to establish the Center for No-Boundary Thinking (CNBT) at Arkansas State University was approved today by the Arkansas Higher Education Coordinating Board.
The center builds upon research begun nearly a decade ago by Dr. Xiuzhen Huang, professor of computer science and a prolific researcher in the interdisciplinary area of bioinformatics.
Huang will serve as inaugural director. Other faculty members who are closely involved with development of the center, which will be housed in the College of Engineering and Computer Science, include Dr. Jason Causey, assistant professor of computer science, Dr. Jake Qualls, assistant professor of computer science, and Dr. Emily Bellis, assistant professor of bioinformatics.
"The Center is based on the concept of no-boundary thinking (NBT), which will develop human infrastructure at the frontier of bioinformatics, advanced data science and artificial intelligence, as part of its broader mission to address research challenges without the boundary of disciplines," Huang explained.
Recognizing the difficulty in addressing some of the hardest problems in interdisciplinary science, Dr. Huang conceived the NBT concept to promote the importance of spending more effort up-front in defining the real problems to be solved before rushing into research efforts.
"While incorporating the domain knowledge, data analytics and computation, and artificial intelligence, NBT defines a broad approach to address these scientific challenges over an appropriate time scale and a well-considered process," she continued.
The Arkansas State University Board of Trustees approved the center at its meeting March 6, after the proposal came through the campus shared governance process.
The Center will be home to the already established:
The Arkansas AI-Campus,
The Joint Translational Research Lab, a combined effort of Arkansas State University and St. Bernards Medical Center Internal Medicine Residency Program, and
The Bioinformatics Lab at A-State.
CNBT will start with three divisions:
Division of Algorithms and Computational Methodology,
Division of Advanced Data Science and Learning, and
Division of Biological Systems.
The NBT concept emerged from a National Science Foundation (NSF)-supported workshop in Bioinformatics in 2013 through the Established Program to Stimulate Competitive Research (EPSCoR) program. Subsequent meetings and collaborations of a national NBT network group, supported by an NSF Early-Concept Grants for Exploratory Research (EAGER) award, continue to this day.
"As the first NBT center nationwide, the NBT Center at A-State focuses its mission on developing human infrastructure at the frontier of bioinformatics, advanced data science, and artificial intelligence, as part of its broader vision to address challenging research problems while transcending the boundaries of disciplinary science," she added.
The Arkansas Artificial Intelligence Campus (AR AI-Campus) is a unique state-wide training program allowing students to work closely in academia and industry around the country, exposing students to the experts in areas of machine learning, artificial intelligence, and deep learning.
The first year of the AR AI Campus (2018-2019) consisted of two 4-month phases, of which Phase I concluded in February 2019 at the AR AI Campus Showcase held in Little Rock, highlighting the work of 30 participants across seven cross-institutional teams (undergraduate students, graduate students, post docs, and junior faculty) representing seven universities and campuses across Arkansas.
Institutions included Arkansas State University, University of Arkansas at Little Rock, University of Arkansas, University of Arkansas at Pine Bluff, University of Arkansas for Medical Sciences, Arkansas Tech University, and Philander Smith College.
Select participants from Phase I were chosen to move forward with a coach in Phase II to participate in national and worldwide machine learning competitions, as well as focused research projects, all of which were demonstrated in the Phase II showcase held September 2019 on the A-State campus.
The research showcased in Phase II was at the frontier of AI research and highlighted the strong connections across the state for projects such as biomedical imaging, self-driving cars, translational research, and business analytics. Phase II also resulted in placing in the top five teams in the United States in the Grand Challenge Biomedical Imaging Kidney and Tumor Segmentation international competition, beating out institutions such as Harvard, MIT, Georgia Tech, and Stanford.
Experts with top records in international competitions such as the DREAM Challenge and the Data Science Bowl (DSB) continue to serve students as volunteer coaches, providing frontier knowledge and technology, as well as hands-on projects.
# # #