Campus Safety Record: Product of Work, Awareness Training
01/08/2016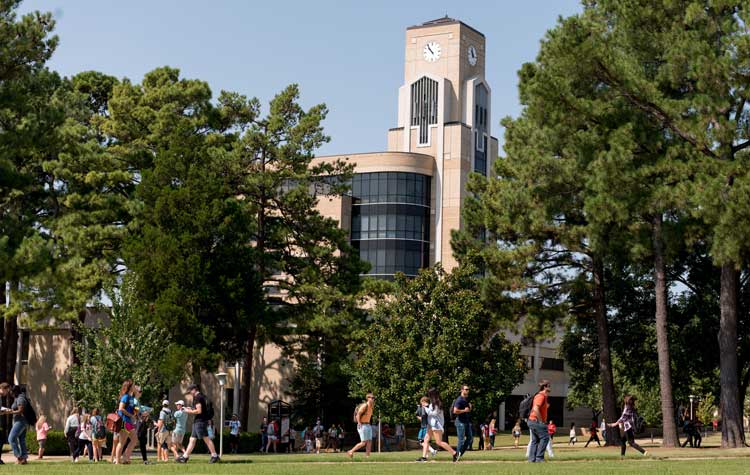 JONESBORO – Recent attention to Arkansas State University's safety record – earning a top 10 ranking for its campus police department and mention in a national Associated Press recap of campus policies – is a product of years of work and awareness training by university staff in several areas.
Since 2010, more than 10,000 students participated in over 100 active shooter training classes as a part of the A-State First-Year Experience course, a required "shared experience" class for all undergraduate students.
According to the AP, the requirement for all first-year students to receive active shooter instruction puts A-State among a handful of universities in the country.
University Police Department Chief Randy Martin is committed to his department being involved in the daily lives of the students, faculty and staff at Arkansas State. He sees the training as a key component in the community policing model used at Arkansas State.
"We have a young population that is only with us a short time, and we have a small window of opportunity to develop them to be mindful of their safety," Martin said. "Last academic year, we did 62 training events over a wide number of subjects including general safety awareness, residence hall safety, and other topics. Some were held for Jonesboro residents, but the majority of the over 3,400 participants were on-campus."
The benefits of the active shooter training became apparent during the Dec. 10 incident in which an individual threatened campus, however, it is one part of the safety message.
A-State provides training to students on other important safety issues to reduce crime. One example is Rape Aggression Defense (RAD), a UPD-taught course involving both classroom and practical exercises on how to prevent becoming a victim of assault.
"Safety begins with each individual," Martin said. "Being aware of your surroundings, and knowledgeable of skills and resources near you and at your disposal, is critical."
UPD also spends considerable time meeting with student groups ranging from the A-State Student Government Association to the leaders of Greek life organizations. Martin's department also tests the university's emergency alert system once a month by sending out safety tips.
"We use the test to send out campus safety information we deem relevant to the current safety trends on campus, or to just remind the community of emergency procedures related to severe weather, bomb threats, general safety," he said.
As a result of training, an open-door philosophy to the campus community and other factors, A-State's UPD recently earned a No. 6 in the nation ranking from BestColleges.com.
But Martin's staff is only one part of the overall safety team at Arkansas State.
In late 2014, Jon Carvell was appointed as the new campus safety officer and emergency coordinator. Along with reviewing the university's standard emergency operating plan, Carvell began expanding educational programs and started to rework the individual building evacuation plans.
He guided a tabletop exercise last month with A-State's administrators to review the campus's active shooter portion of the emergency plan.
"We are continuing steps in the right direction with these tabletop exercises. As we move forward we will involve other staff and faculty who are members of our emergency operations team on these kinds of exercises, as well as help building occupants revise and exercise plans tailored to their areas."
Carvell has also worked to enhance the university's relationship with the National Weather Service office in Memphis. Carvell serves as the "weather officer" in the university's emergency command center at home football games.
As a part of work with Memphis NWS, Arkansas State became the first university or college in the state to earn National Weather Service Ambassador status.
"Area-specific warnings give the campus community greater confidence in our alerts," Carvell said. "When we have significant weather heading toward campus, we want to use all our communication tools – social media, email and the traditional emergency alerts – to keep everyone informed."
In the past year, A-State's campus has sustained damage from straight-line winds that were associated with severe thunderstorm warnings.
"Both times we used emergency tools like email or our full alert system to let people on campus know they should take shelter," Carvell said.
Through the Disaster Preparedness and Emergency Management Program in the College of Nursing and Health Professions, A-State is a leader in the profession. Providing undergraduate and graduate degrees in emergency management, the faculty are also involved in research and training.
In January 2016, A-State hosts the first FEMA course in the state of Arkansas to train higher education administrators as teams to respond to a variety of disasters. The Multi-Hazard Emergency Management course is a three-day seminar designed for teams of campus personnel who are responsible for creating, implementing and exercising emergency operation plans.
"We are honored to be the first Arkansas university to host the course, and we look forward to working with other higher education institutions in the region to promote better planning and awareness," Dr. Deborah Persell, director of the Regional Center for Disaster Preparedness Education said.
Arkansas State is partnering with local community leaders to promote new types of training. Dr. Spencer Guinn of Jonesboro Orthopedics and Sports Medicine is working with A-State to host some of the first bleeding control courses in the state for higher education personnel. A member of the Wilderness Medical Society, Guinn's work with emergency medicine and national research reveals that a substantial number of deaths could be prevented with better training on application of tourniquets.
"We're encouraging as many of our faculty and staff as can to take Dr. Guinn's training," Carvell said. "We know one of his goals is for A-State to become one of the first universities to have a substantial number of our personnel trained to use the tools."
# # #